by lclarcq on August 12th, 2017
filed under Archived Posts 2017, Classroom Management, Curriculum and Planning, Starting The Year
I've been thinking….
What's the one thing I really need to communicate to my students? The thing that everything else stands on and revolves around. The thing I can always go back to whether I am planning, evaluating, reacting or even treading water.
My students are important to me.
More important than the curriculum, the grading system, the behavior point system, the school's reputation, the department's success record, than anything else I can think of in the educational venue.
Because of that, my classes are important to me.
Each student is part of a class. Each class has its own chemistry and behaviors that not only affect the students in it, but also is created by the students in it.
So I put a great deal of importance on how we interact in each class.
I want to set up each class so that it is clear what we are doing, and why.
What are we doing?
We are interacting, using the Spanish language whenever possible, so that we can know and understand the world better, starting with each other.
Why?
Language acquisition happens when the language is comprehensible, the message has value, and the people involved know that they matter.
Oh wait. That isn't in the right order.
I want my students to know that they matter, that the world they live in matters, and that we can use more than one language to explore and appreciate those things.
And I only have a few precious minutes every day to do that.
with love,
Laurie
by lclarcq on August 11th, 2017
filed under Archived Posts 2017, Curriculum and Planning, Starting The Year, Uncategorized
doesn't exist.
Sigh.
Since I was a little girl, I've dreamt of working in the perfect room. I've seen them on Pinterest. They must exist somewhere. But the truth is, they don't exist in my world.
Perhaps your world is different. Perhaps you have unlimited time and unlimited funding. Perhaps you have no other distractions. Perhaps.
Or….your world is much like mine. The ideas all exist….in my head. The potential exists….in another reality. The desire exists…..every year.
But the reality does not.
What does?
This: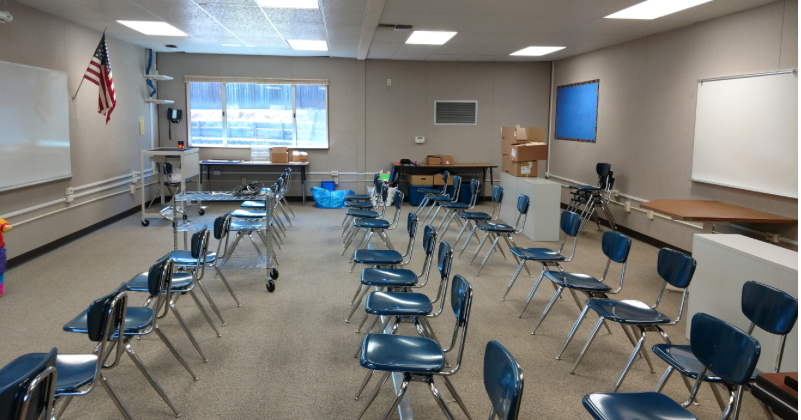 That's my classroom right now. It might be my classroom for the next few days actually. (and classes start on Thursday!!)
Clearly there is a lot to do. In the past I would have been committed to all-nighters (or nearly) full of drawing, cutting, decorating and hanging. I would have done nearly anything to make sure that my students walked into a "classroom paradise."
But almost a decade ago I gave that up.
I didn't really have a choice at the time. You know, building construction, Xerox breakdown, no paycheck for July and August, two sons to get ready for school, moving to a new house, etc. etc. etc.
A few students asked me, "Where's all your stuff?". But not many. In fact, a few students actually told me that they liked the new "quiet" look. That was eye-opening.
And we started the year. And as things were needed, we made them and we put them up. The kids made most of the posters and decorations and they really preferred it that way. I still have dreams of the prepared and laminated loveliness of my early days. I'd love to have a gorgeous little Pinterest page-worthy environment.
But this way I get a few extra perks:
I don't have to live up to my First Day decorating prowess.
I have more money in my bank account.
I have students who love to hang out in the room and create materials and decorations.
The students, their needs, and their work has become the focus of the classroom.
and I can still spend hours day-dreaming on Pinterest if I want to. 🙂
with love,
Laurie