by lclarcq on August 14th, 2018
filed under Archived Posts 2018, Encouragment, Engagement, Grading/Evaluation/Assessment, Problem Solving, Relationships, Start From The Heart, Starting The Year
Today's post is a little out of order, but something caught my eye and I wanted to share it with you!!
One of the things we all deal with in the classroom is test anxiety. No matter how much "safety" we have built in, the moment the word "quiz" or "test" pops up (see what I did there? 🙂 ) some of our students just freeze up or freak out.
These ideas won't necessarily solve the problem, but they will help! Not everyone can do all of these, but if you feel you can't, ask yourself why. Is it that you really cannot, or is it that it is just outside of what you are accustomed to? Our own "beliefs" about assessment are based on experience, rather than reality….and it's good to examine them!
So take these ideas seriously, but remember, not all ideas are for everyone!!
1. Don't test students on things they haven't "mastered".
Is that possible? More or less, so let's strive for more!! Traditionally, even if we don't like to admit it, language tests have been all about the top students. They have been full of very specific elements and the exceptions rather than the regular. Let's change that!
If we are teaching towards success, and for proficiency, let's document what they KNOW and what they CAN DO. (Otherwise we should be writing Can't Do Statements!!!) Let's fill up our quizzes and tests with items that allow our students to demonstrate their strengths.
Now, if we need to assess a particular skill or item in order to find out if HOW the students are doing, let's do a lot of informal assessment. Let's use that formative assessment to adjust the input we deliver and the interactions we have in class!
EVERYONE acquires their first language without testing, I"m pretty sure that it is NOT a requirement for second language acquisition. If, and when, we are required by the powers that be to formally assess a skill, let's do it with humor, confidence and joy. Or at the very least make it a part of a larger assessment so that the test is predominantly material they can be successful with!
2. Assess skills as well as knowledge.
This could be an entire course of information on proficiency and assessment grading! So I'll just say that we need to look at our assessments to see if they actually assess what we think they are. Unfortunately, the easiest assessments to grade are often the least effective at actual assessment. Let's pledge to continue to work with colleagues and explore ways to assess that don't suck up large amounts of class time but do allow students to demonstrate what they can do, as well as what they know.
3. Don't put every assessment in the "book."
Like many TPRS/CI teachers, I usually only put grades in the book if approximately 80% of the students earned a score of 80% or above. If the class, as a whole, scores poorly, then clearly there was a problem with the assessment or I assessed them too early. I should not be punishing the students for those reasons.
If just a few students do poorly, then I follow the department/school policies for make up tests. And make sure they get what they need if I can!
4. Give students what they need in advance, without giving them the answers.
Giving them the answers is what they say they want, because their experience is that teachers want very specific answers. Is that what we want? I don't think so. Not on most assessments anyway. So let's provide our students with materials that fill that need to have "answers" to prepare for…at least just a little bit.
A. Short lists, in paper form or on sites like Quia where students can "practice" will fulfill some of that need and lessen anxiety for students, parents and colleagues. They don't have to be required, but they can be if that fits the needs of your situation.
B. Readings, and listenings, are their best gift. Anything that you do in class that can be put on line or in print form for them to use as a resource is also a gift. Of course, we don't always have time for that, but if you have access to upper level students (they don't have to be yours!) or cooperative heritage speakers, take advantage of their abilities to help you to prepare these materials.
C. Show them the format in advance. Not because they need it to do well, but so that they are not stressed when they see it.
D. Give assessment "structure" they can count on. We have lots of routines in the classroom. Let's consider "testing" routines. Here are the ones I used in my deskless classroom in the last two years:
1. An assessment every Thursday. Sometimes very short, sometimes longer. I may or may not have told them in advance what would be on it, but they did know the format. It could be reading/listening (illustrate, fill in the blank questions, English questions, Spanish questions, open-ended questions, etc.) or writing (free write, structured writing, response writing) They also knew how it would be graded.
Confession: I needed to schedule assessments or I would forget to do them. Occasionally I would just call an assessment-free week and I could, because I knew that I already had enough in the book!
2. Students arrived to find a good luck message on their seats. Check this out!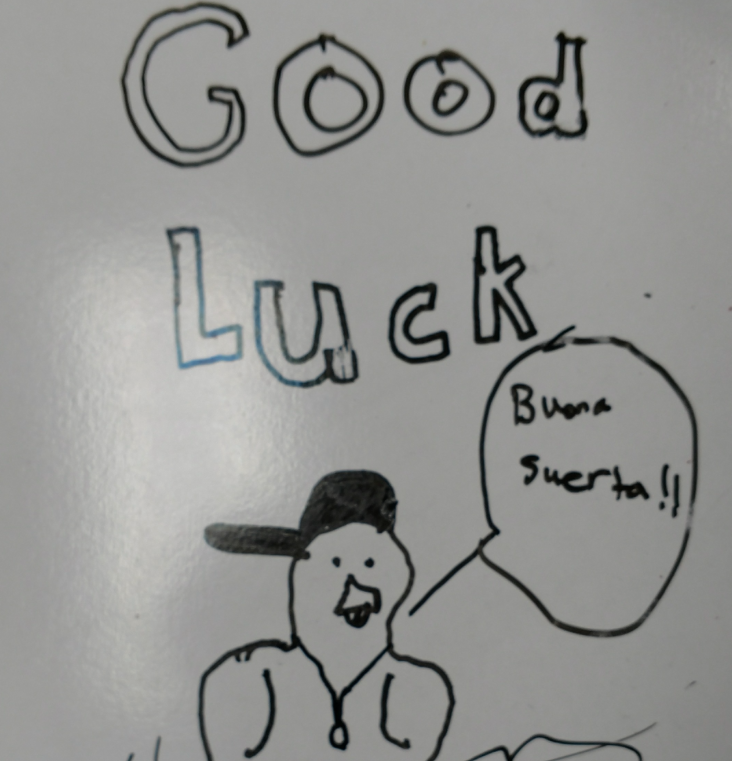 Students could, if they wanted to, take a quick picture of the message before erasing it to prepare for the quiz.
3. Students picked up a "good luck duck" if they wanted to. I had a collection of tiny plastic ducks that students could have by their side during tests and quizzes. The Patitos were very popular!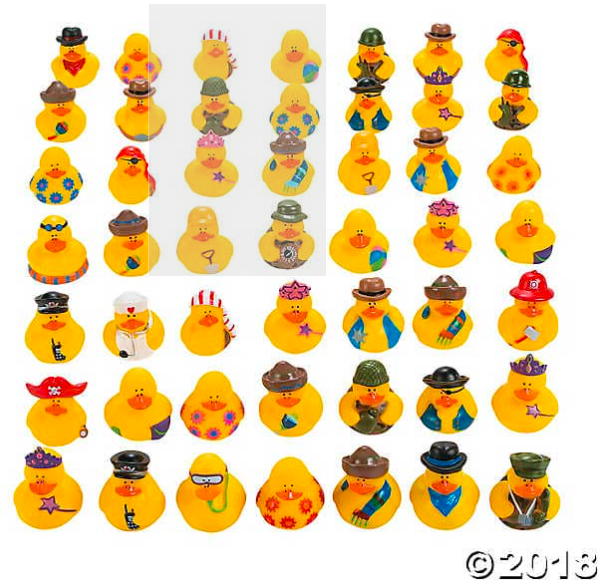 (These are from Oriental Trading company..click on pic…which is where I got mine.)
4. After our daily start routine, I would announce the assessment and ask student to find a spot to take their quiz. Because we were deskless, they were allowed, within reason, to go to a different part of the room to take assessments. During this time, students were allowed to talk quietly, make sure they had a whiteboard/marker and borrow a writing utensil if needed. (I only allowed a couple of minutes for this!)
5. I used one of our call and response signals to quiet the group.
6. Tests were passed out FACE DOWN AND KEPT FACE DOWN. If the test had two sides, they put it under their whiteboards. I reviewed and reinforced this all year!!
7. When everyone had a test, then, we all took three deep breaths together and turned them over together. Everyone put their name on the paper at the same time. Then, I went over the instructions, asked questions to make sure that they understood the instructions and let them ask questions about the instructions. (Middle school, remember?!)
8. Students began the assessment. When they were finished, they answered the quiz question (see below) that was on the paper or the screen/board. (See below)
9. When that was finished, students either handed me the paper or raised their hand for me to collect (depended on the group!!). Either way, I looked over EACH paper as it was turned in to make sure that it was complete. If not, I could have a short conversation with that student to encourage/support finishing it. I also checked to see if their name was on it! (Middle school, remember?!)
10. Students then created a good luck note for the next class on their white boards.
11. If students are still testing, those who have finished their tests found a book in our FVR collection to read.
12. When all tests are turned it, I played a favorite, upbeat song and everyone returned to their regular seats for the next activity!! (Often a brain break!)
This routine looks long on paper, but it wasn't and it solved many, many, many potential problems!
E. Connect with a Question:
For years my colleague Karen and I have suggested the sharing space at the end of the quiz. We know that a lot of you already do it. It's a wonderful way to catch a moment with each student. Leave a section a the end of each assessment where you can do any of the following:
1. Ask a question (L1 or L2….to be answered in any way you prefer…I usually ask for answers in L1 but encourage and celebrate all answers in L2!)
Some ideas:
What was the best part of your week?
What are you looking forward to this weekend?
What nice thing did you do for someone this week?
Name two places you want to go to in your lifetime.
Who do you look up to and why?
What makes you laugh?
Who is your favorite Youtube star?
Tell me the name of a show/song/book I need to see/hear/read.
2. Ask for a drawing. It could be something you can use to intro the next lesson, or simple a random "Draw me a picture."
3. Ask for feedback on the test, the week, whatever!
4. Take a poll: What Friday activity do you want to work for?
Do we need a seating chart change?
Etc.
F. Assess with confidence, joy and humor!
It's pretty difficult to change a mindset that has been years in the making, but it's worth a try! So many of our students are "test-stressed" that anything we can do to lessen their anxiety is a gift, to them and to our entire community.
So don't be afraid to make it fun!! Use humorous pictures for writing prompts and humorous stories for reading. Put one or two totally ridiculous, or class-related answers in the multiple choice options. (It's a great sneaky way to check comprehension….if they laugh, they understood!)
Celebrate with words! Say OUT LOUD when you are proud of how they approached an assessment, did their best, etc. If we can remind them that it is their attitude that can make the biggest difference, it will become easier for them to believe it!!
I love to use music to "end" an assessment. Let them sing! Let them use percussion instruments (if you dare). Let them gesture! Let them dance! Go back to the joy any chance that you can! (Even if they pretend they are too sophisticated for it!)
This turned out to be a bit longer than I planned. It isn't your typical assessment post, but I hope that it solves some problems for you!
Oh….I almost forgot! Here is what caught my eye. I would love to have kids use these, but only on tests!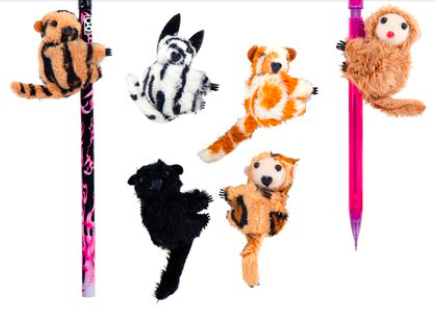 (I found these on Zulily…click on pic)
with love,
Laurie
by lclarcq on August 12th, 2018
filed under Archived Posts 2018, Classroom Management, Relationships, Start From The Heart, Starting The Year, Teacher Training
Teaching in an IB school for the last two years taught me so much!! As the oldest of five siblings and a single mom of two boys (now men!), I have a tendency to try to take care of everything myself. Not because I think I can do it better, but because I am so programmed to look for potential problems and head them off at the pass. That can be a great quality, but, it gives others the impression that a) problems take care of themselves and b) I want to do everything…..neither of which is true!! The IB emphasis on learner traits really helped me to see how allowing everyone in the class to have a role in problem-solving not only aligned with our practice of classroom jobs, but also helped us all to share responsibilities and our talents every day.
How does the Rule 'Take Care Of Problems" connect with other Start From The Heart ideas?
Respect–
A. Taking care of one's own problems is a sign of self-respect. Teaching is complicated. We need to
respect that. Eliminating unnecessary problems is a practical way to honor the work that we do, and
to respect the energy we invest in this job every day.
B. Students need to observe adults solving their own problems. They absorb what we model. Even better
if we vocalize from time to time what we are doing and why. They cannot see inside our heads!! They
don't hear our hearts!!! So stopping to take sips of water water and mentioning staying hydrated
teaches more than you would imagine. So does stopping to think before responding, showing them how we
choose songs and a number of other behaviors we can demonstrate!
C. When we demonstrate our commitment to avoiding and solving problems, we tell our students that they
matter to us. Students have amazing problem-solving abilities. It isn't always easy to see,
particularly when some of them appear to be able to solve simple problems, but don't. But they really
do. We often underestimate the number of problems they deal with every day! When we make it a clear
goal to commit, as a class, to taking care of problems, we respect that they are human beings, with a
lot to deal with, and that they have qualities and abilities that can help the entire group.
D. When we make Taking Care Of Problems a class initiative, we continue to grow as individuals and as a community, with common goals.
Success–
Success is not living a problem-free life. Success is dealing with life's problems in a positive way whenever possible.
A. Whether we plan ahead alone, or with the help of students, we commit to avoiding
UNNECESSARY problems.
B. When we, and our students, can identify problems as they occur, we can address
those problems before they become insurmountable.
C. When we, and our students, find ways to consciously, creatively and compassionately
address problems as they occur, we experience confidence and relief. That…is
success!
So in order to continue to create an atmosphere of respect, and to prepare and maintain an environment for success, we are going to make Rule #2: Take Care of Problems. Want to get started?! That is the next post!
With love,
Laurie
See Rule #1: LIsten In Order To Understand.
by lclarcq on August 11th, 2018
filed under Archived Posts 2018, Classroom Management, Engagement, Relationships, Start From The Heart, Starting The Year
1. Listen, with respect, in order to understand.
For the last several years, this has been the first "rule" in my classroom. It's absolutely necessary for acquisition to occur and for community to build.
It's actually a fairly simple rule….and I post it, point to it, refer to it and try to live it as often as possible. That last part, the living it, is sometimes the hardest part….for me!!
Teachers (and a lot of other human beings) tend to listen in order to reply. Not to understand. For me, that has been a hard habit to break. But when I manage to really listen, it often changes everything I thought about that moment and the student I am listening to.
More and more I am convinced that students not only acquire language from us, but also attitudes, interests, curiosity and actions. It's what humans are wired to do. We (teachers) consciously and unconsciously project who we are and what we believe and think. Students consciously and unconsciously absorb what we think, feel, say and do. There are things that the clearly and consciously agree to accept and do…..and others that they acquire without even realizing it.
We all want to belong. When the behavioral rules of the class are clear, it is easier for students to follow the rules and be a part of the group. So Rule #1 is clearly posted. But if I want students to trust the rules and to trust me as the teacher, I have to follow the rule as often as possible.
That has not been easy for me!!!! I'm a bit of a talker!!! As with most habits, it takes a while to do it naturally. Lots longer than I would have liked. But it has made me a better teacher……and as with most things in teaching, it has also made me a better person.
There are a lot of ways to "teach" the rule, but that is another post for another day. But I do post it, I do "teach" it, I do enforce it, and I do try to model it whenever I can.
Does it work? Did my students become better listeners? More polite? More compassionate? More empathetic?
I can't answer that. My students are a constant work in progress. I can never really know what they take away from their time in my room.
What I do know is that, in my room, while I was there, that when I was consistent with the rule, I saw them consistently listening to try to understand. To understand me, each other, a song, a video clip, a visitor. It created a calmer atmosphere and a more patient one. Some students, and some classes were clearly better at it than others. But we always tried.
Listen, with respect, in order to understand.
Listen,
Not look at a phone, a note, a book, scribble, draw, brush hair, do make up, finish homework, communicate with a neighbor or a million other options.
Listen.
With respect,
Not with impatience, frustration, anger or judgement.
With respect.
Not in order to get the response I want.
Not in order to say the response I have planned.
Not in order to "fake" being interested.
Not in order to see who "gets it" and who doesn't.
Not because it's someone's turn to answer.
Only to understand.
Listen, with respect, in order to understand. As often as posslble.
With love,
Laurie
Start From The Heart: RESPECT
Start From The Heart: A Focus
by lclarcq on August 9th, 2018
filed under Archived Posts 2018, Classroom Management, Curriculum and Planning, Engagement, Start From The Heart, Starting The Year
Now what? Sometimes it is so hard to get started!! That is why I think that is important to start a new chapter by creating a list or a series of short focus statements for yourself. Try creating statements using key ideas and goals for CI/TPRS instruction: Comprehension, Interest, Interaction, Success, Acquisition.
Why?
Because if we have a clear idea of what is important, it is much easier to create a classroom based on what is important. I know it seems overly simple, but with all that we are required to do, it is easy to get away from what really matters.
It doesn't need to be complicated. Maybe something like this:
In this room, Success Looks Like:
Comprehension
Interest
Interaction
Acquisition
Or maybe….
Comprehension + Interest + Interaction + Success = Acquisition!
Need more words? Think about adopting or adapting some of these:
When we comprehend…
When we are interested…
When we follow or interact successfully…
We acquire.
All of my students can acquire language.
Comprehended Input is the basis for acquisition in this classroom.
Compelling, connected, interactive input keeps students motivated for comprehension.
Success motivates my students.
I strive to provide an environment that facilitates language acquisition.
I strive to provide an environment that facilitates successful interaction.
I strive to create/find compelling input that connects to my students' lives and interests.
I strive to interact with students using this input in a way that honors and motivates.
We all acquire languages naturally.
We all must comprehend the language in order to acquire it.
We acquire more language when we are engaged (using the language) in an interesting topic.
When we feel that we are a successful, important part of the language community in our classroom, we grow.
Students will be able to comprehend the target language used in class.
Students will be able to explore interesting topics, ideas, and lives in the target language.
Students will frequently interact with me and other members of the class.
Students will have opportunities be successful each day in these aspects of the class.
Once you have created your "message", post it. Post it on your wall, on your website, on a sticky note on your computer, in a message to parents, wherever it will be helpful to share your vision.
Now it's clear where you are coming from, and where you want to go!!
With love,
Laurie
by lclarcq on August 8th, 2018
filed under Archived Posts 2018, Classroom Management, Engagement, Start From The Heart, Starting The Year, Teacher Training
Whether we've been to a one day workshop or an entire week of training, there is so much excitement about using a truly comprehension-based approach! And then reality hits…..
How do I start? What do I do first? What do I need? HELP!
It looked so seamless and easy in the demo. We had some practice at the training and overcame a few butterflies. But when the reality of 100+ students a day, IEP's, lesson plans, unit plans, evaluation, assessment, and explaining it all to colleagues, parents and students kicks in, it's overwhelming.
So let's start from the heart of the matter. If we (and everyone else) has a clear idea of why we are doing what you do, it all goes much more smoothly.
I'm going to suggest a one-word start:
RESPECT
I actually started with several other ideas (see next post!!), but then realized that if we start with RESPECT, everything else will flow more successfully.
What does RESPECT, in the classroom, look like to you?
This is incredibly important. If we are clear in our own hearts and minds about what is and isn't respectful, discipline becomes much easier. If you've never thought about it in such concrete terms, take 10 minutes and try it. Take a look at this list and mark which actions/reactions you consider respectful and which you do not.
Feel free to share it with colleagues or even use it as a lesson plan for interaction and discussion with students.
WHAT IS RESPECT?WHAT IS RESPECT?
Look at what you feel is respectful and what isn't. Based on what you feel, what definition can you put together for RESPECT? Here are some ideas. Feel free to adopt/adapt or consider working with colleagues/students to create a definition for your classroom.
RESPECT is a choice.
RESPECT requires paying attention to others.
RESPECT requires being aware of self.
RESPECT is an action, or choosing to NOT engage in an action..
RESPECT does not hurt others, physically or emotionally.
RESPECT is visible.
RESPECT creates a community.
RESPECT accepts differences.
RESPECT values progress over perfection.
RESPECT brings people together.
RESPECT recognizes growth.
Post this in your classroom. Put it in English/TL. Have students create a copy for themselves. Refer to it often. Add to it when needed!!
Respect is the cornerstone and building block of a successful relationship. When we begin there, and encourage conversation and discussion about respect and communication, we begin with an open door towards success…..even if it seems rocky at first!
So how do we communicate our thoughts/beliefs to our students? We each get to decide that. There is no wrong way as long as it falls under the guidelines we have identified as RESPECTFUL.
Make a poster. Make copies for students. Have students write them for an assignment. Design a game. Lead a discussion. Poll them on their ideas or on how past teachers showed respect. Use the worksheet above. Just tell them. Anything we do that keeps them alive and in front of the class will work…again, as long as it follows your RESPECTFUL guidelines..
Ultimately, focusing on RESPECT will only work if we walk the walk, not just talk the talk. Let your students see you at your most respectful. Let them see you apologize if you are not. Let them see that it is all of those things you said that it was, BY YOUR ACTIONS.
Showing RESPECT through action is LOVE in its highest form. They know that, even if they haven't yet experienced it.
With love,
Laurie
by lclarcq on August 8th, 2018
filed under Archived Posts 2018, Classroom Management, Engagement, Relationships, Start From The Heart, Starting The Year, Teacher Training
Hello to old and new friends!
It's been a very busy summer and here we are…at the beginning of a new school year. This year, I will not have my own classroom, but I am grateful to all of you who are opening your classrooms to me so that I can visit and guest-teach as I travel around the U.S. and beyond! It will take a day or two, but I hope to have an updated schedule up very soon.
As this new year starts for all of us, I am going to write a series named Start From The Heart. I'll post a number of different ideas and activities that friends, colleagues, my students and I have found helpful for those starting the year, and/or starting with Comprehension-based teaching anytime during the year.
Some posts will be just for the teacher…things to ponder on and work with. Others will contain activities that you can do with colleagues or students. I will post these on my Teacher Pay Teachers site (Hearts for Teaching) as free uploads!!
I hope that you will find something that resonates with you and supports you at this exciting time of year! Please write me and let me know if there is anything specific you would like to see addressed. I know that there are many resources out there…thank you for being part of this one!
with love,
Laurie