by lclarcq on October 13th, 2017
filed under Archived Posts 2017, Creating Stories, Engagement, Relationships
I had planned this as a listening activity….but it took on a life of its own! We had asked a story the day before using some phrases from the song Hoy Es Domingo sung by Diego Torres and Ruben Blades. (Check it out if you aren't familiar with it!)
Phrases I wanted to include were:
It was Sunday.
S/he was in bed.
S/he wanted to sleep.
Each of the three Level 2 had co-created a great story the Thursday before and I wanted to go back and review the story on Monday.
My classes are good-sized: 30-34 students and I often feel like I am herding cats trying to keep us all together going the same direction at the same time. This was a total experiment, but I loved the result!
I divided the class into four groups. Each group had 1/2 of a large white board (I have two large boards, on opposite sides of the room) They arranged their chairs (we are deskless) in a semi-circle around their particular white board section.
I had drawn a grid of 16 squares on each white board and numbered them. One student went to the board in each group. I read the first sentence from the story out loud, in Spanish, and the author had THIRTY seconds to sketch that sentence in box #1. ONLY 30 SECONDS! The group was allowed to help with meaning and ideas for the sketch. ( Rules: No criticism of artwork or interpretation allowed. Suggestions welcome. English allowed…these were middle schoolers at the beginning of level 2) )We all applauded the artists and the next student went to the board.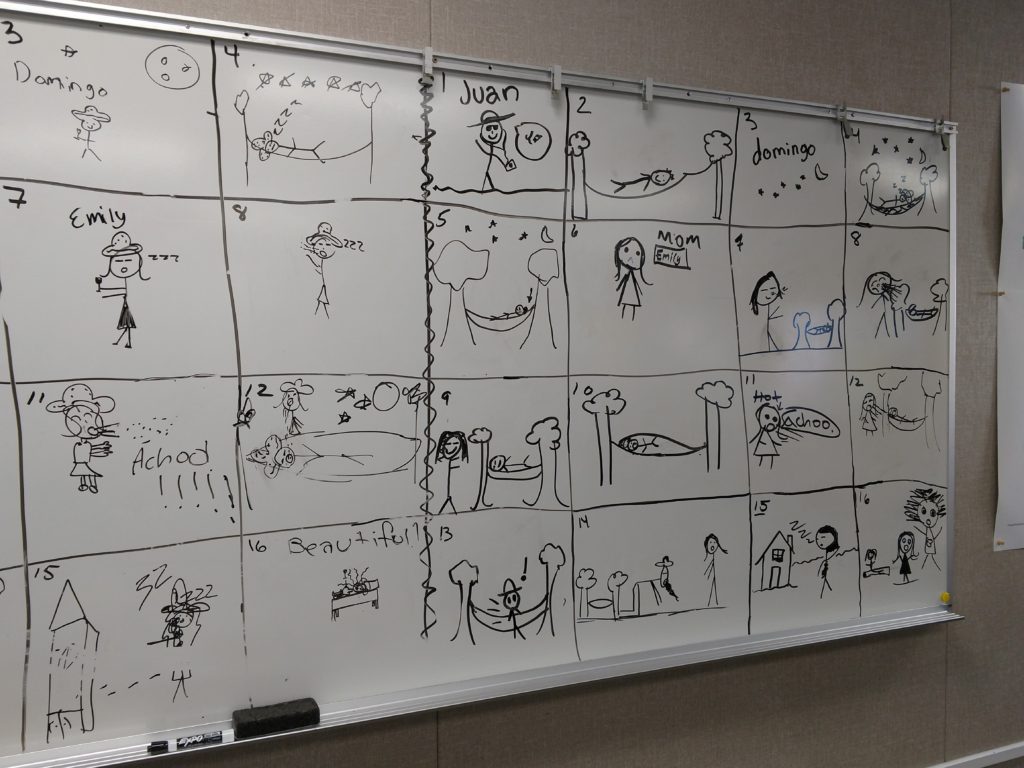 My plan was to go until it fell apart. (Did you ever do that with a new activity?!!) But it never did! It just kept building momentum!
What I observed:
BONDING BONDING and more BONDING! These classes are a mixture of 7th and 8th graders with a 6th grader or two mixed in. The school has nearly 1000 students. They just don't know each other outside of my class and they really got a chance to work with new people and connect. The rules kept great artists from getting frustrated and instead made them the expert with helpful suggestions and ideas. The students that weren't as comfortable with the language had the support of the stronger students in the group. The kids who had no confidence in their artwork had the support of their group's ideas.
GREATER COMPREHENSION! We revisited the story with the drawing and then, we used the drawings for several follow up activities! Each time my slower processing students understood the story with more detail and my faster processors were not bored in the least. Their own artwork was intriguing!
LAUGHTER! The fact that they only had 30 seconds to draw created just enough tension to lessen the pressure for perfection. In each group (without prompting from me1) one artist added a funny detail to the picture. It might have been a funny haircut on a stick figure or a facial expression etc. Then every artist afterwards continued to use it. It started a series of laughter among students who really hadn't known each other well.
OWNERSHIP! Each group was very proud of their 'creation" and posed for pictures with their artwork. (These are on the school device and I'll upload them soon!)
I'll follow up in the next post with our follow up activities!
with love,
Laurie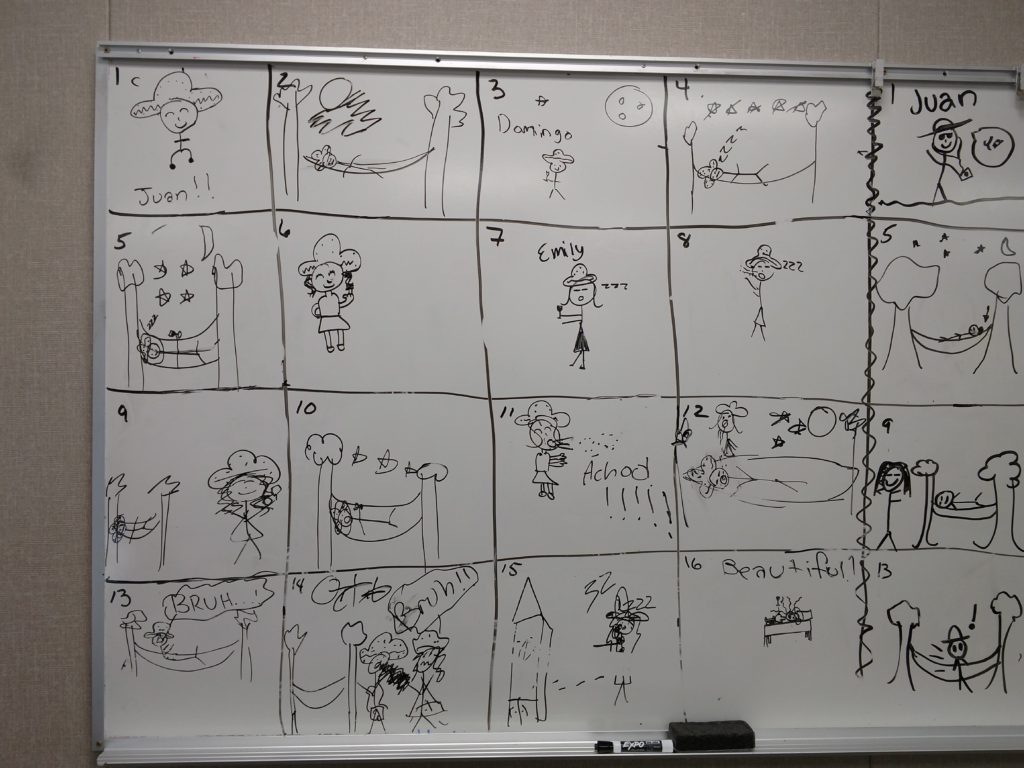 by lclarcq on September 18th, 2017
filed under Archived Posts 2017, Encouragment, Engagement, Good Days, Musings
It's been a little busy in my world, and I bet it has been in your world too. Once the year gets going, it just seems to pick up speed! It's easy, when things get crazy, to get caught up in what isn't done and what isn't going right. At least it is for me! I can get all discombobulated about the kid who is often late, the parent who thinks I don't answer emails quickly enough or the online training I was supposed to have done yesterday. In the past week or so though I have run a few moments that caught me by surprise….and I wanted to share them with you.
As some of you know, last year a group of 6th graders and I struggled our way through the year. We had a rocky start and a lot was expected of them and I'm sure that they felt that they never quite measured up. I'm lucky enough to have about 1/3 of them back again this year and they are SO impressive. 'It's just clicking into place!" one girl said and another stopped by after class to say that this year is SO easy. And I was worried that they would carry that rocky start with them for their entire language career. It's let me relax a little and not fret so much about kids being "behind". I am seeing that if we all hang in there, and they get enough comprehensible input, the sky really is the limit!
A week or so ago, I told my classes that before school started (and with not a few winks) I went to the registrar and made it quite clear that I would only teach students who were clearly very bright, extremely easy to love and kind to others, not to mention wonderful to look at every day. A girl came in late today, having run the mile in PE, and whispered to the boy next to her. "I'm the sweatiest, ugliest girl on campus. Sorry you have to sit next to me." He whispered back, "Not in Ms. Clarcq's class you aren't, don't worry about it." Totally serious. She just smiled and said thanks. (Isn't it funny that kids don't think you can hear them?!) My words may have been (somewhat) in jest, but the sentiment behind them was not….and he knew that. (and I wasn't even sure he was listening!)
I have a group of boys who always pitch a little fit on the days we do SSR. They don't get a book on their way in. They moan (quietly at least) when I remind them to get a book and they draaaaaaag themselves over to the shelves and reluctantly open the book. Sometimes they try to read it upside down …just to see if I am paying attention. Or whisper behind the open book as if I can't tell it's them. :0) My strategy is to wait them out. I don't actually start the reading timer until they settle down. On Friday I was sorely tempted to just give up and send everyone to turn their books back in when FINALLY they got quiet. Seven minutes later, when it was time to put the books away, they were the last ones to do it!! And I had to move them along a little. One of them actually turned to a friend to tell him what was happening in the book!! Who'd a thunk it?
I bet these moments happen way more often than I notice. I think I need to start looking for them more. Waiting for them more. And making a little more room for Hope to take root.
with love,
Laurie
by lclarcq on September 3rd, 2017
filed under Archived Posts 2017, Engagement, Pacing, Starting The Year, Uncategorized
Hello!! It's good to have the "real" blog up and running again back here at www.heartsforteaching.com .
My kids and are will be starting our third full week on Tuesday (wow! so quickly?) and if you have been reading many of the posts on various Facebook pages (IFLT/NTPRS/CI Teaching, CI Liftoff etc.), you'll notice a common theme: It's time to slow down.
I AM THERE!!
We finally have a stable schedule, so students are not moving from class to class or teacher to teacher. I have had time to establish my expectations for behavior, model how I deal with "issues", and begin to create relationships with, and among, students.
I'm crazy to do more with the language!! But…I also just gave a quiz and got feedback from parents at Back To School Night…so I know that this is the perfect time to slow down, no matter how counterintuitive it might be.
I'm going to reference a post from earlier this year: When Students Are "Lost"
Luckily, my students are "lost" yet! But, I know, if I don't slow down now they will be soon. I just don't want that to happen! Especially this early in the year! So I'm going back to this post, and these ideas this week to be proactive for my students.
When I was teaching in NY, I used this scale with my students to describe what is going on in their brains during class:
Stage 1 : Attention
(student is looking at/listening to w/intent to understand)
Stage 2: Identification
(student can locate sounds/text that are recognizable)
Stage 3: Comprehension
(student can visualize/dramatize meaning of the pieces they understand)
Stage 4: Clarification
(student will seek information needed to comprehend any missing pieces)
Stage 5: Interaction
(student will respond to aural input/text to the best of ability)
I want to share this with my students now, so they can begin to appreciate not only how much work the brain is actually doing during class (hmmmm can you say "RIGOR"?), but also to remind them that this is a process, a journey, and they are farther along than they may realize.
We will work from a poster than words it this way:
Stage 1: I heard/see it but I don't recognize it/can't identify it.
Stage 2: I can identify/recognize it but I don't know what it means.
Stage 3: I heard/saw it AND I recognize it AND I'm pretty sure I know what it means.
Stage 4: I checked what I think it means with the context to see if I'm right.
Stage 5: I totally get it and can respond verbally/physically to it.
and I may create a smaller version for them each to tuck in their folders. It will definitely be part of parent communication. I REALLY wish I had thought to prepare it for Back To School Night…..
Then it can begin to be part of our interactions in class; with each other and with the language.
Now the REAL benefit to this is that this poster is a HUGE visual reminder for me to slow down. Why? So that their brains have time to deal with all of the stages! It really is a lot of work! In time it will take microseconds, but right now….they need time. Thinking time. Confidence time. All of which leads to individual and community success. Which we always need!!
with love,
Laurie
PS if you haven't read the post where I originally shared this, go for it! When Students Are "Lost."
by lclarcq on August 24th, 2017
filed under Archived Posts 2017, Classroom Management, Engagement, Relationships, Starting The Year
Creating community is more than a series of activities…..it is a commitment to finding ways for students to support each other.  That is not always easy!  Supporting and encouraging others is not a part of every community that we teach and live in.  It isn't always a part of our family history, nor the dynamic of our students' home lives.  
Like everything else we do, it requires patience and a constant series of safe opportunities for student to be a part of.  Once students begin to experience what being part of a community really means, they begin to buy in and often lead the way…..but that can take some time.
My first period class (so far!) seems to be a group that is willing to step up, so I asked them to start something this morning that blossomed throughout the day.   It was the day of our first quiz.  (I try to give some sort of assessment each Thursday because it helps me to plan for the next week.)    The first period group was a little nervous, but no surprise, they felt good about their answers.  
Today's quiz was really more about teaching them the logistics of taking a test/quiz in a deskless classroom, and to build their confidence about quizzes in the weeks to come.  After the quiz was over, I asked them to share their thoughts about how it went.  They were relieved that it wasn't too difficult and some of them admitted that they had been pretty worried about it.
So….
I asked them to write "Good luck!" to the next class on the whiteboards that we keep under the chairs to write on.    When the next period came in, each student had a note saying 'GOOD LUCK!" on the white board under his/her seat.   At first, they were puzzled.  Why did they wish me good luck?  Who wrote it?  Do they know me?  But after a few moments, they began to share their messages with the students nearby and several took pictures to save and send.  
Then they erased the messages and took their own quiz.   Towards the end of the period, a student asked, "Aren't we going to make Good Luck boards too?"  Of course we were, but I was waiting to see if they would ask…..and they did!!
The last period of the day wrote "Good morning" on their boards and emphatically informed me that next Wednesday they needed to write "Good luck" for the 1st period class to see Thursday morning.
Just a quick, easy, safe way to build community….and yes…I took a quick look at each board before they left the room…..just to be sure all of the messages/drawings were appropriate. :0)  It is middle school after all!
Check out the pictures below! (I wish the one of all 31 of them had turned out!)
with love,
Laurie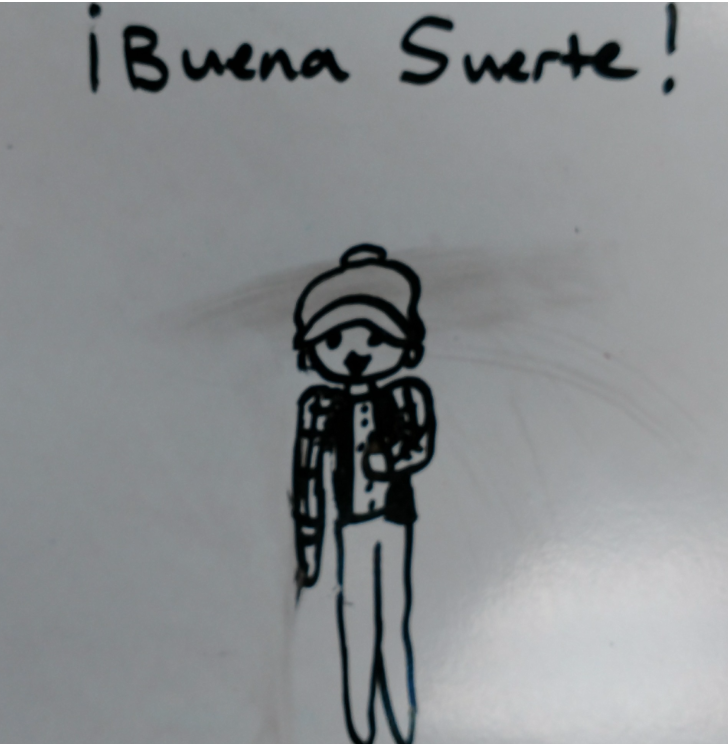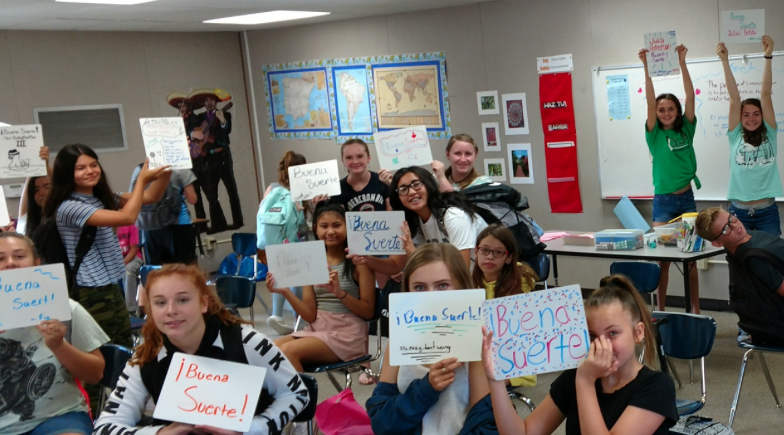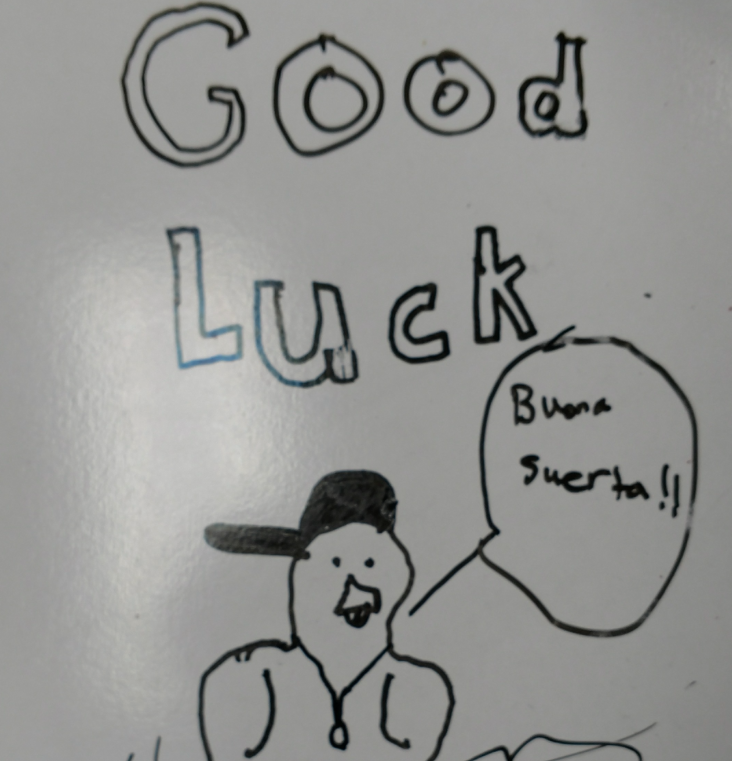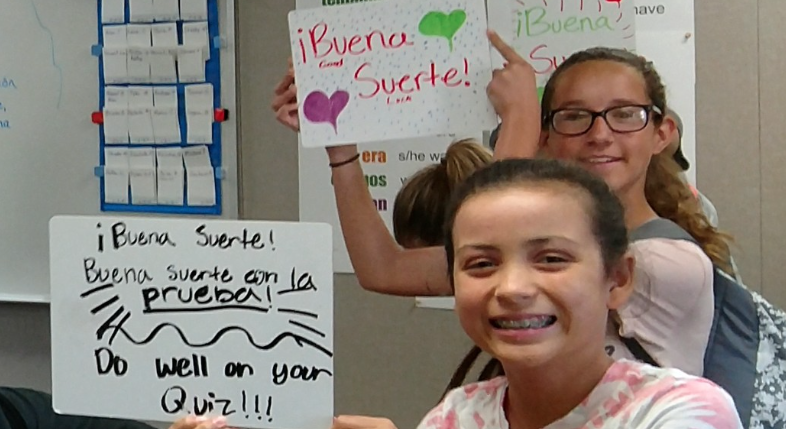 by lclarcq on August 22nd, 2017
filed under Archived Posts 2017, Classroom Management, Engagement, Starting The Year, Tough Students
Note:  For the next two weeks, the Hearts For Teaching Blog posts will appear here on this site.  I will move them over when the Hearts For Teaching Blog is up and running well again!! (probably Sept. 1st)
I'm really focusing on my "hard to win" students these first few days.  The sooner I can get them on board, the sooner they start making progress.  Once that happens, there is no stopping them.  It's getting them started that is the challenge!
Right now, these students fall into two categories (mostly): a. students who have been asked to repeat a level and b. students who have had more success with being obnoxious and funny than with classwork.
Some of my sweetest moments this week have come from these kids…..so I wanted to share my "chair guy" story with you.   Chair Guy started Day #1 by being the loudest, smart-mouthed and most vocal kid in Spanish 2…..and of course, all in English.  On the second day of class a new student entered just as we were about to start the first activity.   All of the chairs were full.  The student looked around for a seat, and in a split second it was obvious that no chairs were readily available.  
"Sucks to be you!", yells out Chair Guy.  The entire class looks at him, and then at me.  Chair Guy isn't even aware that he has said/done anything questionable.   I go over to my desk and picked up a Wildcat Way (the school's recognition rewards that can be turned in for prizes etc.)
"Hmmmm", I say to Chair Guy, slowly waving the Wildcat Way, "I think you meant to say–I'll find you a chair."   
Chair Guy looks at me for a second, puzzled, and then he gets it.   He stands up, goes to the corner of the room, picks up a chair from a few that are stacked in a corner.  "Where would you like to sit?, "he asks the girl, "I'll put it anywhere you would like."   She points, he puts the chair down, and I hand him the Wildcat Way with a thank you.
Not 10 seconds later ANOTHER student enters the room.  Chair Guy is on his feet in a second.  "WELCOME!!, " he yells, "I'll get you a seat!  Where would you like to sit?"  The student gets a personally-chosen seat and Chair Guy gets another Wildcat Way.
Now, the next day, a student comes in late.  Chair Guy jumps up and says, "Welcome!  There's a chair for you over there!"  No kidding.  I don't know who is happier, me or Chair Guy!!  
On the way out he says to me, "You know, I've never gotten any of these before.  It's easier than I thought to do the right thing."  
Welcome to the class Chair Guy!!!!  So glad he's here.
with love,
Laurie
by lclarcq on February 13th, 2017
filed under Archived Posts 2017, Classroom Management, Encouragment, Engagement, Personalizing Instruction
It's been three months. Days that sometimes seemed very long but months that have been very short. I'm not sure when it happened exactly, but recently there has been a change in my room. It feels like we are no longer strangers. This is so much better. I really was worried it wouldn't happen.
I know, maybe everyone doesn't really work this way, but I like knowing who the kids are in my room. I know their names. I know when one has new shoes. I'm learning who is always hungry and who never has anything to write with. I know whose family can afford a trip to Cozumel this spring and who wants to hang out after school and not go home. I know who will paint their face, wear feathers and paint their nails for Rally Day. I know who stays home on Rally Day because the energy level all day before the rally is too much to handle. I know who thinks they are old enough to be in high school and who still keeps a stuffed animal in their backpack every day. I know some things I am grateful to know, and other things that punch me in the gut when I think about them.
I don't know something about everyone. But we have gotten to know each other. It's a wonderful thing. I really didn't enjoy working with strangers.
Middle schoolers are both a tough and a fragile bunch. Their tears are very real and they are often started by something that is only a big deal from the perspective of a middle schooler. One thing I have remembered is that middle school isn't always fun to remember. But, the best way to connect with my middle schoolers has been to reconnect with my middle school self.
So, she and I are no longer strangers either.
She sometimes rode her bike to school…and sometimes took the bus.
On the days she rode her bike, her hair was even more of a complete disaster than usual.
On the days she took the bus, the high school boys pinched her on the butt and snapped her bra and she was mortified….but never told anyone.
She wanted very badly to be a cheerleader but just couldn't jump. And her glasses fell off.
She thought she was smarter than the teachers some days and smarter than the other kids most days. And so she was a smart mouth sometimes. And then she cried because it felt mean.
She doesn't have 7th grade pictures because her family of 7 were all living in a one-bedroom apartment transition housing and there probably wasn't enough money……even if her mom did say that it was because the pictures were too ugly. That was less scary for her mom to say, but not less hard for her daughter to hear.
She fell desperately in love for minutes at a time with boys she absolutely did not know at all and totally ignored the ones she did. Or teased them unmercifully.
She daydreamed in class EVERY SINGLE DAY, often all period long.
She felt like she had to save the world and yet had absolutely no power at all.
Every, single, thing…..was changing.
Every, single, thing…..made no sense anymore.
Every, single, thing…..was desperately frightening.
On the inside.
On the outside she was a greasy-haired, four-eyed, smart-mouthed, desperately shy, passionate, closet-romance-reading, cry-at-the-drop-of-a-hat, got-detention-for-laughing-in-class child having to deal with womanly issues and a great big world. And most of the time she didn't do it very well. I guess that was the point. :o)
I was everything and nothing that I wanted to be. Getting to know her again has really helped me to get to know them. Loving her, for the first time, has helped me to love them too.
with love,
Laurie
by lclarcq on December 7th, 2016
filed under Archived Posts 2016, Classroom Management, Engagement, Musings, Not So Good Days, Personalizing Instruction
I have three 6th grade/Level 1 classes and like most teachers, I'd like to think that I can have one basic plan for that level. I know better, but I don't really KNOW better!! I'm trying to get to know not only individual students better, but also the makeup of each class better. It would really help me with my planning. :o)
All three classes need a lot of work with the basics. The first class was able to arrange itself in a circle without too much fuss and I led a series of questions/directed a conversation around several of the students.
There is a boy in the class. His name is ________. He is very, very famous in Spanish class. He has a lot of friends. One of them is also in Spanish class. His name is ___________. He is very, very intelligent. ___________is another student in class. He is very athletic. He likes football. Many students in the class like football. ____________ has a football jersey. Her favorite team is __________.
and then one of the kids ran to his backpack, pulled out a Seattle Seahawks jersey and put it on!! Great class. We are still pausing (often) so they can settle down, focus, stop talking, etc….but it was progress.
We transitioned into a conversation (with pictures) about Prince Royce. They understood, they were interested, and although we are still working on behaving like a class….I was pretty happy. We watched a 3 minute video about Prince Royce in English. (https://www.youtube.com/watch?v=MBHdga54kik) I could follow with a number of questions in Spanish using the "Super Seven" verbs. (Google Dr.Terry Waltz and Super 7…tons of great stuff!). They had some questions in English about Prince Royce that were interesting to hear. Questions about what he was wearing and how he wore his hair. I was able to use their emerging Spanish to talk about Prince Royce the person and Prince Royce the singer. (and to remind myself how important it is to FIT IN in middle school!)
Then we watched a clip from La Voz Kids where Prince Royce is a judge and a young man sings one of Prince Royce's songs and talked about that using the same basic questions. (https://www.youtube.com/watch?v=buIs7yqT5jE)
I felt pretty good about how that went!
The next class? Ummm. Different story. They could not handle a change in the seating arrangement. When I tried to start the conversation about the class, we could barely get started. The social make up of this group is a study in middle school insecurity. Everyone is trying to be cool and the socially acceptable way to be cool is to make sure that everyone in the class knows that you are cooler than they are. Cliques, sarcasm, eye-rolling, snorts…you get the idea. Lovely individuals on their own. Toxic when together.
So…..back to the drawing board. In the middle of class. Ok…twenty minutes into a 90 minute block. Desks in rows. Take out a sheet of paper. I write a sentence about Prince Royce (on the computer, projected onto the screen). The students write the sentence in Spanish. I ask individual students comprehension questions. No one else is allowed to speak. On the outside I am neutral, calm, maybe even cold. On the inside I am frustrated and fired up!!!! This is BORING. SUPER, SUPER BORING.
But….the class itself was under control. The individuals in the class could each employ self-control. The language was comprehensible.
When we transitioned to the interview they couldn't contain their reactions. After calming the storm of remarks, followed by the smiling stare of death for 45 seconds, I had to state in English that
a) Prince Royce is an actual human being and I wouldn't let them mock him, or anyone else, in my presence.
b) Prince Royce is a professional. He has a job. He might be told what to wear and how to cut his hair, etc. etc. It is not our job to do either of those things.
And then we went back to the video. What color is his shirt? What color are his shoes? Do the shoes cost a lot of money? Do his fans like his shoes? Using the same, one student at a time, no one else is answering, and we write the answer on the screen and they write it in their notebooks scenario.
The same material. Completely different lessons.
The hard part? Not putting my own personal label on either one. I was totally miserable during the second lesson….but truthfully…it was probably the right lesson for that group. If I had tried to keep pushing 5th period's lesson on 7th period, it would have gotten very, very ugly.
Tomorrow I meet with the third 6th grade class. It's the most challenging one!!!! I'll keep you posted. Right now I know the material, but I haven't yet nailed down the lesson plan….
with love,
Laurie
by lclarcq on December 6th, 2016
filed under Archived Posts 2016, Classroom Management, Encouragment, Engagement
On Monday I can actually get pretty fired up. I haven't seen my students for a few days and I'm excited to get going with some new things for the week.
But Tuesdays….ah…that is an entirely different day. It's the day to dig in and make some progress. Friday seems a mile away. The kids are starting to feel pressure from other teachers and other classes. We are all a little grumpy.
Today was an eye-opener. I gave a quiz to the Level 1 students and got a very clear look at what they can, and cannot do. Let's just say we have our work cut out for us. It feels like a a lot of pressure….and I'm an adult with a lot of experience behind me.
No one left feeling upbeat. We refocused, got serious, cleared the decks, dug in and started over. It doesn't feel good to start over 17 weeks in.
This is where I have to really get to know my students. The more we can work together, the more we will get done. I have to work to create situations where we can successfully trust each other. Baby steps, baby steps, baby steps. It's always the little things that matter.
It's too early to see many changes, but I'm trying to lay the groundwork by doing the following:
We are making a birthday calendar and talking about birthdays. We celebrate birthdays together.
We are talking about pets. Pets are a powerful magnet for interest and caring about pets a socially aceptable way to show emotion and affection.
I'm using the school's character ed "points" to recognize kids who are patient and supportive as well as cooperative….in addition to those who are showing improvement. My opinion doesn't matter enough to them yet to accept genuine compliments as rewards of any kind. They need a concrete reward. (Not my thing if you know me, but it is a school-wide program with noble goals so I can live with it!! 😉 )
We have about 10 classroom jobs…and those are helping us to feel more like a team. Little by little by little by little by little.
We've been able to be a little silly. Five-a-day in Spanish, Sr. Wooly, one silly story. Those too will add up.
In time…it's only Tuesday.
with love,
Laurie
by lclarcq on December 1st, 2016
filed under Archived Posts 2016, Classroom Management, Creating Stories, Encouragment, Engagement, Relationships, Starting The Year, TPRS techniques
If you are just starting out with TPRS, and you feel as if you are not doing enough with your students fast enough….take heart….you have an enormous advantage!!!
WE HAVE TO START SLOWLY. I put TPRS+slow into Google just for fun and discovered HUNDREDS of pieces that address how important it is to start off slowly with students who are new to language and/or new to being in a TPRS classroom.
I am choosing only one skill/concept as a goal for my students per week. The only goal I am really focusing on this week is Listening Well. I have to be honest….it's killing me to do it. I can think of DOZENS of things that I could add to class right now that would make it more interesting, but I know that if I want them to listen WELL, I'd better stick with that.
Now, I am sneaking in opportunities for next week's goal which is RESPOND WELL. We all know that no skill really works in isolation. But I don't expect to see any progress in anything other than the LISTENING WELL.
I'm trying to remember to:
Point out what it looks like. (See here for more info.)
Thank students when they do it. (individually or as a group)
Be patient when they get too excited about what we are doing to only listen.
Remind them that listening and talking should not be done simultaneously.
Wait, and wait, and wait, until they are listening.
Ask any student who responds to or asks a question to wait until their peers are quiet before they speak.
It is so hard to move in baby steps when there is so much ground to cover. But this kind of teaching is about the journey not the destination. I have to be where my students are, NOT try to get them to where I want to be. It's the only way we will ever be together.
I realized today that part of my 'inner stress" comes from thinking that I am not in control if I meet them where they are. My perspective was skewed. I cannot change where they are right this minute. I AM NOT SUPPOSED TO BE IN CONTROL OF THAT. I can only be in control of where I am and how I interact with them. If I chose to meet them where they are, we will be together and I can help them on the journey. If I stand at the finish line, impatiently waiting for them to show up, expecting them to arrive in a place they cannot get to on their own, I am choosing stress for all of us.
The dear and brilliant Brian Barabe told me once that TPRS is like yoga…and to use the mantra "You are where you are supposed to be." I need to remember that more often.
with love,
Laurie
by lclarcq on August 18th, 2015
filed under Archived Posts 2015, Encouragment, Engagement, Musings, Starting The Year, The Teaching Profession
Skip Crosby is a wonderful friend and amazing educator from Maine. Earlier this month he gave a speech to several hundred teachers in his state. Below is a slightly-modified version of that speech. I am honored to share it with you with his permission:
http://bangordailynews.com/2015/08/10/uncategorized/how-maine-foreign-language-teachers-can-gain-relevance/