by lclarcq on February 15th, 2017
filed under Archived Posts 2016, Games, Good Days
Valentine's Day is….well…highly stressful. For middle schoolers (who see every holiday as a good reason to eat all candy in a 5 mile radius) it can be hundreds of ups and downs in one day. There are a ton of wonderful love songs out there (even some G-rated ones I can use at the MS level) and cute videos and sweet stories…and well…you get the idea.
Today I wasn't brave enough to do any of those things. At least not with my 6th graders. So I went back to basics, back to simple, back to fun.
A little rhyme:
Choco Choco La La
Choco Choco Te Te
Choco La
Choco Te
Cho co la te!
We practiced the rhyme…we practiced the motions. We slapped the rhythm on the desks, we played in pairs like they did when they were younger (and they are still so young!) and we played in a giant circle.
So much fun to watch!! The 8th graders loved it too…although we also did Jesse and Joy's song Chocolate at that level!!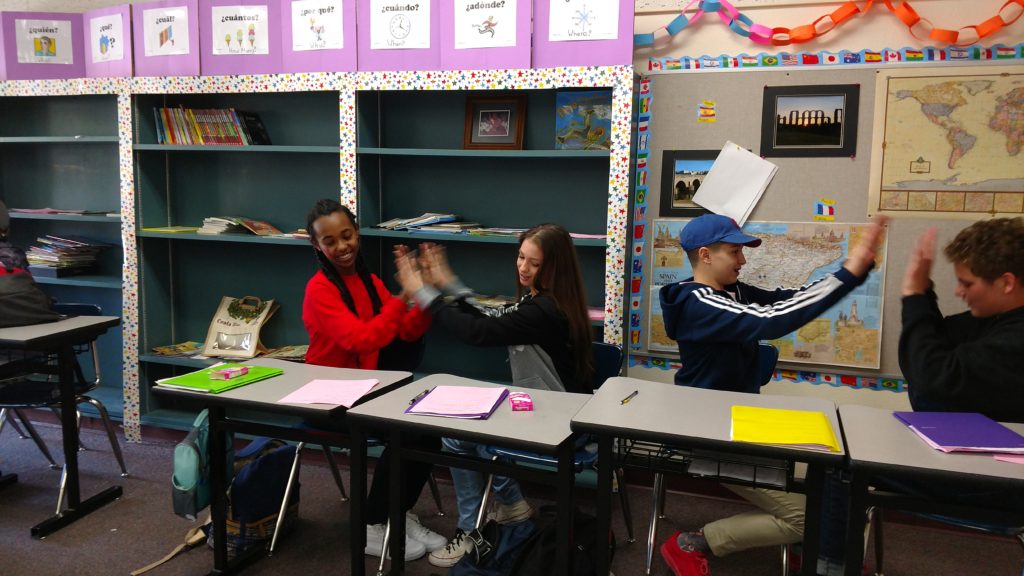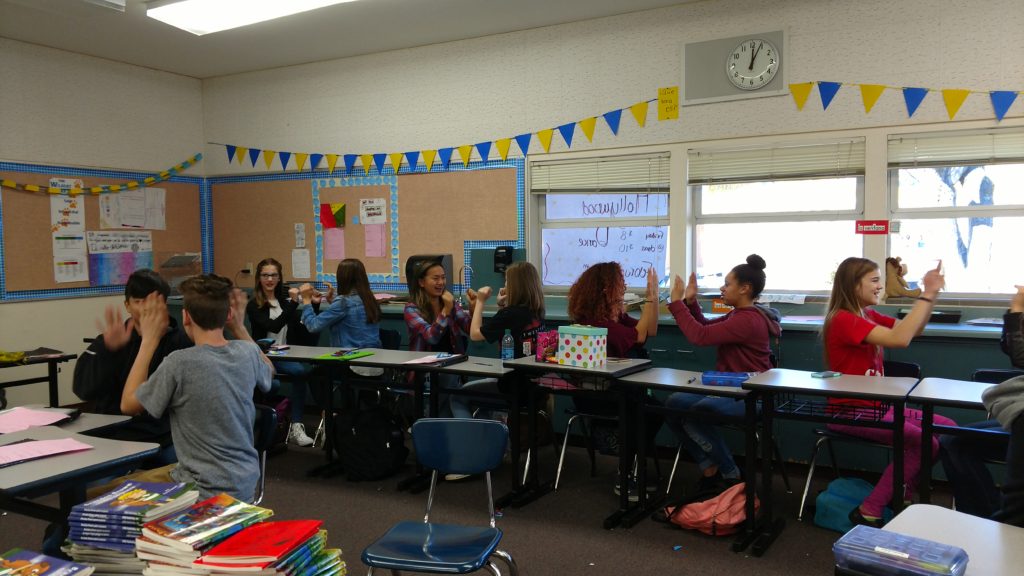 Learning what my middle schoolers can handle, or want to handle, on any given day..
with love,
Laurie
PS I still haven't heard from the folks who give permission to share the two videos I also used today for a few minutes each…but if you go to www.youtube.com and search for Chocolate by Jesse y Joy and Cho co la te Juego de Manos you will find what we watched!!
by lclarcq on November 29th, 2014
(This post was originally published 1/29/10)
Many of you know that Karen Moretti  and I have a series of workshops on games in the classroom.   I so wish that I could have shared a "fly-on-the-wall" clip of my class this morning with you to show you when, how and why games can be such a powerful part of the classroom.
This morning I divided (actually, they self-divided, I directed as needed) the class into several groups.  Each group had a different game to play.  The groups played for about 10 minutes and then we rotated so that each group got to play several games.
Below is an explanation of how I set things up….but that is not what I want to share.
First, there was the laughter.   Tons of it.  What a wonderful thing to hear first thing in the morning.   Not laughing at….laughing with.    They were relaxed and happy, enjoying the simple games and comaraderie of their classmates.    After a stress-filled midterm week, it was a refreshing change for all of us.
The tears were mine….and kept to myself until the class left the room.   Why?   Well…..first there is the student whose mother is very ill.    He is so exhausted that he nearly always falls asleep in class.   He likes to "hoodie up" and hunker down.   By himself.   He rarely speaks.   Today he was laughing and smiling for thirty minutes.
Second, there was the eighth grader, who is often set apart from the 9th and 10th graders in the class.  He comes up from the middle school and today he was totally in his element, laughing and silly and part of a group having a great time.
Third, the student who tries very hard NOT to participate was calling the Bingo game.  In Spanish.  Why?   Because, as he stated, he has the best pronunciation of all of the guys in the group.  (Did I mention that this is a class of 18 boys and 3 girls??)
Fourth, the student who likes to come in late, hide in the very back of the room, and dream about hunting and fishing was in the front of the room blasting his team through a Who Wants to Be A Millionaire game on the Smart Board.  Totally involved.   Having a great time.
Fifth, on the way out one of the girls said to me…"You know, inside, we are all still kids."
Yes we are.
And who better to realize it than the heart of a child?
Ok…now if you want the "details" of game set-up, here is a little information:
The logistics of creating games that work is another post.  Actually it's a book we are working on :o).  The quick story of this morning is this:
*We had played all of the games before as a class so they knew the games and the rules.
*They were short, simple and involved structures/vocabulary/information that was familiar.
* I let them, for the most part, choose their own groups….because they are at a point in the year where I knew that they understood the rules of the class and would PLAY the games without my having to be in charge.
* They switched games after 10 minutes….not enough time to get bored.
*I did not get all crazy about English as long as they were playing the games which were in and about Spanish.  (I'll save that for later…this was the first time that they had played in independent game groups)
Creating the right atmosphere for games is the key element…..and I'll try to get back to that another time.
with love,
Laurie