by lclarcq on October 13th, 2017
filed under Archived Posts 2017, Creating Stories, Engagement, Relationships
I had planned this as a listening activity….but it took on a life of its own! We had asked a story the day before using some phrases from the song Hoy Es Domingo sung by Diego Torres and Ruben Blades. (Check it out if you aren't familiar with it!)
Phrases I wanted to include were:
It was Sunday.
S/he was in bed.
S/he wanted to sleep.
Each of the three Level 2 had co-created a great story the Thursday before and I wanted to go back and review the story on Monday.
My classes are good-sized: 30-34 students and I often feel like I am herding cats trying to keep us all together going the same direction at the same time. This was a total experiment, but I loved the result!
I divided the class into four groups. Each group had 1/2 of a large white board (I have two large boards, on opposite sides of the room) They arranged their chairs (we are deskless) in a semi-circle around their particular white board section.
I had drawn a grid of 16 squares on each white board and numbered them. One student went to the board in each group. I read the first sentence from the story out loud, in Spanish, and the author had THIRTY seconds to sketch that sentence in box #1. ONLY 30 SECONDS! The group was allowed to help with meaning and ideas for the sketch. ( Rules: No criticism of artwork or interpretation allowed. Suggestions welcome. English allowed…these were middle schoolers at the beginning of level 2) )We all applauded the artists and the next student went to the board.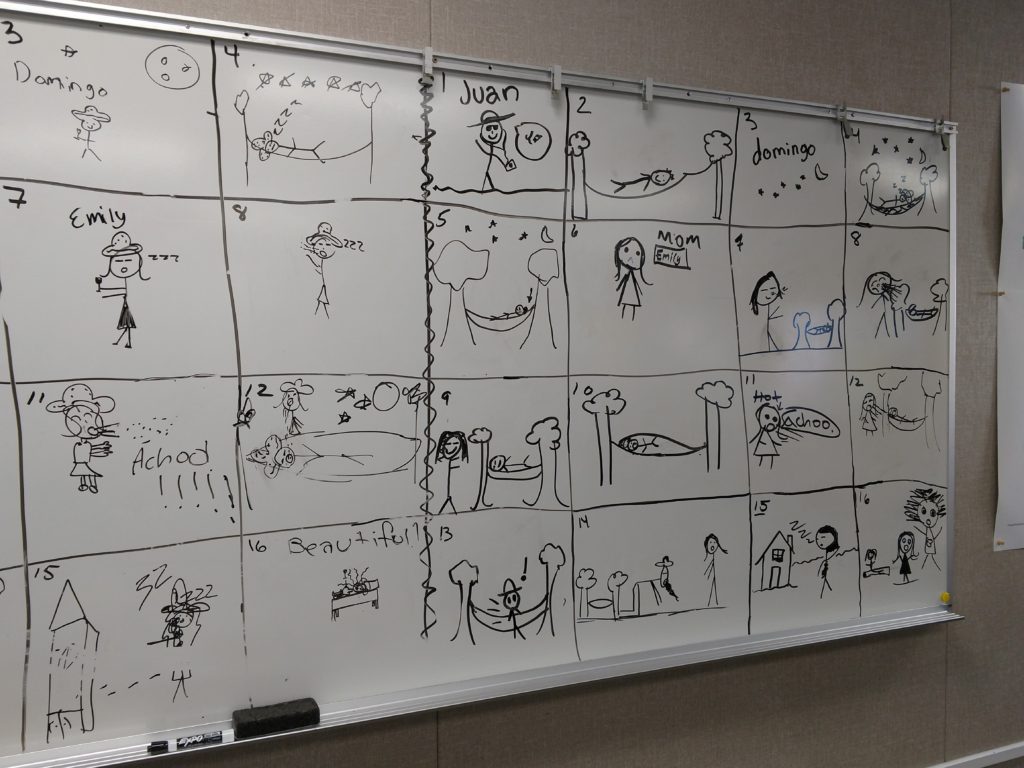 My plan was to go until it fell apart. (Did you ever do that with a new activity?!!) But it never did! It just kept building momentum!
What I observed:
BONDING BONDING and more BONDING! These classes are a mixture of 7th and 8th graders with a 6th grader or two mixed in. The school has nearly 1000 students. They just don't know each other outside of my class and they really got a chance to work with new people and connect. The rules kept great artists from getting frustrated and instead made them the expert with helpful suggestions and ideas. The students that weren't as comfortable with the language had the support of the stronger students in the group. The kids who had no confidence in their artwork had the support of their group's ideas.
GREATER COMPREHENSION! We revisited the story with the drawing and then, we used the drawings for several follow up activities! Each time my slower processing students understood the story with more detail and my faster processors were not bored in the least. Their own artwork was intriguing!
LAUGHTER! The fact that they only had 30 seconds to draw created just enough tension to lessen the pressure for perfection. In each group (without prompting from me1) one artist added a funny detail to the picture. It might have been a funny haircut on a stick figure or a facial expression etc. Then every artist afterwards continued to use it. It started a series of laughter among students who really hadn't known each other well.
OWNERSHIP! Each group was very proud of their 'creation" and posed for pictures with their artwork. (These are on the school device and I'll upload them soon!)
I'll follow up in the next post with our follow up activities!
with love,
Laurie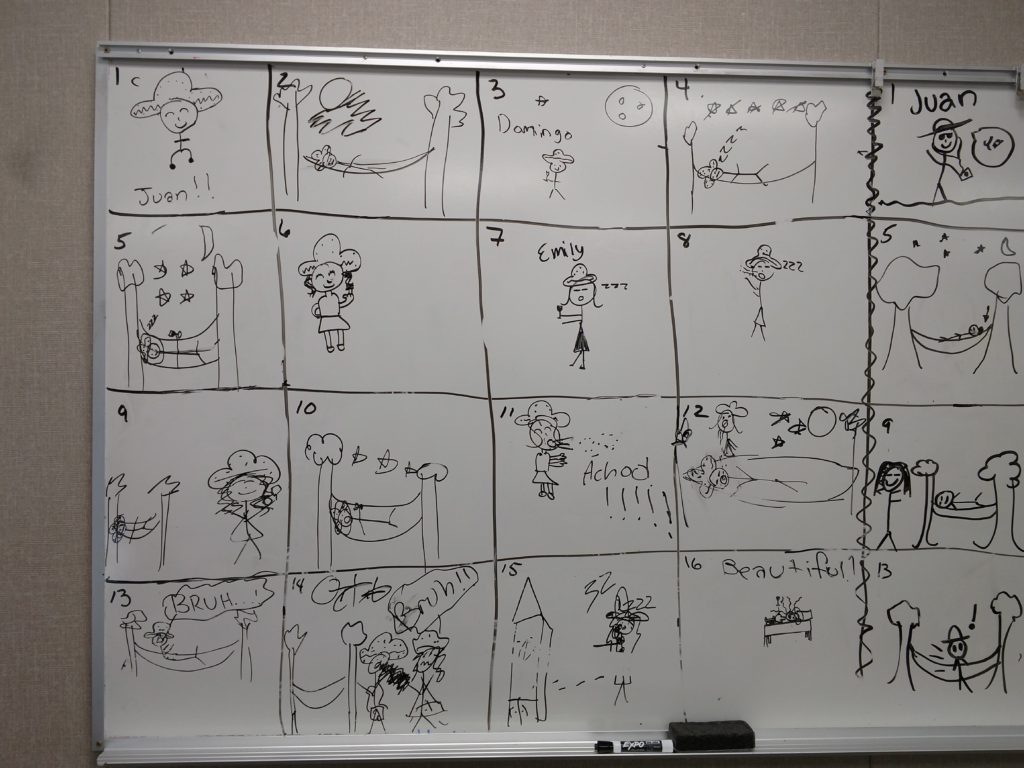 by lclarcq on October 12th, 2017
filed under Archived Posts 2017, Relationships, Workshop Reflections
I'm a little behind schedule, but with a few minutes this morning in Maine, I want to share my thoughts on the CIMidwest 17 conference.
It was powerful.
Power was core of this conference.
Now, technically, the theme of the conference was Equity. But by the time the weekend was over, for me, it was about Power.
Bob Patrick was the keynote speaker and his speech may have been the best keynote I've heard. Bob is a great thinker, a thoughtful writer, and a gifted speaker. His speech felt like a close personal story. He spoke about his journey as an individual and as a teacher (they really aren't separate journeys.) I took fervent notes and here are a few of Bob's "quotes" that truly spoke to me:
"Building human relationships is the most important work that we do."
"The most important element of any hour that we teach, is the people in the room."
"Comprehensible, Compelling, Caring"
"Noticing matters."
"Who is NOT in your room…and why not?"
"Use your students' questions as a portal to make meaning."
"What if my last nerve is really my next best opportunity to connect?"
And it all came down to the Power we each have to change lives.
And if we acknowledge that Power.
And how we understand that Power.
And how that Power becomes a lens through which we see the world….and our students.
And how we use that Power.
And how that affects the Power that our students do, or do not, have.
Because in the end, the type of Power and amount of Power an individual has impacts his/her ability to be "equal" to others. No Power = No equality. More Power = More privilege.
It was meant to make us ask ourselves questions and to reflect on how our thoughts, our feelings and our actions affect our students and their ability to harness and use Power.
It did.
And we carried those questions and continued those reflections throughout the day, with each session that we attended.
The organizers had invited presenters and had scheduled presentations knowing that each had something to offer that would help teachers to continue their questioning and thinking WHILE AT THE SAME TIME, acquiring skills and developing strategies.
Beautifully done.
Next year's CI Midwest Conference will be held in Milwaukee, Wisconsin on September 29. Theme to be announced, but it promises to be another well-organized, thoughtful AND useful opportunity!
with love,
Laurie
by lclarcq on August 26th, 2017
filed under Archived Posts 2017, Classroom Management, Relationships, Starting The Year, Using Student Ideas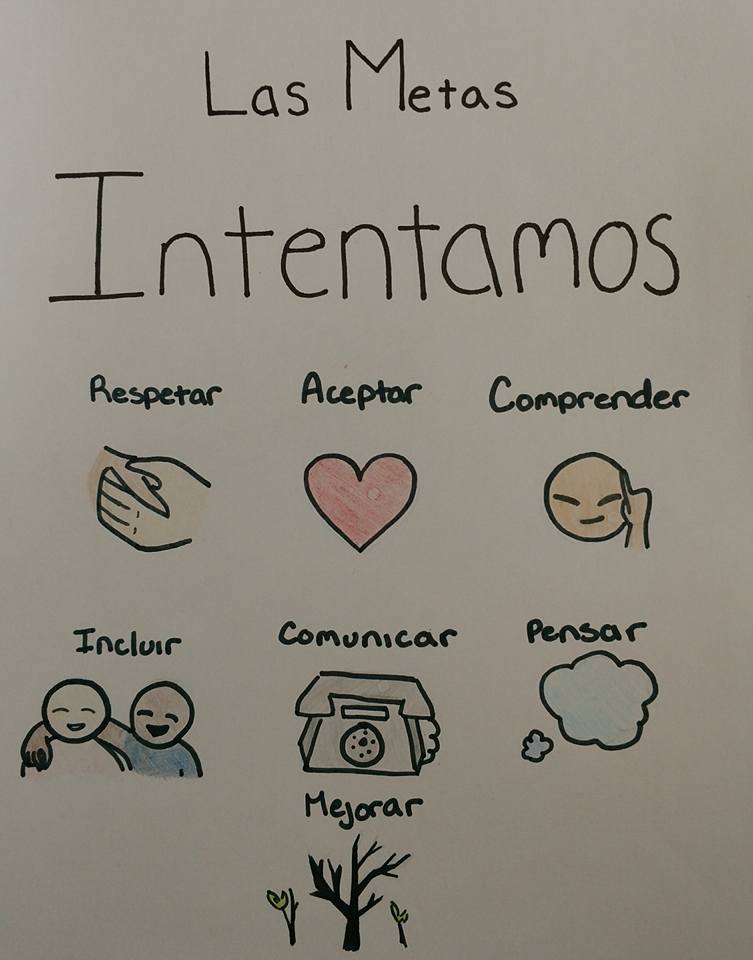 This year I decided to add a second poster option for my Spanish 2 students (primarily 7th graders).  About 1/3rd had had me as a teacher last year and I didn't want them to have to do the same poster over again! Also, it was so successful that I wanted to see if it also worked with our Goals !
In Our Class We Try To…
Respect
Include
Communicate
Understand
Think
Improve
This week we focused on Respect and Understand as we began to get to know each other and how the class would run.  Next week we'll add Communicate.
These goals, like the statement in the previous post, serve as a touchpoint for us all year long.  I was able to use them over and over again just this week.
Check out some of their work above and below!
with love,
Laurie
PS  I've invited the principal and two assistant principals to come in and choose their favorite poster (from both options)  I will color copy and frame them to be hung in their offices!!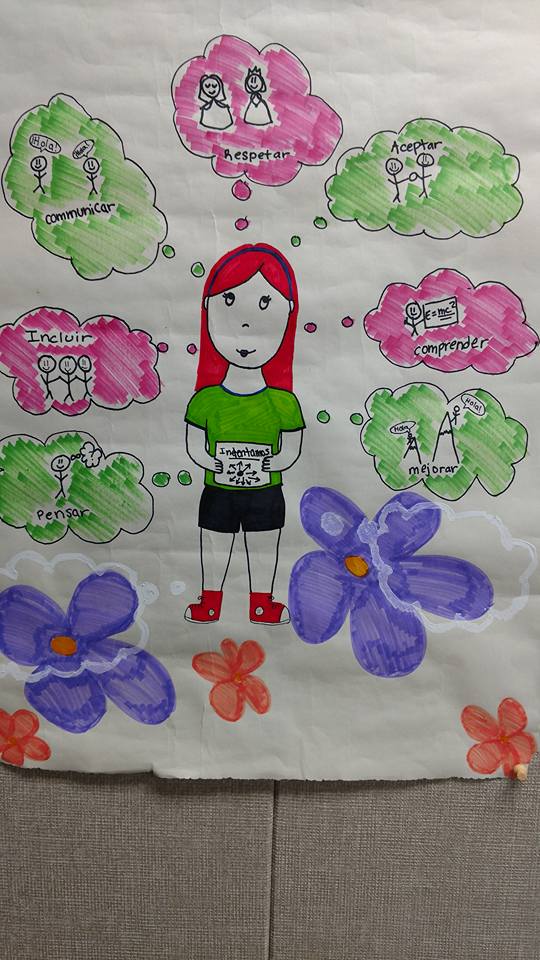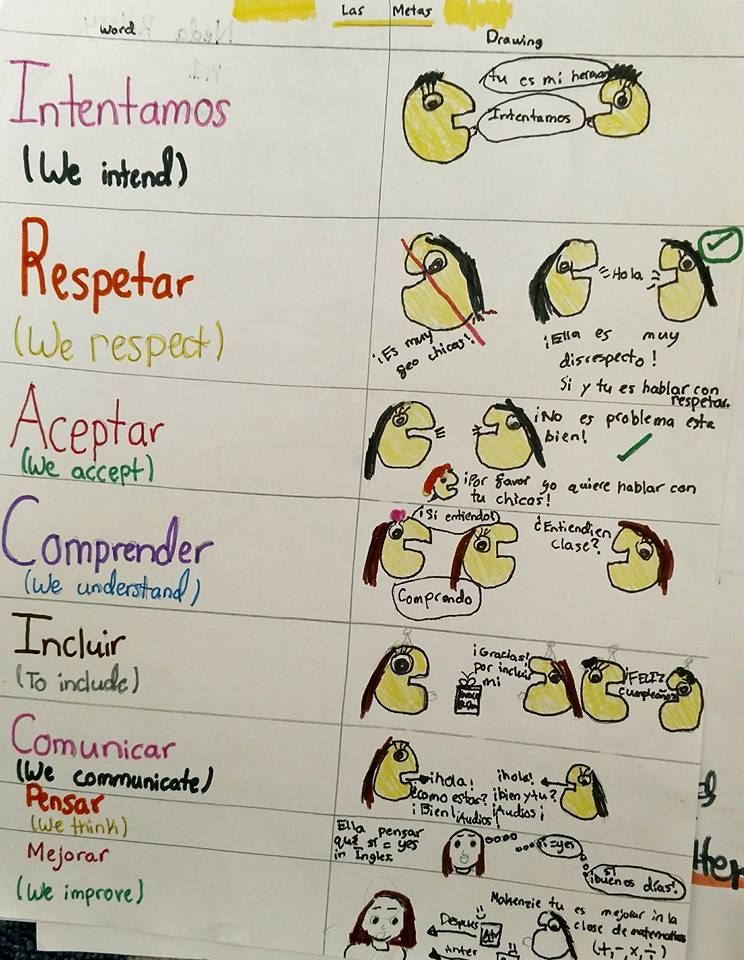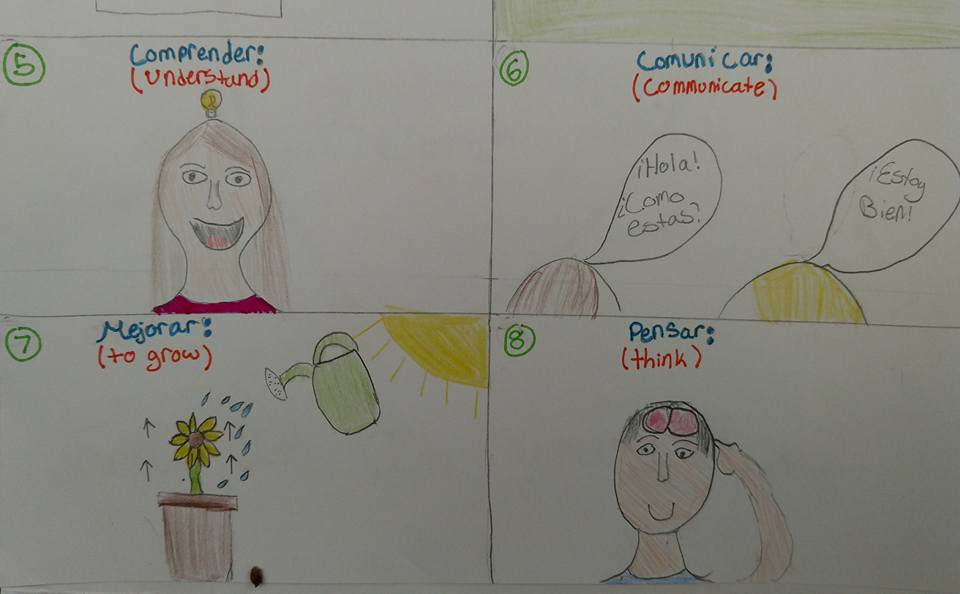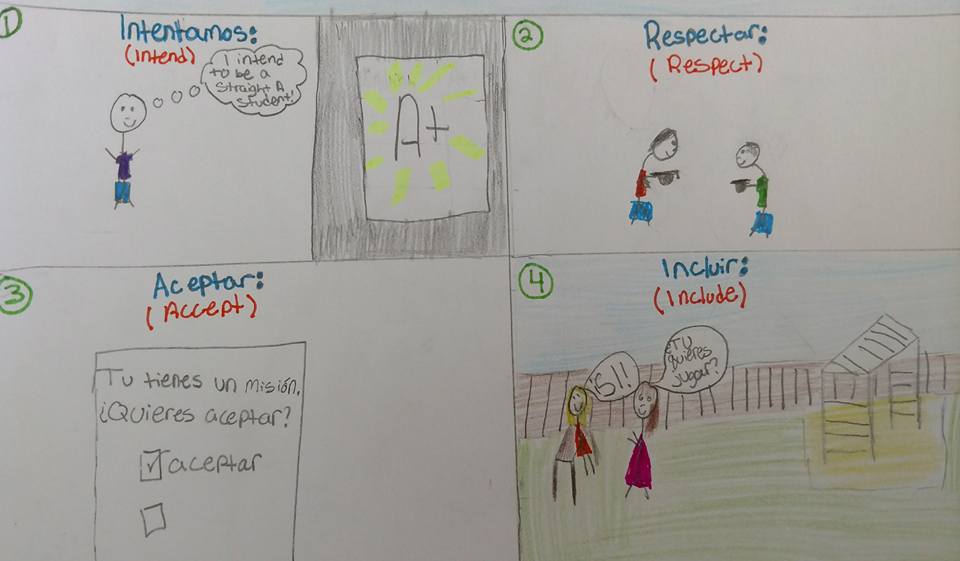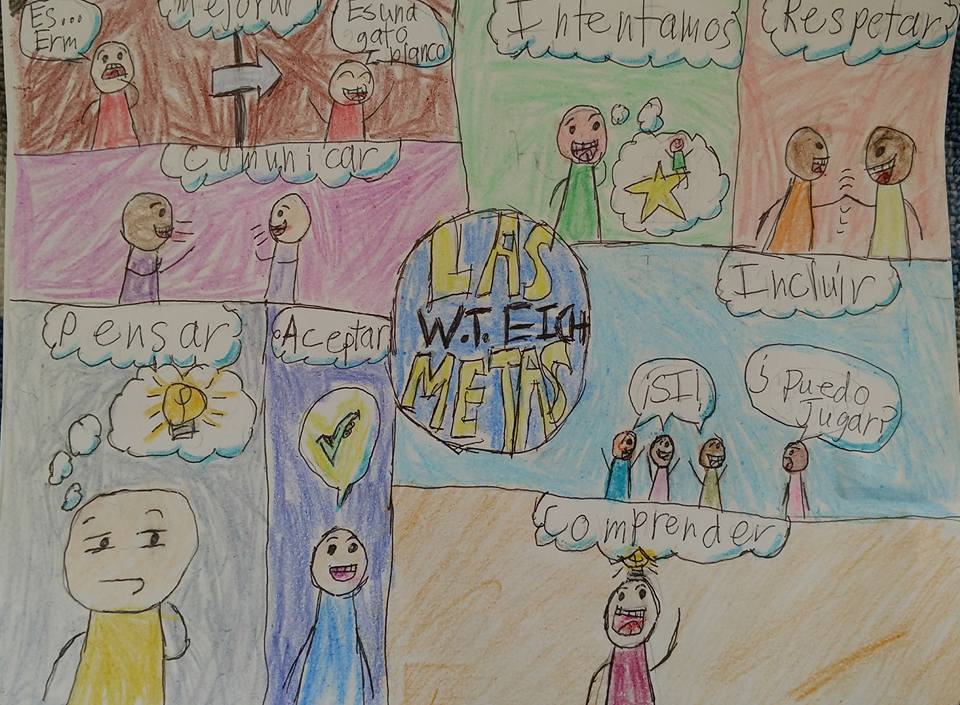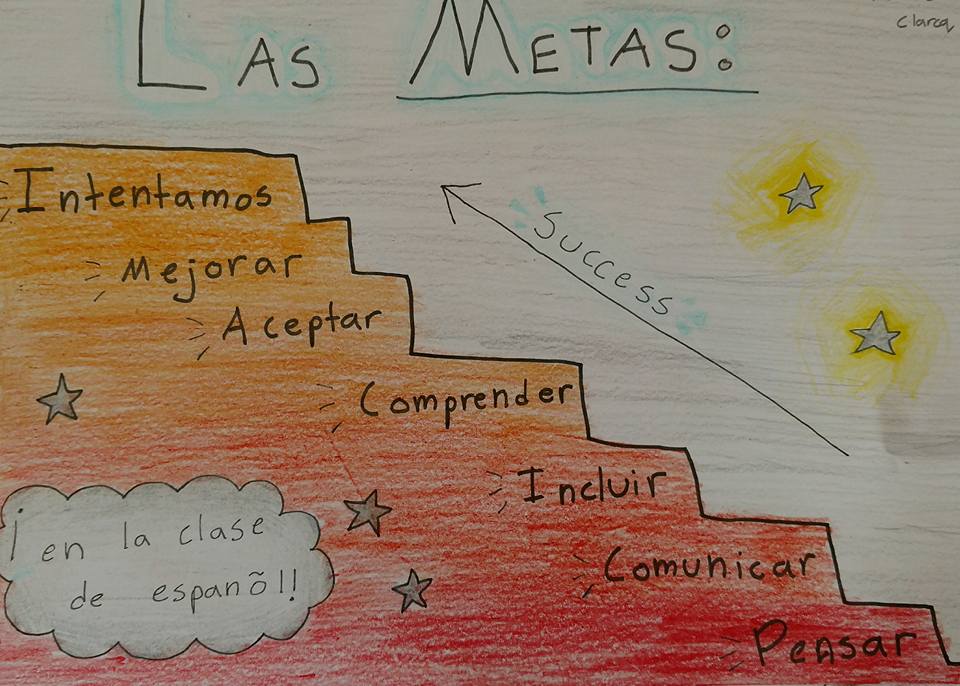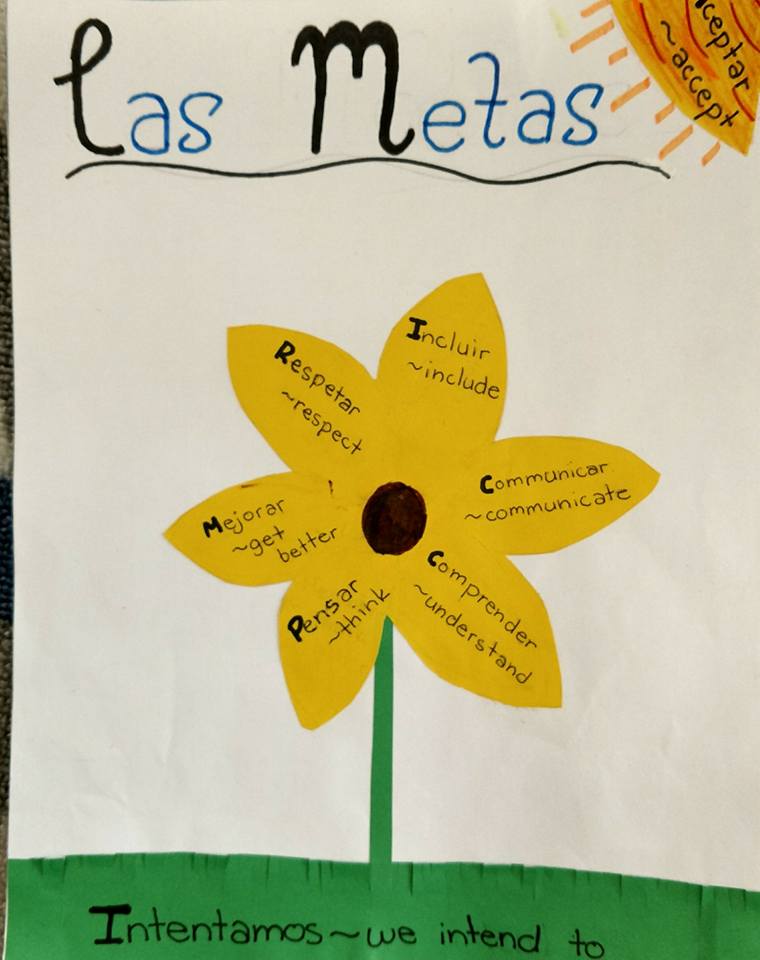 by lclarcq on August 26th, 2017
filed under Archived Posts 2017, Classroom Management, Relationships, Starting The Year, Using Student Ideas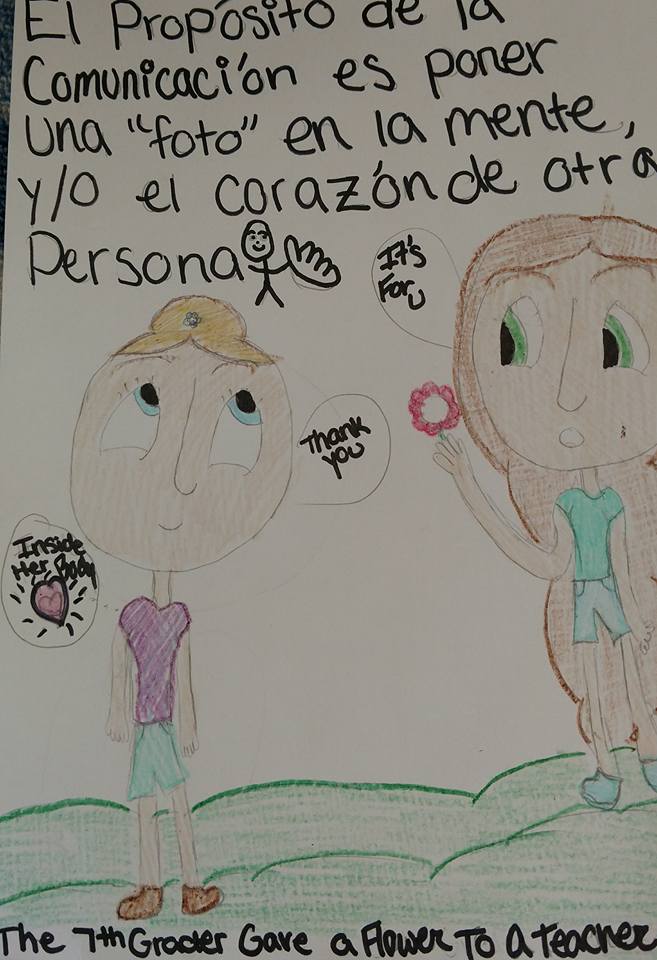 The first weeks of school seem "easy" to some teachers.  In their rooms, students seem to follow the rules and do what is expected.  It is sometimes referred to as the "honeymoon" period, when everything is sweet and wonderful.
I don't usually experience that, and maybe many language teachers do not.  Our expectations are different than the expectations of other teachers.  Our rooms are set up differently than the rooms of other teachers.  Our relationships with students are often different than those of other teachers.  For those reasons, it is extremely important to set the boundaries.   What are the parameters of behavior?  What is acceptable?  What isn't?
Because I teach using TPRS® (thank you Bryce Hedstrom for this!) my students are going to be in a highly-participatory, interactive classroom.   This is new for many of them and it takes some time for us to work it out!!   So for me, the first few weeks are very, very important and my brain is highly alert for ways to time,  orchestrate and/or take advantage of the first and best opportunities to share HOW this class will work.  Once we get things rolling, then I relax a little bit!
For the last decade or so, I have started students with the following statement (or something very similar!_:
The purpose of communication is to put a picture into the mind, and/or heart, of another person.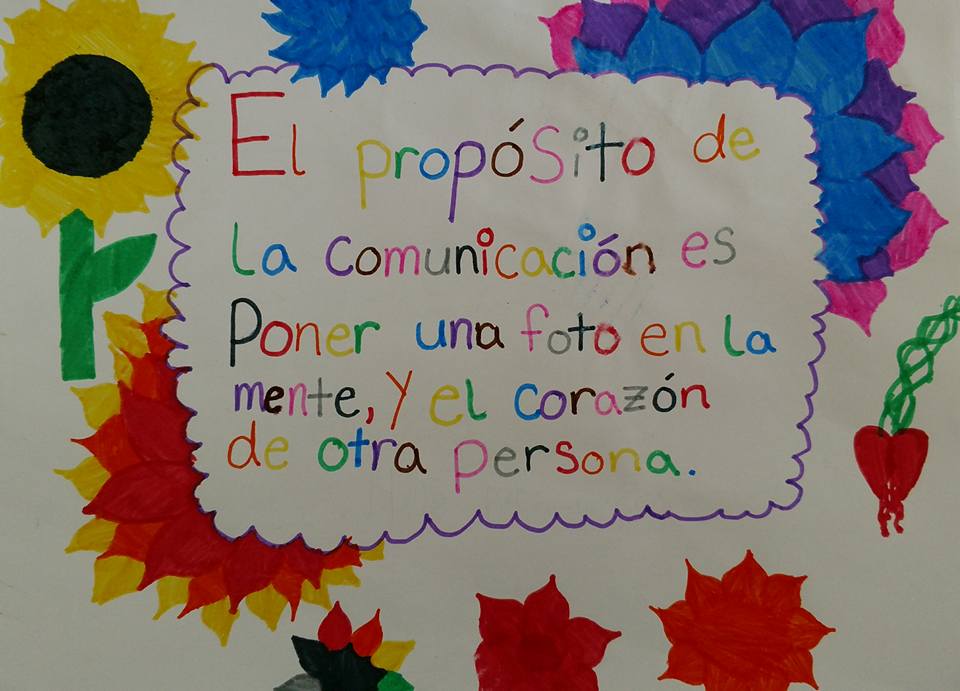 It is not a quote;  it's one of my belief statements….in the classroom and in life.  I use it to "anchor" the classroom.
What do I mean by "anchor"?   
Well, teaching can sometimes feel as if you are out on the high seas in the middle of a hurricane.   It's hard, with all that is going on and all that is required, to keep upright and to keep going in the right direction.   Sometimes you need an anchor to keep you from blasting off in the wrong direction without meaning to.   
So I use all or parts of this statement to come back to over and over again.
It is an introduction to the concept of visualization.  I want students to visualize what they hear and read.  
It is a reminder that clarity is important.  Say what you mean and mean what you say.
It is a reminder that words have power.  We should use them wisely.  
It is commitment to not only communicate with the minds, but also the hearts, of everyone in the class. 
But most of all, it gives me the starting point for checking for understanding?  Is the meaning (the picture) clear?
I ask students to create a poster (8″x10″ minimum) with that statement.  They keep them in the front of their folders and I post copies of many of them around the room.   As always….students blow me away with their work!!  (Check out samples from some of this year's 6th graders above and below!)
with love,
Laurie
by lclarcq on August 24th, 2017
filed under Archived Posts 2017, Classroom Management, Engagement, Relationships, Starting The Year
Creating community is more than a series of activities…..it is a commitment to finding ways for students to support each other.  That is not always easy!  Supporting and encouraging others is not a part of every community that we teach and live in.  It isn't always a part of our family history, nor the dynamic of our students' home lives.  
Like everything else we do, it requires patience and a constant series of safe opportunities for student to be a part of.  Once students begin to experience what being part of a community really means, they begin to buy in and often lead the way…..but that can take some time.
My first period class (so far!) seems to be a group that is willing to step up, so I asked them to start something this morning that blossomed throughout the day.   It was the day of our first quiz.  (I try to give some sort of assessment each Thursday because it helps me to plan for the next week.)    The first period group was a little nervous, but no surprise, they felt good about their answers.  
Today's quiz was really more about teaching them the logistics of taking a test/quiz in a deskless classroom, and to build their confidence about quizzes in the weeks to come.  After the quiz was over, I asked them to share their thoughts about how it went.  They were relieved that it wasn't too difficult and some of them admitted that they had been pretty worried about it.
So….
I asked them to write "Good luck!" to the next class on the whiteboards that we keep under the chairs to write on.    When the next period came in, each student had a note saying 'GOOD LUCK!" on the white board under his/her seat.   At first, they were puzzled.  Why did they wish me good luck?  Who wrote it?  Do they know me?  But after a few moments, they began to share their messages with the students nearby and several took pictures to save and send.  
Then they erased the messages and took their own quiz.   Towards the end of the period, a student asked, "Aren't we going to make Good Luck boards too?"  Of course we were, but I was waiting to see if they would ask…..and they did!!
The last period of the day wrote "Good morning" on their boards and emphatically informed me that next Wednesday they needed to write "Good luck" for the 1st period class to see Thursday morning.
Just a quick, easy, safe way to build community….and yes…I took a quick look at each board before they left the room…..just to be sure all of the messages/drawings were appropriate. :0)  It is middle school after all!
Check out the pictures below! (I wish the one of all 31 of them had turned out!)
with love,
Laurie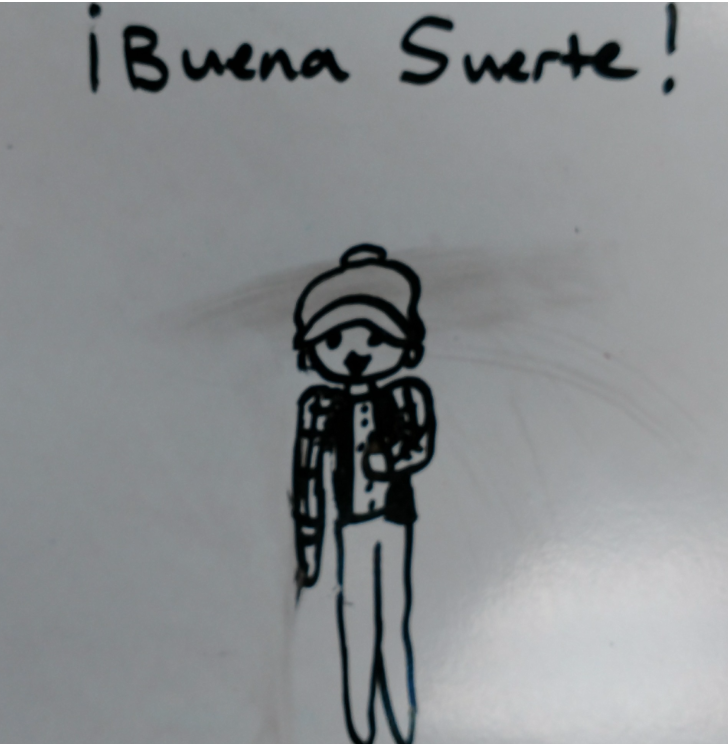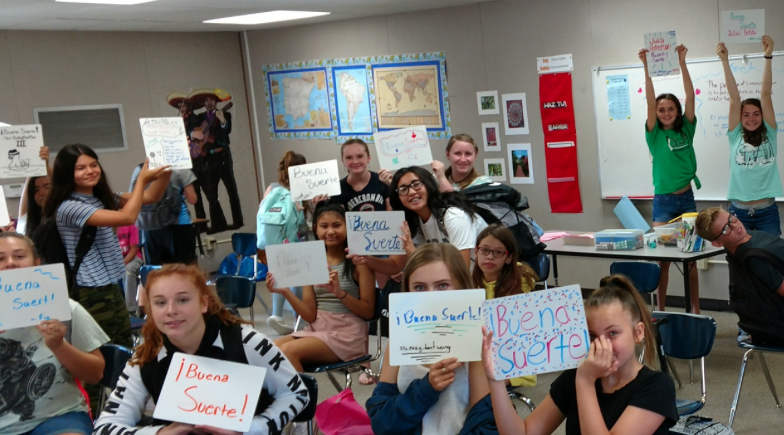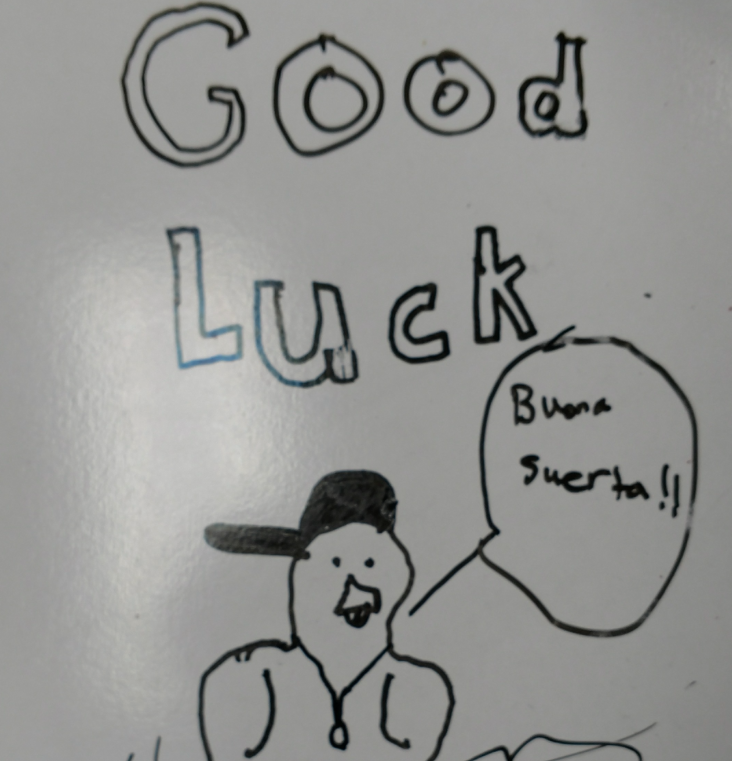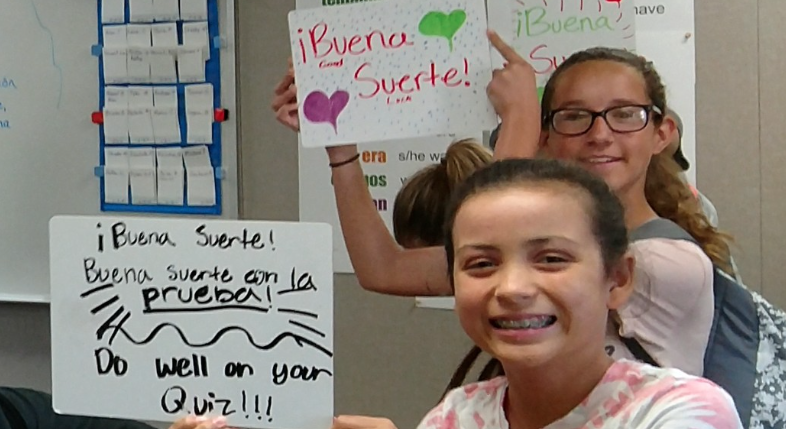 by lclarcq on August 20th, 2017
filed under Archived Posts 2017, Classroom Management, Relationships, Starting Class, Starting The Year, Uncategorized
So, on Day #2 the students walk in and sit down.  Four out of six classes totally forgot about the names in the back of the room until the bell rang….and then….someone said, "Oh!  Our cards!".   But once everyone remembered, all went well.
Ok….not all.
My first and third period classes looked something like this as they brought up their cards:
Student in the front of the line hands me the card.   I smile, and say, brightly, BUENOS DIAS!.  The student looks at the floor and trudges back to his or her seat.   This repeated itself 31 times!!!!!!!!   
Once everyone had gone through the process, I looked at the class and said, "Clase, hay un problema."  And then explained in English that having your heart broken 31 times in a row is no way to start the day.
So…..they all got up again….I greeted them with a smile, a HIGH FIVE and a BUENOS DIAS!.   In the first period class, right about the middle of the line, one boy deliberately "missed" the high five.  (Ay!)  So, when everyone was done I invited him up front.  He gladly came (if not I would have gone over to stand next to him.)   I explained to the class in Spanish (these are level 2 students) that everyone gave me a high five except for "Alberto.'  Why?  Because Alberto and I had a very special handshake that was way more complicated than a high five and he was going to teach it to them right now.  
"Albert" whispered to me, "I don't know what to do."  I whispered back, 'Just miss my high five and then we'll do a fist bump."  So "Albert" demonstrated the more complicated and special high five and I asked 3 or 4 other students if they wanted to try it.  There was about 25 hands in the air so I let them do it with a neighbor and then we went on.  "Albert" got the message, and so did the rest of them.  
:o)
with love,
Laurie
by lclarcq on December 1st, 2016
filed under Archived Posts 2016, Classroom Management, Creating Stories, Encouragment, Engagement, Relationships, Starting The Year, TPRS techniques
If you are just starting out with TPRS, and you feel as if you are not doing enough with your students fast enough….take heart….you have an enormous advantage!!!
WE HAVE TO START SLOWLY. I put TPRS+slow into Google just for fun and discovered HUNDREDS of pieces that address how important it is to start off slowly with students who are new to language and/or new to being in a TPRS classroom.
I am choosing only one skill/concept as a goal for my students per week. The only goal I am really focusing on this week is Listening Well. I have to be honest….it's killing me to do it. I can think of DOZENS of things that I could add to class right now that would make it more interesting, but I know that if I want them to listen WELL, I'd better stick with that.
Now, I am sneaking in opportunities for next week's goal which is RESPOND WELL. We all know that no skill really works in isolation. But I don't expect to see any progress in anything other than the LISTENING WELL.
I'm trying to remember to:
Point out what it looks like. (See here for more info.)
Thank students when they do it. (individually or as a group)
Be patient when they get too excited about what we are doing to only listen.
Remind them that listening and talking should not be done simultaneously.
Wait, and wait, and wait, until they are listening.
Ask any student who responds to or asks a question to wait until their peers are quiet before they speak.
It is so hard to move in baby steps when there is so much ground to cover. But this kind of teaching is about the journey not the destination. I have to be where my students are, NOT try to get them to where I want to be. It's the only way we will ever be together.
I realized today that part of my 'inner stress" comes from thinking that I am not in control if I meet them where they are. My perspective was skewed. I cannot change where they are right this minute. I AM NOT SUPPOSED TO BE IN CONTROL OF THAT. I can only be in control of where I am and how I interact with them. If I chose to meet them where they are, we will be together and I can help them on the journey. If I stand at the finish line, impatiently waiting for them to show up, expecting them to arrive in a place they cannot get to on their own, I am choosing stress for all of us.
The dear and brilliant Brian Barabe told me once that TPRS is like yoga…and to use the mantra "You are where you are supposed to be." I need to remember that more often.
with love,
Laurie
by lclarcq on November 28th, 2016
filed under Classroom Management, Encouragment, Musings, Relationships, Starting The Year
Hello from California!! I managed to be retired for all of six weeks before I moved cross country and sign on for a new job. It wasn't an easy decision, but I think it was a good one!
For the past 30+ years I have worked in small districts in rural, upstate (seriously upstate) New York. For some of those years I taught grades K-8 but the majority of them were teaching high school students. My new job is teaching 6th-8th graders in a suburban, well-populated section of Northern California!
The students had another teacher for over 10 weeks and now we are all starting over.
I had met a few times with the sixth graders and today was our second real day together. They have been out of school for two weeks between Science Camp and Thanksgiving Vacation!!! So yes…we are really, really starting over.
The 8th graders and I got started the week before Thanksgiving. So today was day 6 for us.
I forgot how much there is to accomplish at the beginning…….
These students, all of them, are brand-new to me. Our very first accomplishment will be working together. Seriously. They are used to a different set up in class and mine requires a great deal of self-control…..or at least more than they have had to use. 🙂 I know they are capable. They know they are capable. Now…I have to get them to agree to do it.
The first day I worked with them (class sizes about 30), they were sitting with friends in groups of four. I tried to speak. I tried to get their attention. No one stopped talking. Not one student.
My pulse was racing, my face was flushed, my smile was frozen and my heart was pounding. I did not know the name of one single student. For the first time in nearly 30 years I also did not know their parents, their siblings, or even their other teachers.
I don't know how long I stood in front of the room before I tried again. It was probably seconds…it felt like hours. I was being completely ignored.
So I tried again. I used a 'signal' that their former teacher had used. A few students noticed and responded half-heartedly…then kept right on talking. This was not going the way I had hoped!!!
Try number three….in a slightly louder, more authoritative voice. This time more than half of the class looked at me, shifted in their seats and mumbled a response. AND….made eye contact.
This was the most crucial moment for me. It happened in all three classes. I had to maintain eye contact with the 15 or so students spread across the room. With a smile on my face, I held my ground….for maybe 15 seconds. A small girl near me whispered to me, "I think it's working!" I tried to just keep breathing!! One by one the rest of the group settled down and then turned around….finally realizing that something was happening. When everyone was quiet I smiled at stared at them while I (painfully!) counted to 5 in my head. Then I finally introduced myself. I think that was the most challenging 30 seconds of my teaching career.
I am dead serious.
I have no history at this school. No reputation precedes me. I felt completely naked and alone in front of those kids waiting for the silence, and for their attention. My head said…wait, wait, wait it out. My heart said…this isn't going to work…they are going to ignore you forever.
I'd like to say that after that one encounter in each class, that I was able to establish order in a heartbeat with a look. Or at least using our signal.
Um, no. The 8th graders and I have found a direction in the week we have had together…but daily reminders, and those 30 second wait times, while not nearly so heart-pounding, still happen once during every class. The 6th graders? Well….we didn't get much done today academically. There were maybe 10 "usable" minutes out of 35. i'm still learning names, getting them into a routine, helping them adjust to transitions and working to get them to function with a new seating system (where they all face forward and don't sit with their friends.)
BUT…in one class 5 of those 10 usable minutes were truly beautiful. Students were asked if their vacation was "excelente" or 'terrible" or somewhere in between. Only one girl said terrible. I asked her if the reason was a secret, she said no, she wanted to share. (Thankfully the class was quiet and listening….and this, of course, is why we needed it…) She shared in a whisper to me that her aunt had cancer. I told the class in Spanish. Then I asked, in Spanish, 'Who has a friend, or someone in their family, with cancer?" Over half of the class raised their hands. Even though these kids had only a few weeks of Spanish, I could say to her…The class is with you. They are your friends. You are not alone.
I could tell the class that in 2013 I had cancer. And we learned the word hope.
She needed that. So did I. So did I.
with love,
Laurie
by lclarcq on July 29th, 2015
filed under Archived Posts 2015, Coaching, Encouragment, NTPRS, Relationships, Sharing CI/TPRs, Teacher Training
Ah…the ripple effect. It is the essence of teaching. Teaching, I've often said, is a prayer. You send your message (lesson) out each day, hoping against hope that someday, in the unseen future, it will make a difference, because you never really know. That is why it was so beautiful to watch the ripples happen right in front of us.
What did we see?
Kindness and encouragement.
The first day (Monday) FIFTY people showed up for the first coaching session. Now you should understand that at the same time participants could choose coaching, a Spanish lesson with Blaine and Von Ray and a Mandarin lesson with Linda Li. Now that is some stiff competition!!!!! I cannot ever remember a year where FIFTY people showed up on the first day. It was beautiful.
And they came with the desire to not only learn, but to support and encourage. Because the coaches gave clear parameters and modeling, there were NO criticisms…only insights, positive reflections and encouragement.
A willingness to share.
Teachers had so many insightful observations that I couldn't stay away from the coaching sessions. Beginners were volunteering to teach after only FOUR hours of instruction!!!!!!!!!!!!!! Teachers with all levels of experience in the classroom and with the method were together and sharing for one purpose: to grow and to recognize growth.
A desire to honor other teachers.
At one point we began to limit not only the teaching portion, but also the feedback portion of the cycle to five minutes because groups could have easily gone on for an hour sharing feedback! It was so wonderful that we hated to cut it short, but wanted also to honor the fact that many teachers wanted the opportunity to be the teacher. The result of that was that teachers who did not share aloud shared notes and observations personally with teachers when they saw them later. Wow.
A need to be heard.
Nothing touched me more than the woman who came up to me after a teaching cycle in which she had been an observer. "They listened to me. And they really heard me. No one has done that in years. Thank you so much for making this available. I needed it so much." She was in tears.
That happened several times during the week and I was so moved..to simply be heard.
The beauty of being in the moment.
Because we were focusing on what the teacher was doing right, and how that was reflected in the actions/reactions of the students, everyone in the group was in the moment in an amazing way. There was no chatter between observers. There was no typing emails or answering texts. Coach, teacher, students, observers all in the same place at the same time focusing on the interaction between students and teacher. Beautiful.
Honoring the journey
Each of us is on our own journey. We each take a different path, move at a different pace and pick up different ideas/thoughts/memories/skills along the way. This year there was much less of a frantic pace to "get to the mastery level" and more of a joyful exploration of where we were and what we were doing. There was the opportunity for us to enjoy our journey and to observe and celebrate the journeys of others.
These ripples, and more, spread outward as participants brought a new perspective back to coaching over and over again, as well as to presentations and workshops. It changed meal time conversations and opened a new door to what was called, "The War and Peace Room."
with love,
Laurie
by lclarcq on June 20th, 2015
filed under Archived Posts 2015, Classroom Management, Engagement, Grading/Evaluation/Assessment, Language Classes, Participation, Relationships, Starting The Year
Laurie says:
Taken from my post on Ben Slavic's blog:
In our department we have created a scale of engagement (with the language and activities) that looks like this:
Stage 1 : Attention
(student is looking at/listening to w/intent to understand)
Stage 2: Identification
(student can locate sounds/text that are recognizable)
Stage 3: Comprehension
(student can visualize/dramatize meaning of the pieces they understand)
Stage 4: Clarification
(student will seek information needed to comprehend any missing pieces)
Stage 5: Interaction
(student will respond to aural input/text to the best of ability)
It's 'jargony" which makes admins happy. It breaks down expectations, which they are also looking for.
But it's actually useful. We can ask the student, "What stage are you at with this?" Then we ask, "What do you need to get to the next stage?" Sometimes the answer is as simple as, "I have to try." :o) But it has encouraged students to a) realize that this is their 50% and b) We can help if we know where they are.
Now, perhaps I should have prefaced this with a HUGE given, a message that we deliver from their first year on and reinforce as needed:
We are professional educators. We understand language acquisition. The district has hired us with the expectation that we will lead classes where language is acquired. We have designed classes with that in mind. Students are required to participate.
Then we work diligently to establish relationships with each student and each class. We adjust our plans based on our students. We are transparent about these decisions with our students.
Students who do not engage/participate will not acquire. Therefore, their assessment grades will be low. If non-participation affects the other members of the class, it is then considered a discipline issue. We address it by working to strengthen our relationship with that student and finding ways for that student to have a place/way to engage successfully in class. It's often easier for them to participate than to not!! This works in our favor. :o)
We do not tie behavior to a grade. A) The disengaged student rarely cares about the grade B) Disengaged students don't show growth anyway. C) The disengagement is rarely ever about Spanish. It is a signal that other issues are preventing this student from wanting to be successful and have fun!!!! This is a serious issue. D) The extra attention to the student as a person, rather than as a grade, is far more valuable.
As for our scale….it isn't a participation grade. It isn't a rubric per se. It's used more as a diagnostic tool when students need help.
If you need help/things aren't making sense, identify where you are:
I didn't hear it/don't see it.
Stage 1: I heard/see it but I don't recognize it/can't identify it.
Stage 2: I can identify/recognize it but I don't know what it means.
Stage 3: I heard/saw it AND I recognize it AND I'm pretty sure I know what it means.
Stage 4: I checked what I think it means with the context to see if I'm right.
Stage 5: I totally get it and can respond verbally/physically to it.
In assessments we often only grade students on Stage 5….and there is a lot that goes on beforehand that we want our students to recognize and use to their advantage.
I can use it to set up formal assessments if I want to, but it is most valuable as a tool that we use as we use language to communicate.
Hope that makes sense…
with love,
Laurie