by lclarcq on September 3rd, 2018
filed under Archived Posts 2018, Curriculum and Planning, Encouragment, Start From The Heart, Starting Class, Starting The Year
Ok…you have information in front of you: lesson ideas, activities, suggestions, Facebook pages, blogs, and more….
Now what?
How do you start? How do you know where your students are going? Which unit do you teach? What topic ? Which video? Which song? It can be so overwhelming…….
First: THERE IS NO "RIGHT" WAY TO DO THIS. If you teach Spanish or French, and feel that you need a lot of structure and support starting the year with Comprehensible Input, really consider purchasing a curriculum. Teach For June, Comprehensible Classroom and Adriana Ramirez all sell prepared curriculum, especially for novice and intermediate students.
Second: If you teach a different language, or can't find what suits you, or want and enjoy the flexibility, you will be creating your own curriculum. If you have never done this before….it's okay! Look for a future post for ideas about structuring a curriculum and in the meantime, follow the blogs and pages that speak most clearly to you. With that information and your own knowledge, experience and intuition, you will be fine!
Third: Don't feel that you have to dive right into anything. Remember, you can put your classroom into place, your expectations in place and begin building positive relationships without a "structure", "vocabulary" , or "theme"-based year-long plan. These will begin the year by establishing that your STUDENTS are the focus of your teaching!
Let's look at what vocabulary and structures are involved in those daily interactions:
(I'll list the possibilities in English, but of course you will know what they represent in your target language)
If you greet students each day, talk to some about how they are feeling, use the target language for general classroom exchanges, talk about school/local events, birthdays, and the weather, you will AUTOMATICALLY work with the following:
Hello, Good morning, Good day, Good afternoon, Good evening, Good night etc,
Good-bye, See you later, See you tomorrow, Until next time, etc.
How are you? How is s/he? I"m/S/he is well, poor, ok, tired, nervous, hungry, ready, worried, sick, sad, happy, etc.
What is your name? I'm, my name is, What is his/her name? S/he is, his/her name is
Who is? Here, present, absent, etc.
Where is? Here, there, in the office, bathroom etc.
May I go to …..etc.
May I use…..a pencil, paper, book, etc.
Here is…
Sign the paper…
Take the pass…
Look (at), Look for, Listen/hear, Write, Say, Wait, Give, Pass, Stop, Stand, Sit, Think etc.
What do you need/want/have/lack?
One time, many times, always, often, never, sometimes etc.
Today, tomorrow, yesterday, tonight, last night, this/last/next week, month, year, day
Days of the week, months of the year, numbers 0-31, and the year.
What is the day/date? What month is it/will it be? When is your birthday, the dance,vacation etc?
What is the weather like? It's hot, sunny, breezy, windy, cold, rainy, snowy etc.
What season is it? Spring, summer, winter, fall.
What do you like? What is your favorite? When do you_____?
There is really NO NEED to plan special "units" on these topics because you integrate them bit by bit until they are part of the natural rhythm of your life with the students. What you will really be doing is teaching, practicing and utilizing a ROUTINE for:
Greeting students
Assigning seats.
Taking and reporting attendance.
Discussing the calendar, weather and current events.
Being prepared in class.
Getting permission to leave class.
Leaving and returning to the room.
If you teach a signal, or a call and response pattern you will also establish a ROUTINE for refocusing the class…not to mention whatever vocabulary you choose to use.
That is A LOT of high-frequency language!!
So don't be afraid to take your time to set those things up.
Are you worried that it will be boring? Don't worry! You will be personalizing and interacting with every new routine. Because you will be connecting what you are doing with the students, it will be interesting to them.
Let's start with greeting the students. If you greet some/all of the students as they enter you can begin to bring your sense of humor and your personality in from the beginning of the class.
You could:
Put 2-5 questions on cards. Shuffle the cards and show the card as you greet students (Hi, Hello, How are you?, What's up? etc.)
Don't settle for just "Good" or "Okay". Ask a follow-up question: a little good or really good? (use your voice to add interest) Allow/Encourage the use of gestures.
Add a fun handshake, fist bump etc.
Have students make a question or greeting card and decorate it. Use those cards to shuffle through and show as they enter.
Ask the first student to stand next to you and keep a tally: How many are good? How many are tired? Etc.
When taking attendance:
If your class is 20 or under: Ask Where is ________? The class points to the student and says __________is there! (with enthusiasm!! Like a game show host!) This loses its joy if you have 30+ students though!
Teach students to 'invent" a location and action for students who are not there. Be careful with this….make sure that you teach them to say desirable things…not things that would embarrass or humiliate the person who is missing! If your students might go too far, make a poster of appropriate ideas for them to choose from! ( Is playing basketball with Steph Curry, is on a cruise with a world-famous soccer team, is playing guitar in a concert with a popular band, etc)
Assign students a "neighbor" buddy. Remind them to get work for that person as you take attendance if their buddy is absent.
Give maracas or a tambourine to several students. Set up a chant for attendance. Where are you John? I'm here! Cha cha cha!
Ask students to tell you something they like (to eat, watch, listen to) when you call their name: Alexa Snickers! Maria Reese's!
If you teach Spanish, and have Sr. Wooly, definitely use that video to intro leaving the room to go somewhere!
Here are some other video clips you can use ( 30 seconds of English for an intro guaranteed to get there attention is worth it!!
And this one has no spoken English…just one quick slide….very fun!!
It's not too hard to put together a daily or weekly routine around that calendar. After greeting students and taking attendance, direct students' attention to a calendar. It can be a pre-purchased calendar, a teacher-(or student!!) made wall calendar or something projected or in a PowerPoint.
Many students remember this routine from their early elementary days, and enjoy the nostalgia of reliving that experience!
If you need students to be held accountable for this, you can create a weekly or monthly form for them to fill in and then hand in for a grade. Keep it simple to complete and simple to grade or it will drive everyone crazy!!!! We want them to enjoy the activity!!
You can talk about: the day, the date, the weather, holidays/birthdays, after-school activities, the school menu, National _______Day, ….so many things!!!
When you tie the discussion to students' interests, preferences and daily activities, it really is interesting!
Following this is the time that many teachers have used to build in a certain activity for each day of the week. (Weekend review, Meme Monday, Baila Viernes, Weekend Plans etc….)
Fourth: Relax and enjoy!!!!!! If the teacher is uptight about "covering" the material and having the "perfect" curriculum, it will spill over into each and every class. You are where you need to be right now. You are where you are. Do not worry about not being more talented, more skilled, more prepared, more creative. Enjoy being yourself, interacting with students so that they understand and can respond, and relax!!!
It's going to be fine!
With love,
Laurie
by lclarcq on August 18th, 2018
filed under Archived Posts 2018, Classroom Management, Start From The Heart, Starting Class, Starting The Year
Oh the possibilities!!
First, let me be clear. TPRS/CI can work with ANY kind of seating arrangement.
So let's look at seating from the basic elements:
The physical arrangement of the room creates a certain atmosphere which can really affect the "tone" of the class. Each teacher has the right to choose the arrangement that works best! There is no 'best" way.
Traditional Rows: It is absolutely easier to put kids in "traditional" rows, and create a seating chart, in alphabetical order in order to take attendance. Especially if you have very large numbers. Make a seating chart, in two days they will remember where they sit, you get used to certain faces in certain seats and taking attendance/learning names is much easier than it is in nearly any other option.
Whenever possible, have a clear lane to walk in on all four sides of the room. We always want to be within a few feet of each student when it's necessary.
If you have a lot on your plate, or you/your students need a lot of structure, use this option….especially to start with! You can always change seating as the year progresses!
Theater Seating: Students are in rows, but angled towards the center of the room, especially the outer rows. This allows the entire class to focus on the area in the front of the room which now becomes a "stage". Because it is slightly different than the "traditional' rows, it can help teachers and students to step into the new mindset that being in a CI class requires, without being a shock to the system.
Volleyball Seating: Students are in rows, facing the center of the room and the "stage" can then be the front, back or center of the room as needed. There are many benefits to this arrangement. The biggest challenge to this arrangement is that students are now facing each other and may have to learn to interact as a class without distracting each other.
Semi-Circle This is one of my favorites…and it can be done in several rows of seats. It feels somewhat "informal", but offers a sense of structure for those who need/want it.
Circle: Not all rooms are large enough to allow for students to sit in a circle, but it can be a great arrangement for many smaller groups! (My students often lovingly referred to it as the "counseling circle." )
Groups or pods: There are definite benefits to having students sit in groups, but also a number of challenges for the TPRS/CI teacher. It can be difficult to keep students focused when they are all facing different directions and also facing a small group of peers!
And of course, there are combinations and adaptations of the above. Remember, you can actually change the seating any time during class once you have trained students how to do that carefully and quickly. (That's a future post!)
Assigned Seats: This is another choice that you get to make!
Some teachers, particularly at the high school and college level, do NOT assign seats. They choose the seating arrangement, but allow students to choose where to sit each day. And….each day could be different, depending on who arrives when etc.
Another option is to allow students to sit where they would like the first few days, then ask them to choose a "permanent" seat for the quarter/semester/year…once they have found a place that they feel comfortable.
The third option is to "randomly" assign seats. The teacher strategically chooses specific locations for certain students and then randomly assigns the class to the remaining seats. All of this is done before presenting the seating chart to the students. (although even young ones are pretty savvy about what we have done and why!)
Then there is also the traditional, alphabetical arrangement mentioned above.
Seating Charts
Now that you've chosen a seating arrangement, think about how you will create a seating chart. Electronically? The picture feature on these is FANTASTIC! By hand? Some people prefer it. Maybe you prefer to use an app like Dojo. Check out the attendance chart I used!
Again, there is no right way. Just ask yourself three questions: Is is accurate? Is it efficient
as you take attendance and learn names?
Attendance can be time-consuming, but it is important!!! Schools are adamant now that we take and record attendance promptly and accurately. The seating arrangement we choose can affect how we take attendance.
Need a new idea? Check out this post: The Magic Attendance Poster
Also keep in mind that when there is a substitute, it is handy to have some sort of agreed upon arrangement with students about seating, attendance and behavior. So if you choose to be flexible about seating, make sure the sub doesn't need all period to call out the roll to take attendance.
Last but not least….YOU ARE NOT REQUIRED TO HOLD ON TO ANY ONE WAY OF DOING THINGS!
If you start with one arrangement, and want to try something else, go for it!! It is not a bad thing for students to see you mixing it up, evaluating something new and making decisions. It's a wonderful thing!
Just don't take on more than you need to at any one time. You are important.
With love,
Laurie
by lclarcq on August 20th, 2017
filed under Archived Posts 2017, Classroom Management, Relationships, Starting Class, Starting The Year, Uncategorized
So, on Day #2 the students walk in and sit down.  Four out of six classes totally forgot about the names in the back of the room until the bell rang….and then….someone said, "Oh!  Our cards!".   But once everyone remembered, all went well.
Ok….not all.
My first and third period classes looked something like this as they brought up their cards:
Student in the front of the line hands me the card.   I smile, and say, brightly, BUENOS DIAS!.  The student looks at the floor and trudges back to his or her seat.   This repeated itself 31 times!!!!!!!!   
Once everyone had gone through the process, I looked at the class and said, "Clase, hay un problema."  And then explained in English that having your heart broken 31 times in a row is no way to start the day.
So…..they all got up again….I greeted them with a smile, a HIGH FIVE and a BUENOS DIAS!.   In the first period class, right about the middle of the line, one boy deliberately "missed" the high five.  (Ay!)  So, when everyone was done I invited him up front.  He gladly came (if not I would have gone over to stand next to him.)   I explained to the class in Spanish (these are level 2 students) that everyone gave me a high five except for "Alberto.'  Why?  Because Alberto and I had a very special handshake that was way more complicated than a high five and he was going to teach it to them right now.  
"Albert" whispered to me, "I don't know what to do."  I whispered back, 'Just miss my high five and then we'll do a fist bump."  So "Albert" demonstrated the more complicated and special high five and I asked 3 or 4 other students if they wanted to try it.  There was about 25 hands in the air so I let them do it with a neighbor and then we went on.  "Albert" got the message, and so did the rest of them.  
:o)
with love,
Laurie
by lclarcq on August 20th, 2017
filed under Archived Posts 2017, Starting Class
By the time some of you read this it will be really old news….but here goes!!
Day 1 of Year 35 completed!!!
As you saw by my earlier post….my classroom is bare bones right now.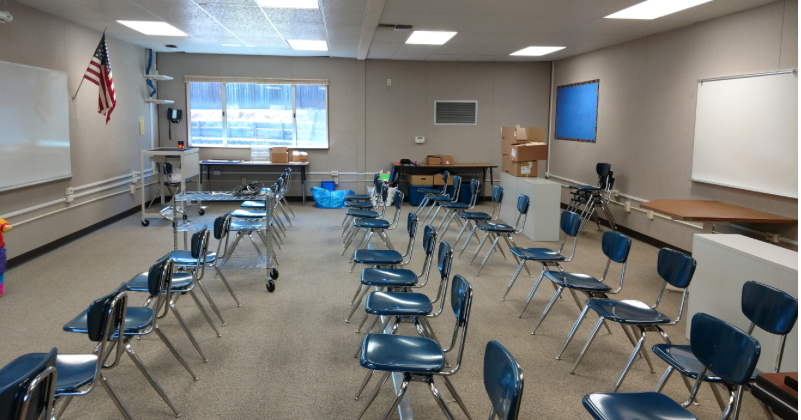 I have added the following:
1. Posters of the Super Seven in the past/present from Scott Benedict at Teach For June.
2. A calendar with the days of the week, months of the year.
3. Posters with colors.
4. Two Sr. Wooly posters (Billy La Bufanda, Soy Guapo and Puedo Ir al Baño)
5. A world map.
Not much really!!!!
Except for this: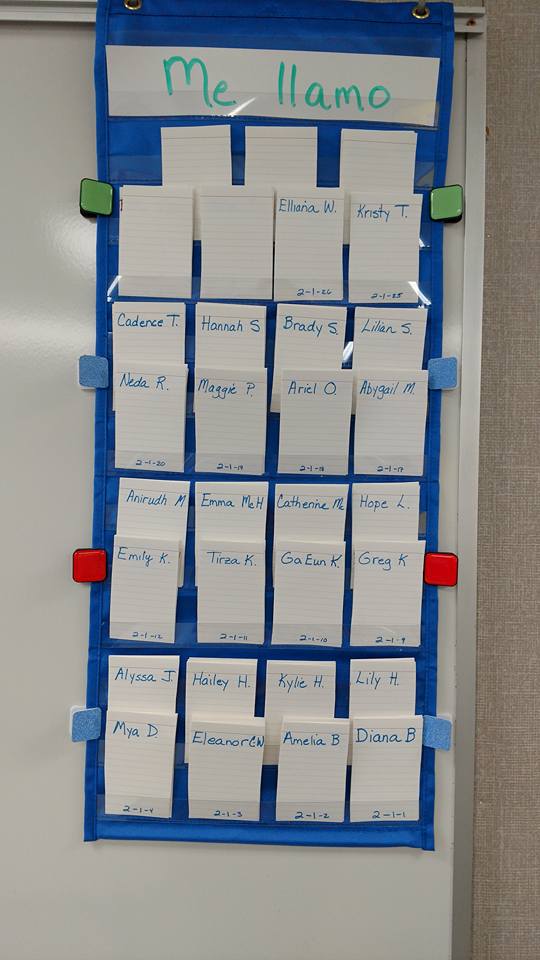 If you look closely, you will see cards behind each card: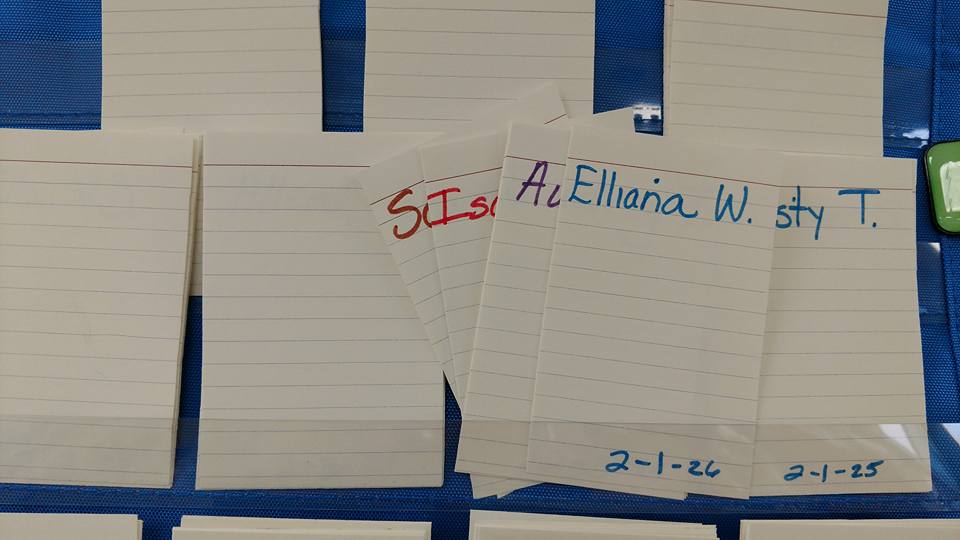 It is my magic attendance poster!!!
Confession #1: I am HORRIBLE at taking and reporting attendance.
So, on Thursday, I taught all of the kids to grab their name from the poster in the back of the room as they come in and bring it up to the front and hand it to me. (If their name is NOT there then they bring me a blank card and I know to check the roster for schedule changes etc.)
This way I get to connect with every kid on their way in the room!!! (If their name is NOT there then they bring me a blank card and I know to check the roster for schedule changes etc.)
The first day, I asked students their names.  They could a) just show me the card.  b) say their name or c. Say Me llama and their name.  (Right away I could show them that they will respond in a way that is comfortable for them!) This way I didn't have to try to figure out the pronunciation of names and I asked if they had a nickname that they preferred.   I also asked them if I had spelled it correctly.  It was quick, personal, and easy!!
It is very easy to see who is not here because each class roster uses a different color marker. Before I submit attendance, I can see if any names are left on the board in a flash!!
Confession #2: I messed it up 4/6 times on Thursday!! I forgot to hit "Submit". So THAT was the first Student Job assigned on Friday. Friday I didn't miss it once!! And….check out the next post for the Day #2 story!!
Other benefits: I now have the cards for each student in my hand. I can use those for "random cold-calling" for games etc. I can have a student put them back (in the back of the pile each period) or do it myself later in the day.
PS You will see numbers on the bottom of the cards. They stand for Spanish 1 or 2, the period of the day, and a count of how many students in the class. Just little helpful things for me.
This was a great way to start things off!
with love,
Laurie