by lclarcq on August 20th, 2017
filed under Archived Posts 2017, Classroom Management, Relationships, Starting Class, Starting The Year, Uncategorized
So, on Day #2 the students walk in and sit down.  Four out of six classes totally forgot about the names in the back of the room until the bell rang….and then….someone said, "Oh!  Our cards!".   But once everyone remembered, all went well.
Ok….not all.
My first and third period classes looked something like this as they brought up their cards:
Student in the front of the line hands me the card.   I smile, and say, brightly, BUENOS DIAS!.  The student looks at the floor and trudges back to his or her seat.   This repeated itself 31 times!!!!!!!!   
Once everyone had gone through the process, I looked at the class and said, "Clase, hay un problema."  And then explained in English that having your heart broken 31 times in a row is no way to start the day.
So…..they all got up again….I greeted them with a smile, a HIGH FIVE and a BUENOS DIAS!.   In the first period class, right about the middle of the line, one boy deliberately "missed" the high five.  (Ay!)  So, when everyone was done I invited him up front.  He gladly came (if not I would have gone over to stand next to him.)   I explained to the class in Spanish (these are level 2 students) that everyone gave me a high five except for "Alberto.'  Why?  Because Alberto and I had a very special handshake that was way more complicated than a high five and he was going to teach it to them right now.  
"Albert" whispered to me, "I don't know what to do."  I whispered back, 'Just miss my high five and then we'll do a fist bump."  So "Albert" demonstrated the more complicated and special high five and I asked 3 or 4 other students if they wanted to try it.  There was about 25 hands in the air so I let them do it with a neighbor and then we went on.  "Albert" got the message, and so did the rest of them.  
:o)
with love,
Laurie
by lclarcq on August 20th, 2017
filed under Archived Posts 2017, Starting Class
By the time some of you read this it will be really old news….but here goes!!
Day 1 of Year 35 completed!!!
As you saw by my earlier post….my classroom is bare bones right now.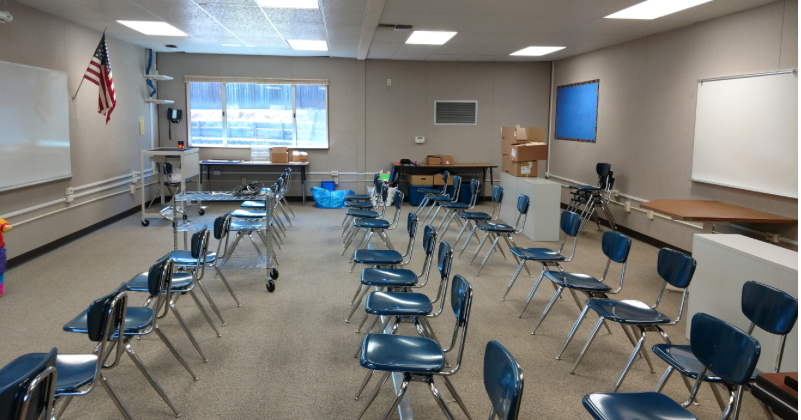 I have added the following:
1. Posters of the Super Seven in the past/present from Scott Benedict at Teach For June.
2. A calendar with the days of the week, months of the year.
3. Posters with colors.
4. Two Sr. Wooly posters (Billy La Bufanda, Soy Guapo and Puedo Ir al Baño)
5. A world map.
Not much really!!!!
Except for this: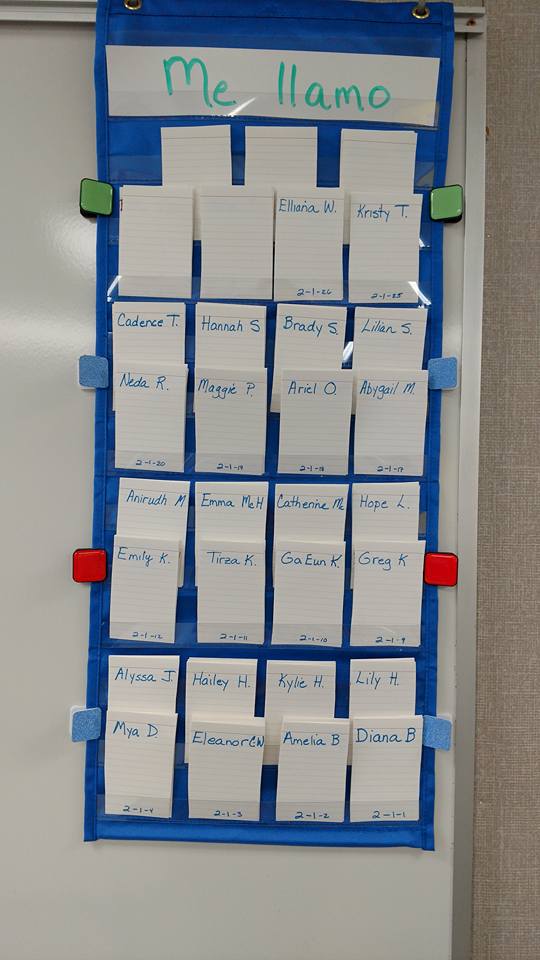 If you look closely, you will see cards behind each card: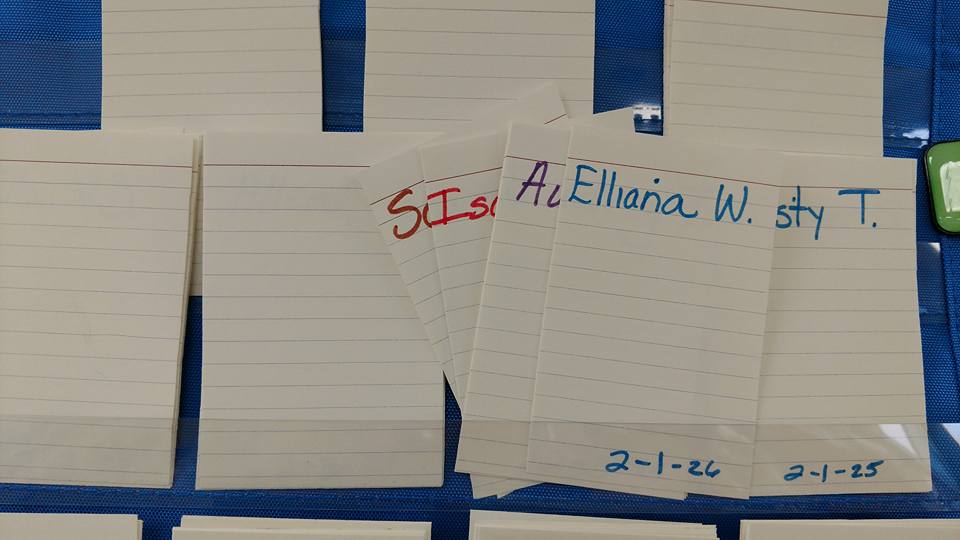 It is my magic attendance poster!!!
Confession #1: I am HORRIBLE at taking and reporting attendance.
So, on Thursday, I taught all of the kids to grab their name from the poster in the back of the room as they come in and bring it up to the front and hand it to me. (If their name is NOT there then they bring me a blank card and I know to check the roster for schedule changes etc.)
This way I get to connect with every kid on their way in the room!!! (If their name is NOT there then they bring me a blank card and I know to check the roster for schedule changes etc.)
The first day, I asked students their names.  They could a) just show me the card.  b) say their name or c. Say Me llama and their name.  (Right away I could show them that they will respond in a way that is comfortable for them!) This way I didn't have to try to figure out the pronunciation of names and I asked if they had a nickname that they preferred.   I also asked them if I had spelled it correctly.  It was quick, personal, and easy!!
It is very easy to see who is not here because each class roster uses a different color marker. Before I submit attendance, I can see if any names are left on the board in a flash!!
Confession #2: I messed it up 4/6 times on Thursday!! I forgot to hit "Submit". So THAT was the first Student Job assigned on Friday. Friday I didn't miss it once!! And….check out the next post for the Day #2 story!!
Other benefits: I now have the cards for each student in my hand. I can use those for "random cold-calling" for games etc. I can have a student put them back (in the back of the pile each period) or do it myself later in the day.
PS You will see numbers on the bottom of the cards. They stand for Spanish 1 or 2, the period of the day, and a count of how many students in the class. Just little helpful things for me.
This was a great way to start things off!
with love,
Laurie