by lclarcq on August 12th, 2017
filed under Archived Posts 2017, Classroom Management, Curriculum and Planning, Starting The Year
I've been thinking….
What's the one thing I really need to communicate to my students? The thing that everything else stands on and revolves around. The thing I can always go back to whether I am planning, evaluating, reacting or even treading water.
My students are important to me.
More important than the curriculum, the grading system, the behavior point system, the school's reputation, the department's success record, than anything else I can think of in the educational venue.
Because of that, my classes are important to me.
Each student is part of a class. Each class has its own chemistry and behaviors that not only affect the students in it, but also is created by the students in it.
So I put a great deal of importance on how we interact in each class.
I want to set up each class so that it is clear what we are doing, and why.
What are we doing?
We are interacting, using the Spanish language whenever possible, so that we can know and understand the world better, starting with each other.
Why?
Language acquisition happens when the language is comprehensible, the message has value, and the people involved know that they matter.
Oh wait. That isn't in the right order.
I want my students to know that they matter, that the world they live in matters, and that we can use more than one language to explore and appreciate those things.
And I only have a few precious minutes every day to do that.
with love,
Laurie
by lclarcq on August 11th, 2017
filed under Archived Posts 2017, Curriculum and Planning, Starting The Year, Uncategorized
doesn't exist.
Sigh.
Since I was a little girl, I've dreamt of working in the perfect room. I've seen them on Pinterest. They must exist somewhere. But the truth is, they don't exist in my world.
Perhaps your world is different. Perhaps you have unlimited time and unlimited funding. Perhaps you have no other distractions. Perhaps.
Or….your world is much like mine. The ideas all exist….in my head. The potential exists….in another reality. The desire exists…..every year.
But the reality does not.
What does?
This: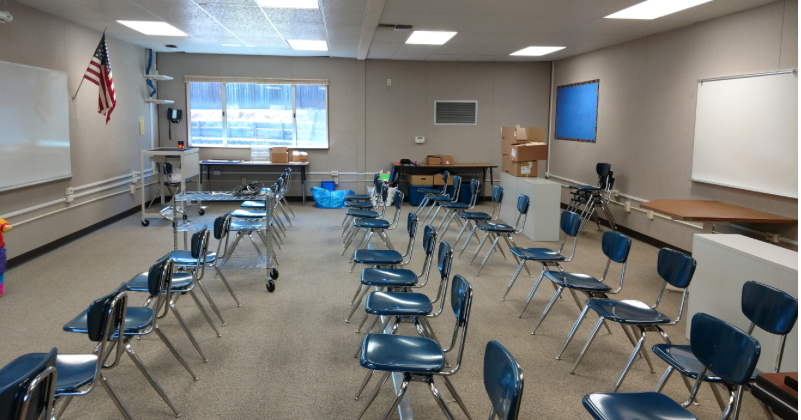 That's my classroom right now. It might be my classroom for the next few days actually. (and classes start on Thursday!!)
Clearly there is a lot to do. In the past I would have been committed to all-nighters (or nearly) full of drawing, cutting, decorating and hanging. I would have done nearly anything to make sure that my students walked into a "classroom paradise."
But almost a decade ago I gave that up.
I didn't really have a choice at the time. You know, building construction, Xerox breakdown, no paycheck for July and August, two sons to get ready for school, moving to a new house, etc. etc. etc.
A few students asked me, "Where's all your stuff?". But not many. In fact, a few students actually told me that they liked the new "quiet" look. That was eye-opening.
And we started the year. And as things were needed, we made them and we put them up. The kids made most of the posters and decorations and they really preferred it that way. I still have dreams of the prepared and laminated loveliness of my early days. I'd love to have a gorgeous little Pinterest page-worthy environment.
But this way I get a few extra perks:
I don't have to live up to my First Day decorating prowess.
I have more money in my bank account.
I have students who love to hang out in the room and create materials and decorations.
The students, their needs, and their work has become the focus of the classroom.
and I can still spend hours day-dreaming on Pinterest if I want to. 🙂
with love,
Laurie
by lclarcq on December 1st, 2016
filed under Archived Posts 2016, Classroom Management, Creating Stories, Encouragment, Engagement, Relationships, Starting The Year, TPRS techniques
If you are just starting out with TPRS, and you feel as if you are not doing enough with your students fast enough….take heart….you have an enormous advantage!!!
WE HAVE TO START SLOWLY. I put TPRS+slow into Google just for fun and discovered HUNDREDS of pieces that address how important it is to start off slowly with students who are new to language and/or new to being in a TPRS classroom.
I am choosing only one skill/concept as a goal for my students per week. The only goal I am really focusing on this week is Listening Well. I have to be honest….it's killing me to do it. I can think of DOZENS of things that I could add to class right now that would make it more interesting, but I know that if I want them to listen WELL, I'd better stick with that.
Now, I am sneaking in opportunities for next week's goal which is RESPOND WELL. We all know that no skill really works in isolation. But I don't expect to see any progress in anything other than the LISTENING WELL.
I'm trying to remember to:
Point out what it looks like. (See here for more info.)
Thank students when they do it. (individually or as a group)
Be patient when they get too excited about what we are doing to only listen.
Remind them that listening and talking should not be done simultaneously.
Wait, and wait, and wait, until they are listening.
Ask any student who responds to or asks a question to wait until their peers are quiet before they speak.
It is so hard to move in baby steps when there is so much ground to cover. But this kind of teaching is about the journey not the destination. I have to be where my students are, NOT try to get them to where I want to be. It's the only way we will ever be together.
I realized today that part of my 'inner stress" comes from thinking that I am not in control if I meet them where they are. My perspective was skewed. I cannot change where they are right this minute. I AM NOT SUPPOSED TO BE IN CONTROL OF THAT. I can only be in control of where I am and how I interact with them. If I chose to meet them where they are, we will be together and I can help them on the journey. If I stand at the finish line, impatiently waiting for them to show up, expecting them to arrive in a place they cannot get to on their own, I am choosing stress for all of us.
The dear and brilliant Brian Barabe told me once that TPRS is like yoga…and to use the mantra "You are where you are supposed to be." I need to remember that more often.
with love,
Laurie
by lclarcq on November 28th, 2016
filed under Classroom Management, Encouragment, Musings, Relationships, Starting The Year
Hello from California!! I managed to be retired for all of six weeks before I moved cross country and sign on for a new job. It wasn't an easy decision, but I think it was a good one!
For the past 30+ years I have worked in small districts in rural, upstate (seriously upstate) New York. For some of those years I taught grades K-8 but the majority of them were teaching high school students. My new job is teaching 6th-8th graders in a suburban, well-populated section of Northern California!
The students had another teacher for over 10 weeks and now we are all starting over.
I had met a few times with the sixth graders and today was our second real day together. They have been out of school for two weeks between Science Camp and Thanksgiving Vacation!!! So yes…we are really, really starting over.
The 8th graders and I got started the week before Thanksgiving. So today was day 6 for us.
I forgot how much there is to accomplish at the beginning…….
These students, all of them, are brand-new to me. Our very first accomplishment will be working together. Seriously. They are used to a different set up in class and mine requires a great deal of self-control…..or at least more than they have had to use. 🙂 I know they are capable. They know they are capable. Now…I have to get them to agree to do it.
The first day I worked with them (class sizes about 30), they were sitting with friends in groups of four. I tried to speak. I tried to get their attention. No one stopped talking. Not one student.
My pulse was racing, my face was flushed, my smile was frozen and my heart was pounding. I did not know the name of one single student. For the first time in nearly 30 years I also did not know their parents, their siblings, or even their other teachers.
I don't know how long I stood in front of the room before I tried again. It was probably seconds…it felt like hours. I was being completely ignored.
So I tried again. I used a 'signal' that their former teacher had used. A few students noticed and responded half-heartedly…then kept right on talking. This was not going the way I had hoped!!!
Try number three….in a slightly louder, more authoritative voice. This time more than half of the class looked at me, shifted in their seats and mumbled a response. AND….made eye contact.
This was the most crucial moment for me. It happened in all three classes. I had to maintain eye contact with the 15 or so students spread across the room. With a smile on my face, I held my ground….for maybe 15 seconds. A small girl near me whispered to me, "I think it's working!" I tried to just keep breathing!! One by one the rest of the group settled down and then turned around….finally realizing that something was happening. When everyone was quiet I smiled at stared at them while I (painfully!) counted to 5 in my head. Then I finally introduced myself. I think that was the most challenging 30 seconds of my teaching career.
I am dead serious.
I have no history at this school. No reputation precedes me. I felt completely naked and alone in front of those kids waiting for the silence, and for their attention. My head said…wait, wait, wait it out. My heart said…this isn't going to work…they are going to ignore you forever.
I'd like to say that after that one encounter in each class, that I was able to establish order in a heartbeat with a look. Or at least using our signal.
Um, no. The 8th graders and I have found a direction in the week we have had together…but daily reminders, and those 30 second wait times, while not nearly so heart-pounding, still happen once during every class. The 6th graders? Well….we didn't get much done today academically. There were maybe 10 "usable" minutes out of 35. i'm still learning names, getting them into a routine, helping them adjust to transitions and working to get them to function with a new seating system (where they all face forward and don't sit with their friends.)
BUT…in one class 5 of those 10 usable minutes were truly beautiful. Students were asked if their vacation was "excelente" or 'terrible" or somewhere in between. Only one girl said terrible. I asked her if the reason was a secret, she said no, she wanted to share. (Thankfully the class was quiet and listening….and this, of course, is why we needed it…) She shared in a whisper to me that her aunt had cancer. I told the class in Spanish. Then I asked, in Spanish, 'Who has a friend, or someone in their family, with cancer?" Over half of the class raised their hands. Even though these kids had only a few weeks of Spanish, I could say to her…The class is with you. They are your friends. You are not alone.
I could tell the class that in 2013 I had cancer. And we learned the word hope.
She needed that. So did I. So did I.
with love,
Laurie
by lclarcq on August 18th, 2015
filed under Archived Posts 2015, Classroom Management, Curriculum and Planning, Musings, Starting The Year
Originally posted as a response in a post on Ben Slavic's blog and posted here by request:
About 10 years ago I stopped freaking out about arranging my room for the perfect look the first day of school. I did it for the following reasons:
1. I was too burnt out to do it.
2. I was tired of putting in work to "look good" to others.
3. I was tired of the competition that takes place every September over who has the nicest bulletin boards, doors, etc. People walk around pretending to compliment each other when they are really trying to outdo each other. Over a door. Nope. Not happening.
4. I didn't want my students to think that little elves showed up overnight to do the work that teachers do every day. I wanted them to understand that these things take time and effort and do not just magically appear when they aren't looking.
5. It was time to let the room creation be part of the community-building aspect of the room.
6. I wanted the room to evolve with the interests and needs of the students in it. I can't do that before they show up.
I still resist the urge every year to go hog-wild-teacher-crazy on the room decorating. (yes…..I dreamed of teaching kindergarten and this hasn't gone away…) I fight little voices of guilt when I haven't hung matching curtains and placed color-coordinated authentic decorations just so.
But……I have found HOURS of peace in which I can do other, more fruitful , things with my time. There was a time when I thought that it couldn't be done, nor should it be done….but now I enjoy putting out one or two carefully chosen items in order to start the year. And now I never get angry because someone misplaced / broke a treasured item or wrote I <3 Ramon on the corner of my bulletin board. As the weeks unfold, the students decorate the bulletin boards, the door etc. They coordinate all of the colored paper and markers and scissors in a system in the room from the box in the back where I packed them up in June. (and they get mad at the kids who don't put things back right) They point out when something needs to come down and something else needs to go up. They volunteer to create a birthday calendar and follow it closely so that no one gets missed. I've come to love it this way….and I think they do too. It's not that the color-coded, coordinated, poster-plastered walls and award-winning bulletin boards were a bad thing…..but I've found so much more to enjoy….and so much less pressure…in this approach. with love, Laurie
by lclarcq on August 18th, 2015
filed under Archived Posts 2015, Encouragment, Engagement, Musings, Starting The Year, The Teaching Profession
Skip Crosby is a wonderful friend and amazing educator from Maine. Earlier this month he gave a speech to several hundred teachers in his state. Below is a slightly-modified version of that speech. I am honored to share it with you with his permission:
http://bangordailynews.com/2015/08/10/uncategorized/how-maine-foreign-language-teachers-can-gain-relevance/
by lclarcq on June 20th, 2015
filed under Archived Posts 2015, Classroom Management, Engagement, Grading/Evaluation/Assessment, Language Classes, Participation, Relationships, Starting The Year
Laurie says:
Taken from my post on Ben Slavic's blog:
In our department we have created a scale of engagement (with the language and activities) that looks like this:
Stage 1 : Attention
(student is looking at/listening to w/intent to understand)
Stage 2: Identification
(student can locate sounds/text that are recognizable)
Stage 3: Comprehension
(student can visualize/dramatize meaning of the pieces they understand)
Stage 4: Clarification
(student will seek information needed to comprehend any missing pieces)
Stage 5: Interaction
(student will respond to aural input/text to the best of ability)
It's 'jargony" which makes admins happy. It breaks down expectations, which they are also looking for.
But it's actually useful. We can ask the student, "What stage are you at with this?" Then we ask, "What do you need to get to the next stage?" Sometimes the answer is as simple as, "I have to try." :o) But it has encouraged students to a) realize that this is their 50% and b) We can help if we know where they are.
Now, perhaps I should have prefaced this with a HUGE given, a message that we deliver from their first year on and reinforce as needed:
We are professional educators. We understand language acquisition. The district has hired us with the expectation that we will lead classes where language is acquired. We have designed classes with that in mind. Students are required to participate.
Then we work diligently to establish relationships with each student and each class. We adjust our plans based on our students. We are transparent about these decisions with our students.
Students who do not engage/participate will not acquire. Therefore, their assessment grades will be low. If non-participation affects the other members of the class, it is then considered a discipline issue. We address it by working to strengthen our relationship with that student and finding ways for that student to have a place/way to engage successfully in class. It's often easier for them to participate than to not!! This works in our favor. :o)
We do not tie behavior to a grade. A) The disengaged student rarely cares about the grade B) Disengaged students don't show growth anyway. C) The disengagement is rarely ever about Spanish. It is a signal that other issues are preventing this student from wanting to be successful and have fun!!!! This is a serious issue. D) The extra attention to the student as a person, rather than as a grade, is far more valuable.
As for our scale….it isn't a participation grade. It isn't a rubric per se. It's used more as a diagnostic tool when students need help.
If you need help/things aren't making sense, identify where you are:
I didn't hear it/don't see it.
Stage 1: I heard/see it but I don't recognize it/can't identify it.
Stage 2: I can identify/recognize it but I don't know what it means.
Stage 3: I heard/saw it AND I recognize it AND I'm pretty sure I know what it means.
Stage 4: I checked what I think it means with the context to see if I'm right.
Stage 5: I totally get it and can respond verbally/physically to it.
In assessments we often only grade students on Stage 5….and there is a lot that goes on beforehand that we want our students to recognize and use to their advantage.
I can use it to set up formal assessments if I want to, but it is most valuable as a tool that we use as we use language to communicate.
Hope that makes sense…
with love,
Laurie
by lclarcq on December 6th, 2014
filed under Archived Posts 2011, Curriculum and Planning, Grading/Evaluation/Assessment, Homework, Musings, Starting The Year, Teacher Training
(Originally posted 8/5/11)
Ay….the debate over notebooks and binders is about as long-winded as the debate over grading participation!!
In the last (almost) 30 years, I have tried it all..from detailed checks, grades and checklists, to nothing. My observation is this:
1. Think of your instruction first. What do students need to have their hands on IN CLASS and how do they get access to it?
Truth is…in most TPRS classrooms, there is very little need to refer to a notebook for most of the class.
2. Think of homework next. What do students need to have their hands on in order to do the homework and how do they get access to it?
That will depend on how you approach homework.
Other than those two questions, the binder has nothing to do with language acquisition.
Now….if you believe that is a teacher's responsibility to help them with organization etc…then you have the professional freedom to incorporate that into your program!
What I am learning is this: It's easy to be out of touch with how kids organize these days if you are not of the techie generation. (You are!! I'm not!!) Students keep track of things on Iphones and Blackberries, not the little books schools have been handing out for decades. Students and parents are always checking online to find out what assignments are and looking for papers that the kids didn't bring home.
It might be a better use of teacher time (depending on your students) to post papers and assignments on line than to check and grade binders.
Truth be told…very little is kept in a "hard copy" anywhere these days so it's possible that the keeping and grading of binders will soon be (if it isn't already) ridiculously obsolete.
As teachers (and former star students) we LOVE binders and notebooks and collecting lists and stories and keeping them for years and years. Because we love that, we mistakenly believe that that helped us to be language learners.
So in my long-winded way….here is my suggestion:
Before school really kicks off, ask yourself how important is it FOR ACQUISITION for your students to keep a beautiful (or not) binder? And follow that answer to it's logical conclusion.
If you believe that it is important, but the kids rarely seem to pull it off…then maybe some out-of-the-box solutions are required:
*smaller composition books for "Do Nows", Vocab, Freewrites etc. kept in plastic dishpans from the dollar store in the back of the room.
*a shelf set aside for binder storage for students who would be better off with a copy at home and at school.
* Buddy binders where students share. (I have kids every year who ask someone else to carry the important things for them)
Whew…ok…that got long but there it is! Enjoy the days you have left and I wish you a great beginning of the year!!!
with love,
Laurie
All content of this website © Hearts For Teaching 2009-present and/or original authors. Unauthorized use or distribution of materials without express and written consent of the owners/authors is strictly prohibited. Examples and links may be used as long as clear and direct reference to the site and original authors is clearly established.
by lclarcq on December 3rd, 2014
filed under Archived Posts 2012, Classroom Management, Encouragment, Engagement, Participation, Relationships, Starting The Year, Teacher Training
(Originally posted 3/20/12)
On the moretprs listserv,
Bob Patrick wrote: I don't put a lot of time into it, but I always do it in Latin. I teach Latin teachers how to do these things in Latin, too, because they are the things that we all do every day, and they provide one of the easiest ways to do CI and multiple repetitions. So, while it should take up as little time as possible, don't miss the opportunity to do it in L2.
Sara wrote:
I agree that the classroom organization doesn't help the students learn Spanish but, I believe an unorganized class does detract from the learning.
With a solid system in place, I'm free to focus on the language and now how I want to handle bathroom passes.
And this is exactly what happens…once CI becomes a way of thinking, we start to view everything in the classroom through CI lenses. Then our focus can shift to how to align even the smallest details.
We want the systems to align with our instruction and our relationships.
That is truly Backward Design. As Sara said, a solid system is golden.
Teaching without one is a great deal of unnecessary work. It doesn't matter exactly what our system is.
Next question: What should a system do?
1. A system should make relationships strong and confusion minimal so that classroom time can be maximized for acquisition. (or in other words, what Sara said above)
2. A system can prove opportunities for interaction in the TL that lead to acquisition. (or in other words read Bob's statement above)
It doesn't matter if you pass papers left to right or front to back as long as 1. and 2. above are happening. It doesn't matter if you have kids carry a toilet seat to the bathroom or only sign out 3 times a marking period if it isn't interfering with 1. and 2. (tee hee unintended pun that I couldn't bring myself to delete)
Above all, it helps us to look at the systems that we have in place in order to see if they align with our Rules. If what we expect/demand of our students is outside of the Rules, then we will be seen as hypocrites. We may never be able to control whether or not our students respect us. That is a choice that they will make. We can, however, control whether or not our actions and words are honorable and making changes when necessary.
What can happen is that we get caught up in Rules and Systems (amongst other things) and forget that we are about Acquisition. You've heard the expression "Weighing the baby doesn't make him grow." Neither does buying him bigger clothes. It just makes him look nice when he fits into them. Sometimes our teacher-obsession with How To Set Up and Run
A Classroom does just that: make the teacher look good because the behavior is under control. That is nice, good and necessary, but not the end goal. I hope that that makes sense.
with love,
Laurie
All content of this website © Hearts for Teaching 2009-present and/or original authors. Unauthorized use or distribution of materials without express and written consent of the owners/authors is strictly prohibited. Examples and links may be used as long as clear and direct reference to the site and original authors is clearly established.
by lclarcq on December 3rd, 2014
filed under Archived Posts 2012, Classroom Management, Encouragment, Engagement, Good Days, Not So Good Days, Participation, Starting The Year, Teacher Training, Tough Students
(Originally posted 3/20/12)
A classroom system is how we organize the nuts and bolts of the actions that are NOT part of language acquisition.
A classroom system organizes things like:
*who goes to the bathroom, how often and for how long
*how papers are distributed and collected
*how grades are assigned and communicated
*how the set up and clean up of activities occur
*how the room is decorated
*how and when evaluations occur
*if and/or how participation is tallied.etc.
You may not believe me, and it took me a long time to see this myself,
but….
Not one of these things will help your students to acquire language. Not even the participation piece.
There is no right way to do any of them.
They should take up as little of your classroom time as possible.
Therefore, discussion about them on lists, blogs and at conferences should also take up as little of your time as possible.
That is really hard for many teachers. We like those sweet little systems.
with love,
and complete knowledge that I could labeled as a heretic,
Laurie
All content of this website © Hearts for Teaching 2009-present and/or original authors. Unauthorized use or distribution of materials without express and written consent of the owners/authors is strictly prohibited. Examples and links may be used as long as clear and direct reference to the site and original authors is clearly established.