by lclarcq on February 14th, 2018
filed under Archived Posts 2018, Teacher Training, Upcoming Workshops
Wishing you could get to a great conference but can't leave home? Scott Benedict has created the wonderful Comprehensible Online!
From March 24-April 15, you could have access to workshops on 40 different topics by at least 15 presenters!!! That is nearly 50 hours of workshops for you to enjoy and learn from. Wow.
I'll be offering three different workshops:
Embedded Reading: The Basics
Embedded Reading: Creating Readings
This is Us (Who We Are!)
And there is SO MUCH MORE!
Check it out at www.comprehensible.online!
with love,
Laurie
by lclarcq on February 22nd, 2016
filed under Encouragment, Musings, Teacher Training
Richard asked, "Aren't there 'predictable obstacles' or challenges that most of us are likely to encounter along our way toward using TPRS primarily in class?"
This (again) is a wonderful question…and this post is just a compilation of my thoughts and observations. What are the challenges/obstacles for teachers who begin to teach with TPRS?
1. Fear of the unknown.
Will it work? What will work? How do I know it's working? What do I do if..? What do I do when…? The list of worries is …well, unending. Without experience we are walking on faith (or hope) alone. That is not easy to do. It takes courage.
The best way to handle this is to watch other teachers whenever possible: conferences, demos, in person, via Skype, on Youtube. And watch the students. Watch them closely. When we are teaching this way, we are constantly reacting to our students….so pay attention to the students when you observe, not just the teacher.
This will give us more of an idea of what to expect from our own students…and what to ask for from them as well.
2. Not knowing how to prepare students to be successful.
Trainers and presenters have SO much to share about preparing to teach with TPRS, and usually not nearly enough time to do it. Unfortunately, we often do not show teachers how to prepare the students for this new approach. Here are some past posts that might help teachers to do that:
Rules and Expectations During A Lesson
3. Trying to be someone else (and forgetting all of the wonderful things we already bring to the classroom)
When teachers want to change their actions in the classroom, they often want to emulate the teachers/presenters they have seen. This is a GREAT way to start, but please don't forget that you are your students' already amazing educator. When we try to "be" ___________ (insert your favorite presenter here) we set ourselves up for failure.
Your students don't want Blaine, Jason, Carol, or anyone else to be their teacher. They want you. They know you. You will be there every day for them. Bring yourself first. Then add the actions, expressions, motions, ideas of your mentors.
If you aren't sure how to incorporate your teaching personality, ask someone in your TPRS/TCI community about the teachers/presenters that they have seen. There is no "perfect" personality for this job. You can be loud or soft-spoken, high energy or completely chill, left-brained or right-brained, organized or impetuous, stand-up-comedy funny or steady and serious. Really. I promise!! The steps will be the same…and you get to be you!!
4. Biting off more than we can chew.
There are many teachers who 'jumped in with both feet" to this way of teaching. "I threw out all of the textbooks!" "I decided never to go back to my old ways again!" "I ordered class sets of all of the novels and started the next day!" Teachers tell me this all the time.
But I meet just as many teachers who say: "I tried it but it was too overwhelming." "I spent hours scripting stories.' "It was so exhausting.' "I have 5 preps, I just couldn't do it." "I was great for a week, but then the kids and I lost interest. I didn't know what to do next."
My suggestion is to start small and start slowly. We set our students up for success. We need to set ourselves up for success as well. Some ways to start slowly:
a. Only incorporate circling. Practice using a variety of questions and responding to students' answers.
b. Have a conversation with students about a picture. Ask a lot of questions using the circling techniques and practice getting choral responses and individual responses.
c. Ask a story that they already know well in English (but ask in the Target Language!) Does Cinderella or Goldilocks dance with the Prince?
d. Use a story script. 'Ask" a story for 5-10 minutes and then stop. Don't worry if the story isn't finished!
e. Try a Movie Talk. The video clip will provide instant structure, comprehensiblity, and interest!
5. Trying to do it all alone.
It's not hard to do, but it is hard to do alone. I really meant what I said about connecting with a colleague or a community of support. Talk with other people. Let them share with you. Share with them.
6. Not being able to let things go.
There is a lot to let go of. Along the way we will begin to let go of our fears and insecurities, our old lessons, our imperfections, our former expectations, our need to control stories, our desire to wax poetic over grammar topics, our beloved projects, our bell-curve practices, so much of our former teaching selves. When we hold on too tight to these things, we fail to make room for our newer selves and a new, exciting experience for our students.
How do we learn to let go? We practice embracing the unknown. We prepare our students for their new role (and ours). We remember that we are not letting go of our true selves. We let go a little at a time, and we let in new experiences a little at a time. We share our worries and our successes with others. And we relax. And it happens.
with love,
Laurie
by lclarcq on February 21st, 2016
filed under Archived Posts 2016, Encouragment, Musings, Teacher Training
Richard asked several great questions in a comment from Saturday's workshop post. Here is what he wrote:
"The whole day was great, and the night before. Excellent! I was hoping that she would tell us more of HER story, of her own personal journey with TPRS, to include problems met, coped with, and how. I also have a question regarding the A-Z. She said people don't go from A to Z, but they are where they are, but aren't there 'predictable obstacles' or challenges that most of us are likely to encounter along our way toward using TPRS primarily in class? Does she mean that we don't all encounter them in the same order? I need clarification on the A to Z statement she made. What did she mean?"
Dear Richard,
I'll leave my own personal journey for another day…and go straight to your questions about the journey for now. It will probably take me several posts. :o)
For those who were not at the conference, I spoke about how the journey of growth as a Comprehensible Input-based teacher does not follow a clearly defined map. Teachers do not start at Point A and follow a straight line to Point Z. It would certainly be easier for teachers (and for trainers) if it were, but it would also definitely NOT be as beautiful, personal, and powerful. The truth is that each teacher's CI (Comprehensible Input) journey begins differently.
We each "find" TPRS or CI teaching at different points in our career. So……
1. We each come with an individual "education" background, based on our childhoods, college studies, professional development histories and personal reading/research experiences. As we grow, our new experiences sometimes mesh with, and sometimes challenge our background knowledge.
2. We each begin the journey with a different level of understanding of how language acquisition works…and a different level of faith that it does. Some folks believe completely and totally that acquisition can happen in a classroom. Others believe in acquisition, but don't yet believe that it happens in a classroom. Others are just becoming convinced that acquisition, rather than learning, actually exists and occurs. Depending on what we "believe", our "AH HA!" moments are different as we begin to see acquisition occurs in our classrooms.
3. We each "begin" our growth as TPRS/CI teachers with different skills. Some are innate "people" skills that we use to manage the class, create relationships with our students etc. Others are deliberate "teaching" skills that we have developed; "tricks of the trade" so to speak.
4. The environment we are teaching in when we begin our journey will be different for each teacher. Some are the only teacher in the department, others work in a department of 80 or more. Some have colleagues in the same building or district who are also interested in, or at least supportive of, this teaching approach. Others are the "lone wolf" in their educational community. Some have districts that help to fund and to provide opportunities for training. Others must carve out these opportunities from their own finances.
5. We are each "introduced" to this journey in a different way. Some people first become informed by reading articles and blogs and such via the internet. Some first see it via Youtube. Some are introduced to it when a colleague begins using it in the classroom. Some see it first at an hour-long demo at a state conference. Others are immersed in a 5 day week long summer conference. Even the people we read, or see, or hear when we first begin shape our understanding as they open a door.
What do we have in common then?
Are there commonalities among "novices? I think that there are common needs:
A. A need to share our new or renewed "fire in the belly" about teaching. We find a growing level of excitement about the possibility of students who really are excited to be in class and who are successful with the language. We are blown away by what we see our students being able to do. We want to tell people about it!
B. A need for colleagues and mentors. We have questions!! Our questions are not all the same, but we have a lot of them!! We also need the support and reassurance that supportive colleagues and mentors offer.
C. Input, Input, and more Input. At any stage in the journey, but most importantly at the beginning, we need to see, hear and read about TPRS/TCI. A teacher who is going to progress on the journey is a teacher who, at some point, develops an attraction to, if not a minor addiction to, all things TPRS/TCI-related.
I believe that the best way to feed these needs is to find a TPRS/TCI community (or communities!!) to belong to. Whether we join the Yahoo group mortars (often referred to as the moretprs listserv), one of the Facebook pages, Ben Slavic's blog community, or begin to attend the regional groups that are growing around the country doesn't really matter. Being part of the community is one of the best parts of this journey …personally and professionally.
I once read a very insightful piece about the Camino de Santiago where the writer, who went on the pilgrimage alone, without friends or family, described the Camino as something he did alone, but never really on his own.
I think that the TPRS/TCI journey is very much like that. In our classrooms, it is our own personal pilgrimage, but we never, ever have to travel the road alone.
Thank you Richard for the questions…very, very much.
with love,
Laurie
PS If you are looking to connect with other TPRS/TCI teachers, check here for some options.
by lclarcq on February 19th, 2016
filed under Teacher Training
Hello Everyone!!
Welcome to Your CI Journey! I've uploaded the documents that we will be referring to during the Saturday, February 20th workshop here. I will also upload a version of the PowerPoint presentations that we'll see.
We are meeting in the incredibly beautiful library at Penn Charter Upper School. Feel free to bring your computers with you and we will share outlets!
If you would like to refer to printed documents, please try to print them and bring them with you.
We will be starting at 9:00 am sharp so coffee will be available at 8:30 am!!
So looking forward to seeing/meeting you all!
with love,
Laurie
PS I will be updating this throughout the day as I find different venues for the internet
Teacher Training Packet Tri State
by lclarcq on February 7th, 2016
filed under Archived Posts 2016, Teacher Training
I am so excited to be able to present a day-long workshop via Tri-State TCI/TPRS Teachers (Check Facebook for their page!). If you are interested, there is still space available!!
The workshop is Your CI Journey and is designed for teachers who have had some training and experience with TPRS/CI and are looking to do/understand even more. The day will be broken up into several segments:
* Examining the Details: Teachers follow detailed and interactive observation templates to identify and track CI teaching skills during a Vietnamese demo, followed by discussion and planning for personal growth.
* Increasing the Input: At every level, teachers are trying to increase not only the percentage of Target Language use, but COMPREHENSIBLE Target Language use. This segment will build on the first piece on skills and offer a number of ways to increase that percentage.
*Ramping Up Reading: Ways to increase and vary activities that build reading comprehension skills while keeping students engaged! This will include ways to use Embedded Readings and utilizing activities that are level-appropriate.
*Meeting the Needs: Looking at the particular needs of attendees and their students.
Here is the flyer:
Laurie Clarcq flier2-3
It's not too late to sign up!! Please contact Anny Ewing for questions or details at AnnyEwing@Altamira.org
We would love to see you there!!!
with love,
Laurie
by lclarcq on November 1st, 2015
filed under Archived Posts 2015, Coaching, Past Workshops, Sharing CI/TPRs, Teacher Training
Thank you so much to everyone who attended the workshops in Saratoga Springs! (Don't forget to pencil in Oct 13-14 2016 in Syracuse, N.Y.!!)
The first workshop offered on Friday afternoon was entitled: On Your Feet! Powerful Practice and Positive Feedback for the Comprehensible Input Classroom (note to self: shorter title next time!!)
What a great group of enthusiastic and passionate teachers!!
The participants worked in groups of 6-10 as we went through a series of exercises. There was a lot of laughter and a great deal of insight. I asked each group to make a list of what they observed/learned from each other during this first segment. I'm sharing these below…just remember that the lists will make much more sense to the list writers than they will to those who were not there. :o)
(I know that they appear to be going all different directions but if you click on them individually they show up correctly!!)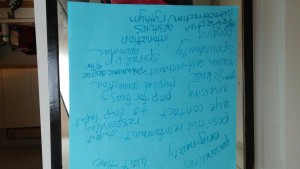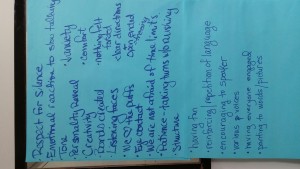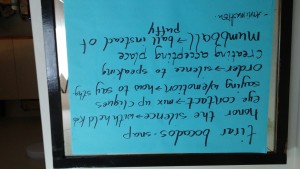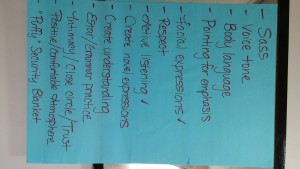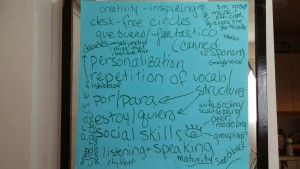 In the next segment of the workshop, we practiced with an individual sentence in each group, showing how to circle (ask a large number of questions) and to personalize (connecting the statement and the questions to others in the group) Then we added details.
Along with this segment, we added illustrations…and I want to make sure that I show some samples of how illustration helps with visualization which increases engagement and comprehension: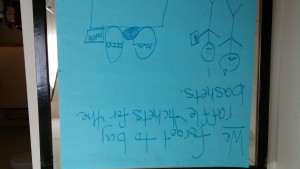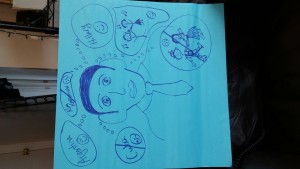 Along with an illustration of how what we think we are drawing doesn't always quite turn out the way we thought it would….tee hee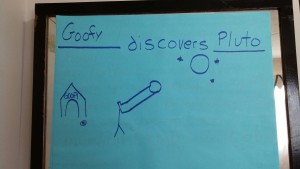 I must apologize to the group that created an amazing poster/sentence for our president Francesco Fratto who makes World Languages SEXY !!! I didn't get a picture of his poster before we gave it to him as a gift!! If one of you has it, please email it to me and I'll include it here!
In the third segment we watched as Nora and Birgitte each taught a short lesson and received feedback from students and observers. What amazing teachers! Students and observers were able to see, experience and appreciate all of the positive attributes they had been practicing…and much more. We used the Coaching from the Heart format and there were so many insightful reflections and observations.
I'll add the PowerPoint that outlines what we did ASAP! Thank you so much for being part of a giving and sharing community!
May you all have a wonderful week with your students!!
with love,
Laurie
by lclarcq on August 6th, 2015
filed under Archived Posts 2015, Curriculum and Planning, Engagement, Teacher Training
Welcome!! Here are the Power Points, and the video, that we used during today's presentation:
Visualization- The Power of the Picture For Sharing
by lclarcq on July 29th, 2015
filed under Archived Posts 2015, Coaching, Encouragment, NTPRS, Relationships, Sharing CI/TPRs, Teacher Training
Ah…the ripple effect. It is the essence of teaching. Teaching, I've often said, is a prayer. You send your message (lesson) out each day, hoping against hope that someday, in the unseen future, it will make a difference, because you never really know. That is why it was so beautiful to watch the ripples happen right in front of us.
What did we see?
Kindness and encouragement.
The first day (Monday) FIFTY people showed up for the first coaching session. Now you should understand that at the same time participants could choose coaching, a Spanish lesson with Blaine and Von Ray and a Mandarin lesson with Linda Li. Now that is some stiff competition!!!!! I cannot ever remember a year where FIFTY people showed up on the first day. It was beautiful.
And they came with the desire to not only learn, but to support and encourage. Because the coaches gave clear parameters and modeling, there were NO criticisms…only insights, positive reflections and encouragement.
A willingness to share.
Teachers had so many insightful observations that I couldn't stay away from the coaching sessions. Beginners were volunteering to teach after only FOUR hours of instruction!!!!!!!!!!!!!! Teachers with all levels of experience in the classroom and with the method were together and sharing for one purpose: to grow and to recognize growth.
A desire to honor other teachers.
At one point we began to limit not only the teaching portion, but also the feedback portion of the cycle to five minutes because groups could have easily gone on for an hour sharing feedback! It was so wonderful that we hated to cut it short, but wanted also to honor the fact that many teachers wanted the opportunity to be the teacher. The result of that was that teachers who did not share aloud shared notes and observations personally with teachers when they saw them later. Wow.
A need to be heard.
Nothing touched me more than the woman who came up to me after a teaching cycle in which she had been an observer. "They listened to me. And they really heard me. No one has done that in years. Thank you so much for making this available. I needed it so much." She was in tears.
That happened several times during the week and I was so moved..to simply be heard.
The beauty of being in the moment.
Because we were focusing on what the teacher was doing right, and how that was reflected in the actions/reactions of the students, everyone in the group was in the moment in an amazing way. There was no chatter between observers. There was no typing emails or answering texts. Coach, teacher, students, observers all in the same place at the same time focusing on the interaction between students and teacher. Beautiful.
Honoring the journey
Each of us is on our own journey. We each take a different path, move at a different pace and pick up different ideas/thoughts/memories/skills along the way. This year there was much less of a frantic pace to "get to the mastery level" and more of a joyful exploration of where we were and what we were doing. There was the opportunity for us to enjoy our journey and to observe and celebrate the journeys of others.
These ripples, and more, spread outward as participants brought a new perspective back to coaching over and over again, as well as to presentations and workshops. It changed meal time conversations and opened a new door to what was called, "The War and Peace Room."
with love,
Laurie
by lclarcq on July 29th, 2015
filed under Archived Posts 2015, Coaching, Encouragment, NTPRS, Teacher Training
Here are some basic tenets of teaching with TPRS:
1. The teacher constantly works to create an atmosphere of success, inclusion and safety.
2. The teacher builds on students' successes and strengths.
3. The lesson is highly interactive.
4. The ideas are given by the students, but decisions are controlled by the teacher.
5. Student errors are not criticized; the teacher models appropriate language in response.
Our goal last week was to have the coaching model parallel our teaching model in the classroom!!
So…..
1. The coach constantly works to create an atmosphere of success, inclusion and safety.
2. The group focuses on the teacher's successes and strengths.
3. The experience was highly interactive.
4. The ideas are given by the coach, if requested, but the decisions are controlled by the teacher.
5. Teacher actions are not criticized; others model additional options when they teach.
The two biggest challenges were that we were not yet used to coaching that way and teachers were not yet used to being coached that way!!
As the week progressed, coaches made several adjustments that helped everyone:
A. If a teacher needed, and requested, direction, the coach offered two options and the teacher chose which one to use, or many times, offered a third to try.
B. If a teacher truly wanted "corrective" feedback, the coach and the teacher met afterwards, alone, to discuss it.
C. We will be labeling responses "growth feedback" rather than "positive feedback" since the term had some negative, emotional connotations from some teachers.
D. Someone in the group, possible the coach on deck, will act as a scribe during the feedback time so that the teacher can have a written summary of what was shared to reflect on.
E. We will post a list of skills for all to see for reflection and feedback.
F. We will post a list, inside and outside of the coaching room, so that all can see what each participant can offer. (Some people didn't realize until the last day that they could be observers and not teach…we wanted to improve that!)
I was so humbled by the way the coaches took to this new approach and how clearly and deliberately they prepared participants to be successful in this new model.
But I was not prepared (silly me) for the power of the insights shared by the participants involved as students and observers. I learned so much simply by listening to their reflections. I was also overwhelmed by the emotional response of so many involved. Teachers need to be heard.
Each time we observed a coaching cycle (teaching+feedback) we, the coaches, also grew. Here are some comments from coaches…
"I have never learned so much in the position of coach."
"In this model we ALL grow together. In the end, I just want to say that we never stop growing. By allowing myself to grow, I feel I'm much happier today. I want to thank you for the happiness I have gained. I can't thank you enough for all the love, support and encouragement I have received from all of you this week."
" I really want to see the next step in our journey towards offering the best in teacher support that we can, in a way that builds confidence in one's own ability to analyze strengths and areas for growth."
"I have every confidence that it will grow and evolve as will we as coaches. I feel a keen responsibility to do all that I can to help others be successful and to enjoy leading their students to true acquisition."
"It is from each one of you that I continue to grow and be inspired. This certainly is evident in our ever-changing ideas about coaching and reflection on how we can help others grow."
"Paradigms shifted and hearts soared!"
It was a clear shift and the beginning of a ripple effect that touched the entire conference.
with love,
Laurie
by lclarcq on July 29th, 2015
filed under Archived Posts 2015, Coaching, Encouragment, Sharing CI/TPRs, Teacher Training
Or C4C as we affectionately refer to it, is a fairly new addition to the NTPRS line up. For several years now we have offered this day-long workshop to teachers who would like to be trained to support and encourage other teachers on their journey as Comprehensible-Input/TPRS teachers.
This year 30-40 people signed up to attend, and we had decided, just the night before to flip the paradigm on coaching. We showed up nervous, but eager to share this new perspective.
I have to tell you how blown away I was by the courage and heart of my fellow coaches. We really like to be 'in the know." We like to plan well and execute well….and here we were with a brand new plan.
The morning began with a series of activities organized by coordinator Teri Weichart. In a series of "mixer" activities, we shared ideas about teaching, coaching and life. By the time the morning was over we had gotten to know the people in the room, and especially those in our smaller groups, much better. There was a lot of laughter and a supportive, caring atmosphere. We had also had the opportunity to talk about the role of coach and what a good coach looks/sounds like. Also, and maybe most importantly, we had each developed an outline of our own personal coaching philosophy.
The next event was to demonstrate how the coaching practice (or teaching cycle) would run using our new paradigm. At least half of these teachers had been to a number of conferences (and C4C trainings) previously and were most familiar with the 'directive" coaching approach (ie the coach tells the teacher what to do, when to do it and how to do it.) They had signed up for this workshop believing that that was what they would be trained to do.
We recruited Skip Crosby of Maine to be our teacher. I have to give a shout out to Skip for being willing to do this in front of so many other teachers!!!
Five teachers were recruited to be Skip's students and another five to be the observers. (Two of these ten teachers were coaches and had been through the training the day before….all of the other eight were totally new to the process.) The rest of the 30 or so participants gathered around as an "audience" for the demo. Gary DiBianca and Amy Wopat were coaches on deck to observe me as coach and to give me feedback.
As the coach, I outlined the roles of the:
Teacher (teach; strive to make students feel important and make the language comprehensible)
Students (pay attention to the teacher, try to understand the teacher, tell the teacher if confused)
Observers (watch teacher and students. What does teacher do to make students feel involved/supported and how does teacher make the language comprehensible?)
Skip and I discussed his goals for the lesson (use the verb structure "le da") and the level of language he wanted to use (level 1 Spanish). He shared that he wanted to try using actors as part of the story.
Skip was a fantastic teacher for the demo. He has his own laid-back style and wasn't afraid to regroup or ask for input during his teaching. He was also honest about being nervous. (Who isn't in front of peers?!) His genuine love for teaching and interest in his students was incredibly apparent in his lesson (and he only taught for 5 minutes!!)
****Hope to have the video of this lesson available for you to watch so check back!****
After his lesson, Skip reflected:
"
His students reflected:
His observers reflected:
"You involved us. The story was about us." Keith Toda
"It was totally understandable for us and I am a total beginner…because of the pointing, going slowly…and eyes..meeting our eyes." Pu-mei Leng
"I was happy to be the student because when you asked me the question, I knew the answer. I wasn't afraid to answer." Matt (Latin teacher)
"He looked at me and smiled at me and so I felt special in his class." Kristen Eastland (coach)
Observers:
"I loved how you added surprise to the lesson by throwing the glass on the floor….it showed how the class is going to be fun and spontaneous and unpredictable." Carla Tarina (coach)
"I loved the (use of the) two colors (when writing Sp/Eng on the board for the students),and you took time to write, you didn't rush yourself, which gave time to the students to soak it up." Anna Gilman
"….the smile/frown ..what you did with your face,I thought that really connected, how you communicated with it…the surprise..and when you pulled the actors up there I thought, aha, our whole group's involved, there's a strong connection." "Buck" Arbuckle
"I really noticed how incredibly in-tune you were with your students, students you barely know…you really went through it to make sure that it was comprehensible instead of just plowing ahead. I thought that was amazing." Kelly Ferguson (coach)
After hearing from everyone Skip shared this:
"(It's good to hear about) the comprehension piece, which the most important part of this. It's gratifying to know that they comprehended everything."
My response to Skip was that I was amazed that it made him feel good to hear that he was most gratified by knowing that his students had full comprehension rather than hearing that he had a "good story." (because too often that is what we teachers are worried about!)
Skip then shared,
"I tend to think of things as right and wrong…and that there is a right way to do this and if I just learn the right "code" it will all work, and that is really debilitating sometimes, so, I was really trying to figure out what would be realistic in terms of "le da" (gives to him/her) and I think it was working."
Then he went on to share that he felt that he was just at the point (after 5.5 minutes in) to add another structure–le gusta–because the class was solid on "le da" and the class/observers totally agreed.
Amy Wopat and Gary DiBianca then gave their observations about the coaching process:
"When you were setting him up, you talked to him about his goals and his professional life, you took the time to truly listen."
"You did everything on the front end, so everyone stayed in their role…There really wasn't a need to manage."
and I concluded:
"The point of all of this was for everyone to have a job, to know where to look for what went right, so that we can build on our strengths. If at any point you thought something might have gone wrong, here is my suggestion for you: hang on to the thought and when you get up here to teach, DEMO what you would have liked to have seen. Demo it so people have the chance to see other ways to handle things."
I believe that this is so important. People do not change because we tell them to change…or even because we ask them to. They change when they are ready, willing, and able to. When we demo options, if they are ready to see a new way, they will see it!! Otherwise, our advice will be wasted and our roles as coaches will be frustrating.
Then Carla Tarini offered one last astute observation:
"As an observer I am just loving looking for everything I love about what you (Skip) did. It was so relaxing and then I want to write so many things down, even the things that are so little but so nice that you showed."
Carla, as one of the previous day's teachers, shared how much more she had learned by watching than by teaching.
What is so clear is that our teaching to each other is a true gift. By watching and reflecting I can learn so much from my colleagues and peers. Then I have the courage to teach for you. Thank you to all of those willing to share.
Now you know the background….what happened next was truly astounding…
with love,
Laurie