by lclarcq on October 7th, 2018
filed under Uncategorized
Thank you so much CI Midwest for a wonderful weekend! Below is the information that I shared with participants.
Copy of C I Midwest Interaction Cálmate amiga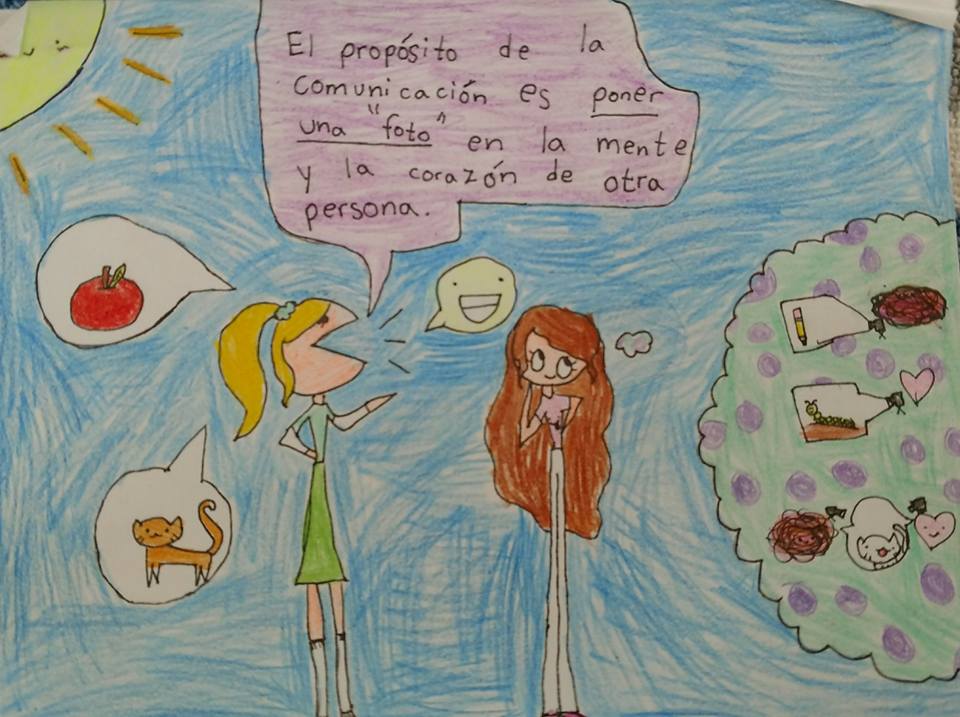 With love,
Laurie
by lclarcq on September 29th, 2018
filed under Uncategorized
Thank you to the teachers and administrators for helping to set up this workshop in Stillwater! Stillwater is just 45 minutes from Albany. We will be starting the workshop at 4:30 but you are welcome to arrive as you can! Snacks will be provided for you! We will finish by 7, but again…attend for as long as you can!
We will be looking at Literacy in the second language classroom and teachers of all levels and languages (including ELL/ESL) are welcome to attend. We will look at how literacy can enhance language acquisition and how each teacher can begin to implement highly-effective practices in their own classes. This is a wonderful opportunity if you can't make it to NYSAFLT in Rochester, or, if you are on your way there!
If you have any questions, please contact me at lclarcq@yahoo.com
Interested in signing up? Here you go!
https://www.eventbrite.com/e/literacy-for-the-win-reading-in-the-language-classroom-tickets-50977897263
by lclarcq on February 13th, 2018
filed under Uncategorized
Teachers Pay Teachers is offering a sale on materials and Hearts For Teaching's items are included!! For THREE days (not just two!) all materials will be 20% off! The store is still small, but growing! Look for new items starting tomorrow!
Click here to get to our page!!
Sale runs 2/14-1/16!!
by lclarcq on January 9th, 2018
filed under Uncategorized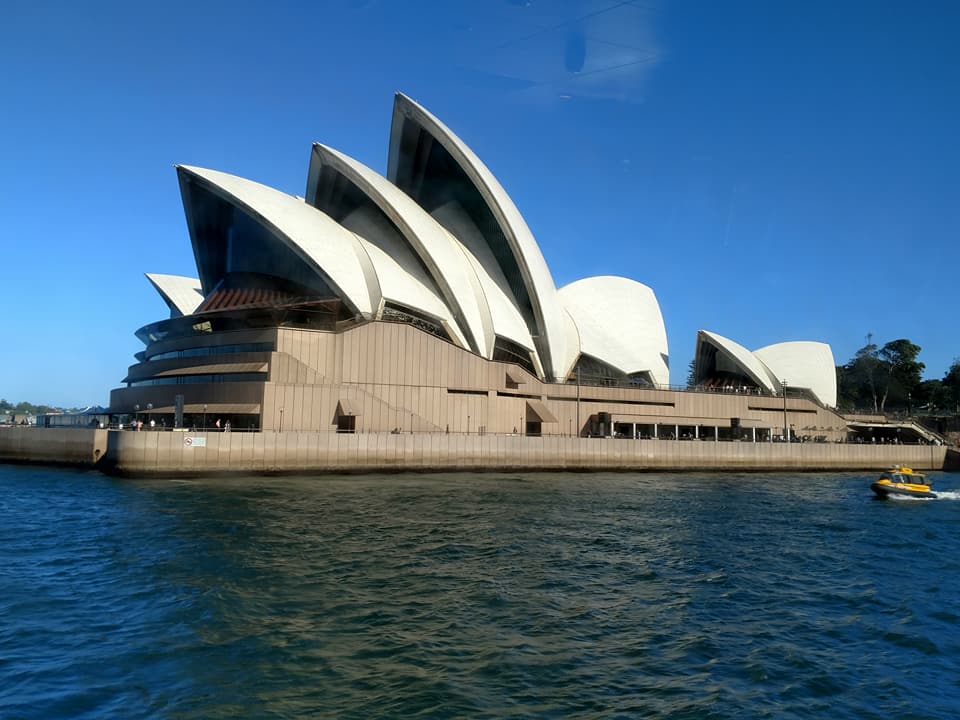 I would like to start this post off with a thank you to Mr. Ian Perry of Brisbane, who invited Dr. Terry Walsh, Anny Ewing and myself to present and train teachers in Australia. Here is the Hearts For Teaching space for these conferences!
Stay tuned for more!
with love,
Laurie
by lclarcq on November 4th, 2017
filed under Uncategorized
The folks at COACH have done an amazing job organizing today's workshops!! Check out my presentations on COMMUNITY and EMBEDDED READING.
with love,
Laurie
by lclarcq on September 30th, 2017
filed under Uncategorized
A Hello! from Ripon, Wisconsin where I'm having a wonderful time at CIMidwest 17!! A wonderful shootout of THANKS to Erica Peplinski, Kelly Ferguson, Marta Ruiz, Grant Boulanger and Haiyun Lu, the organizers of this amazing event.
Here is the PowerPoint from our Story-Asking Workshop:
by lclarcq on September 3rd, 2017
filed under Archived Posts 2017, Engagement, Pacing, Starting The Year, Uncategorized
Hello!! It's good to have the "real" blog up and running again back here at www.heartsforteaching.com .
My kids and are will be starting our third full week on Tuesday (wow! so quickly?) and if you have been reading many of the posts on various Facebook pages (IFLT/NTPRS/CI Teaching, CI Liftoff etc.), you'll notice a common theme: It's time to slow down.
I AM THERE!!
We finally have a stable schedule, so students are not moving from class to class or teacher to teacher. I have had time to establish my expectations for behavior, model how I deal with "issues", and begin to create relationships with, and among, students.
I'm crazy to do more with the language!! But…I also just gave a quiz and got feedback from parents at Back To School Night…so I know that this is the perfect time to slow down, no matter how counterintuitive it might be.
I'm going to reference a post from earlier this year: When Students Are "Lost"
Luckily, my students are "lost" yet! But, I know, if I don't slow down now they will be soon. I just don't want that to happen! Especially this early in the year! So I'm going back to this post, and these ideas this week to be proactive for my students.
When I was teaching in NY, I used this scale with my students to describe what is going on in their brains during class:
Stage 1 : Attention
(student is looking at/listening to w/intent to understand)
Stage 2: Identification
(student can locate sounds/text that are recognizable)
Stage 3: Comprehension
(student can visualize/dramatize meaning of the pieces they understand)
Stage 4: Clarification
(student will seek information needed to comprehend any missing pieces)
Stage 5: Interaction
(student will respond to aural input/text to the best of ability)
I want to share this with my students now, so they can begin to appreciate not only how much work the brain is actually doing during class (hmmmm can you say "RIGOR"?), but also to remind them that this is a process, a journey, and they are farther along than they may realize.
We will work from a poster than words it this way:
Stage 1: I heard/see it but I don't recognize it/can't identify it.
Stage 2: I can identify/recognize it but I don't know what it means.
Stage 3: I heard/saw it AND I recognize it AND I'm pretty sure I know what it means.
Stage 4: I checked what I think it means with the context to see if I'm right.
Stage 5: I totally get it and can respond verbally/physically to it.
and I may create a smaller version for them each to tuck in their folders. It will definitely be part of parent communication. I REALLY wish I had thought to prepare it for Back To School Night…..
Then it can begin to be part of our interactions in class; with each other and with the language.
Now the REAL benefit to this is that this poster is a HUGE visual reminder for me to slow down. Why? So that their brains have time to deal with all of the stages! It really is a lot of work! In time it will take microseconds, but right now….they need time. Thinking time. Confidence time. All of which leads to individual and community success. Which we always need!!
with love,
Laurie
PS if you haven't read the post where I originally shared this, go for it! When Students Are "Lost."
by lclarcq on August 20th, 2017
filed under Uncategorized
I am SO excited to be teaching Level 1 again this year!  The classes are mostly 6th graders with a few 7th and 8th graders here and there.  Last year I jumped in with this level on November 1st…..almost 14 weeks in….so to be here from Day 1 is fantastic!!
I decided to try to convince them that Spanish was going to be easy….on Day #2.
On Day #1 I had used the phrases:
Hay un problema.
Se llama.
Hay ____ estudiantes en la clase.
So they didn't have much to start with.   Now….let me say up front that I didn't expect them to acquire anything from this exercise…..I just wanted them to experience success!
Me:  Your job is to respond to me when I speak Spanish to you.  If you do not understand what I said, please stomp your feet until I hear you and stop to explain so that you understand.  (I blab in Spanish until they stop me)  Excelente!  What English word do you hear in "Excelente"?
Students: Excellent!
Me:  Excelente!  If you DO understand me, just say Ohhhhhh.    Me llamo la Maestra Clarcq (we had done this yesterday.)  
Students:  Ohhhhh.
Me:  Gracias.  
I ask a student to set the timer on his phone for 10 minutes.
Me:  Clase, (I point to poster hay-there is or there are) un marcador (marker). 
Some students stomp.  I write "marcador" on the board.
Me"  What word do you see/hear in English when I say MARCADOR?
Some students respond; Marker
Me:  Clase, Hay un marcador.
Students:  Ohhhhh.
Me:  El marcador es importante.  
(If a class stomped, we stopped, I wrote it and gave the meaning.  If not, we went on)
I wrote usa (uses) and dibuja (draws) on the board.
Me:  La Maestra usa el marcador.      Students:  Ohhhh.
Me.  La Maestra dibuja con el marcador.     (if students stomp I stop and explain)
I drew a "lovely" stick figure of a person on the board.
Me:  La Maestra es talentosa.   Students stomp.  I explain talentosa/talented.
Me:  I'm going to ask you a question in Spanish.  You can give me your honest opinion.  ¿Es la Maestra MUY talentosa (I stretch my hands out wide) or UN POCO talentosa?  (I make the "little gesture with my fingers))  
I restated the sentence depending on the class answer.
Me:  Es obvio.      Students stomp.  I provide the meaning (It's obvious.)
Me:  Clase, who thinks that they could draw a better person than I did?  
Hands of course go up and I pick one student to come up to the board and draw a person.  (I quietly asked them to do it fairly quickly)
While the student was drawing…..
Me:  Clase, hay )point to poster again) un artists famoso en la clase.   Students stomp and I write artist famoso (famous artist) on the board.
Me:  Se llama Mercedes (or what the student's name is!)
Each time I am making sure that students "ooh" or stamp after my statements.
Me:  Mercedes usa el marcador.  Mercedes dibuja con el marcador.  Mercedes dibuja una persona con el marcador.   Mercedes es famosa a Eich Middle School. Es famosa en Roseville.   Es famosa en California.  Clase, Mercedes es MUY (with gesture) famosa.
By this time the artist was finished and we had the artist sign his or her work….to the sound of much applause (Es obvio!)   
About this time the timer also went off….if not…it was close and I could simply go back and repeat sentences until it did.
Now………..
I told the students this:
I am going to write down what we just talked about on the board.  While I am writing it in Spanish, I want you to share with a partner what it means in English.  
(Please forgive any errors because the period was ending quickly!)
Here is a sample!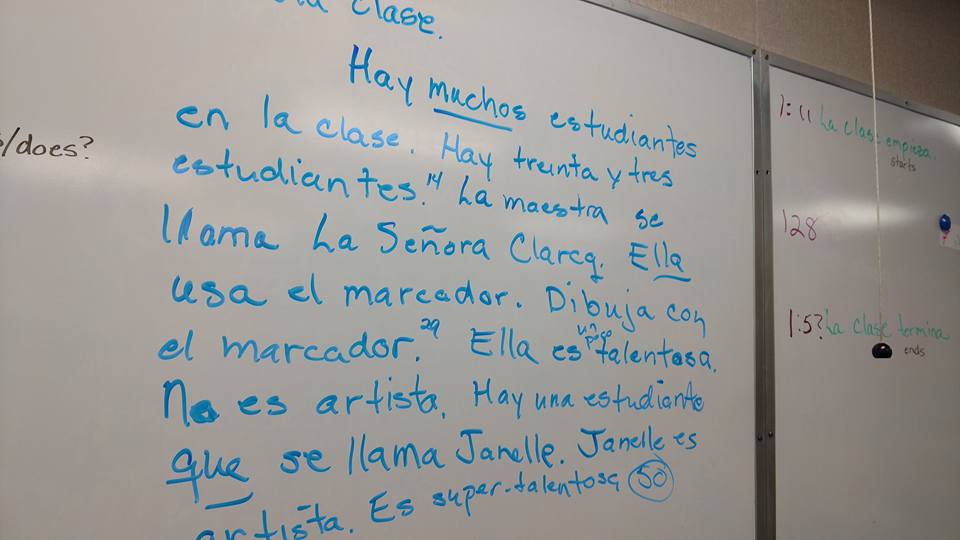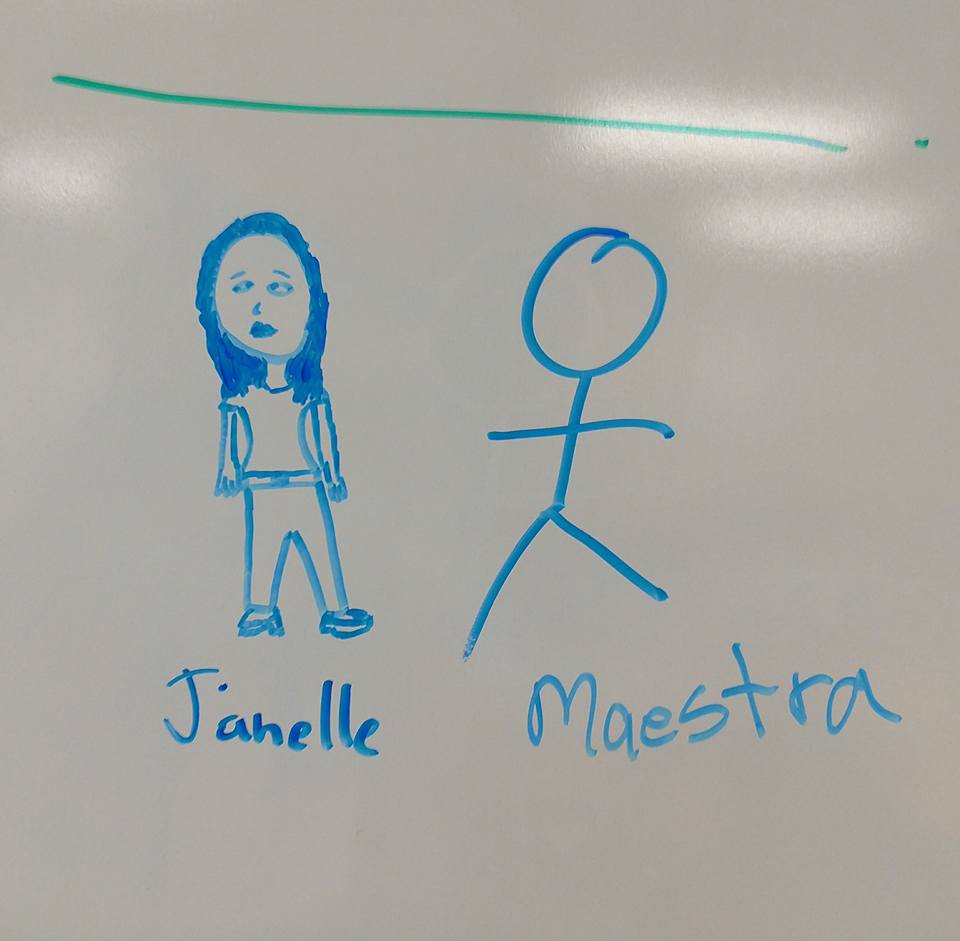 Then, I read it in Spanish, sentence by sentence, and they said the English.  Talk about excitement!!  
Many of them took a picture to share at home and several asked me to text it to their parents, which made me smile.
I reminded them that they hadn't acquired it yet, so they should not be surprised if they don't remember it all.    But…..that Spanish was going to be this easy!!!
I started without asking many questions, or "circling."  That is a skill we work on together and we will start next week.  But just for today, I wanted them to know that by 
a. listening well
b. responding when they understand
c.  showing me when they don't
that Spanish will be easy!!!!
with love,
Laurie
by lclarcq on August 20th, 2017
filed under Archived Posts 2017, Classroom Management, Relationships, Starting Class, Starting The Year, Uncategorized
So, on Day #2 the students walk in and sit down.  Four out of six classes totally forgot about the names in the back of the room until the bell rang….and then….someone said, "Oh!  Our cards!".   But once everyone remembered, all went well.
Ok….not all.
My first and third period classes looked something like this as they brought up their cards:
Student in the front of the line hands me the card.   I smile, and say, brightly, BUENOS DIAS!.  The student looks at the floor and trudges back to his or her seat.   This repeated itself 31 times!!!!!!!!   
Once everyone had gone through the process, I looked at the class and said, "Clase, hay un problema."  And then explained in English that having your heart broken 31 times in a row is no way to start the day.
So…..they all got up again….I greeted them with a smile, a HIGH FIVE and a BUENOS DIAS!.   In the first period class, right about the middle of the line, one boy deliberately "missed" the high five.  (Ay!)  So, when everyone was done I invited him up front.  He gladly came (if not I would have gone over to stand next to him.)   I explained to the class in Spanish (these are level 2 students) that everyone gave me a high five except for "Alberto.'  Why?  Because Alberto and I had a very special handshake that was way more complicated than a high five and he was going to teach it to them right now.  
"Albert" whispered to me, "I don't know what to do."  I whispered back, 'Just miss my high five and then we'll do a fist bump."  So "Albert" demonstrated the more complicated and special high five and I asked 3 or 4 other students if they wanted to try it.  There was about 25 hands in the air so I let them do it with a neighbor and then we went on.  "Albert" got the message, and so did the rest of them.  
:o)
with love,
Laurie
by lclarcq on August 11th, 2017
filed under Archived Posts 2017, Curriculum and Planning, Starting The Year, Uncategorized
doesn't exist.
Sigh.
Since I was a little girl, I've dreamt of working in the perfect room. I've seen them on Pinterest. They must exist somewhere. But the truth is, they don't exist in my world.
Perhaps your world is different. Perhaps you have unlimited time and unlimited funding. Perhaps you have no other distractions. Perhaps.
Or….your world is much like mine. The ideas all exist….in my head. The potential exists….in another reality. The desire exists…..every year.
But the reality does not.
What does?
This: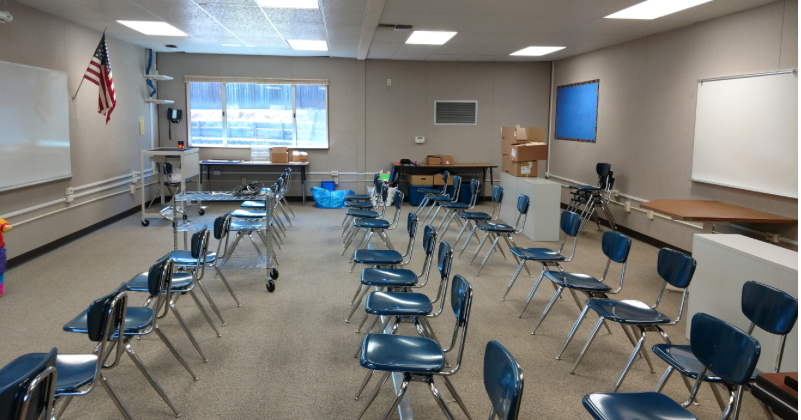 That's my classroom right now. It might be my classroom for the next few days actually. (and classes start on Thursday!!)
Clearly there is a lot to do. In the past I would have been committed to all-nighters (or nearly) full of drawing, cutting, decorating and hanging. I would have done nearly anything to make sure that my students walked into a "classroom paradise."
But almost a decade ago I gave that up.
I didn't really have a choice at the time. You know, building construction, Xerox breakdown, no paycheck for July and August, two sons to get ready for school, moving to a new house, etc. etc. etc.
A few students asked me, "Where's all your stuff?". But not many. In fact, a few students actually told me that they liked the new "quiet" look. That was eye-opening.
And we started the year. And as things were needed, we made them and we put them up. The kids made most of the posters and decorations and they really preferred it that way. I still have dreams of the prepared and laminated loveliness of my early days. I'd love to have a gorgeous little Pinterest page-worthy environment.
But this way I get a few extra perks:
I don't have to live up to my First Day decorating prowess.
I have more money in my bank account.
I have students who love to hang out in the room and create materials and decorations.
The students, their needs, and their work has become the focus of the classroom.
and I can still spend hours day-dreaming on Pinterest if I want to. 🙂
with love,
Laurie