by lclarcq on September 18th, 2017
filed under Archived Posts 2017, Encouragment, Engagement, Good Days, Musings
It's been a little busy in my world, and I bet it has been in your world too. Once the year gets going, it just seems to pick up speed! It's easy, when things get crazy, to get caught up in what isn't done and what isn't going right. At least it is for me! I can get all discombobulated about the kid who is often late, the parent who thinks I don't answer emails quickly enough or the online training I was supposed to have done yesterday. In the past week or so though I have run a few moments that caught me by surprise….and I wanted to share them with you.
As some of you know, last year a group of 6th graders and I struggled our way through the year. We had a rocky start and a lot was expected of them and I'm sure that they felt that they never quite measured up. I'm lucky enough to have about 1/3 of them back again this year and they are SO impressive. 'It's just clicking into place!" one girl said and another stopped by after class to say that this year is SO easy. And I was worried that they would carry that rocky start with them for their entire language career. It's let me relax a little and not fret so much about kids being "behind". I am seeing that if we all hang in there, and they get enough comprehensible input, the sky really is the limit!
A week or so ago, I told my classes that before school started (and with not a few winks) I went to the registrar and made it quite clear that I would only teach students who were clearly very bright, extremely easy to love and kind to others, not to mention wonderful to look at every day. A girl came in late today, having run the mile in PE, and whispered to the boy next to her. "I'm the sweatiest, ugliest girl on campus. Sorry you have to sit next to me." He whispered back, "Not in Ms. Clarcq's class you aren't, don't worry about it." Totally serious. She just smiled and said thanks. (Isn't it funny that kids don't think you can hear them?!) My words may have been (somewhat) in jest, but the sentiment behind them was not….and he knew that. (and I wasn't even sure he was listening!)
I have a group of boys who always pitch a little fit on the days we do SSR. They don't get a book on their way in. They moan (quietly at least) when I remind them to get a book and they draaaaaaag themselves over to the shelves and reluctantly open the book. Sometimes they try to read it upside down …just to see if I am paying attention. Or whisper behind the open book as if I can't tell it's them. :0) My strategy is to wait them out. I don't actually start the reading timer until they settle down. On Friday I was sorely tempted to just give up and send everyone to turn their books back in when FINALLY they got quiet. Seven minutes later, when it was time to put the books away, they were the last ones to do it!! And I had to move them along a little. One of them actually turned to a friend to tell him what was happening in the book!! Who'd a thunk it?
I bet these moments happen way more often than I notice. I think I need to start looking for them more. Waiting for them more. And making a little more room for Hope to take root.
with love,
Laurie
by lclarcq on December 6th, 2016
filed under Archived Posts 2016, Classroom Management, Encouragment, Engagement
On Monday I can actually get pretty fired up. I haven't seen my students for a few days and I'm excited to get going with some new things for the week.
But Tuesdays….ah…that is an entirely different day. It's the day to dig in and make some progress. Friday seems a mile away. The kids are starting to feel pressure from other teachers and other classes. We are all a little grumpy.
Today was an eye-opener. I gave a quiz to the Level 1 students and got a very clear look at what they can, and cannot do. Let's just say we have our work cut out for us. It feels like a a lot of pressure….and I'm an adult with a lot of experience behind me.
No one left feeling upbeat. We refocused, got serious, cleared the decks, dug in and started over. It doesn't feel good to start over 17 weeks in.
This is where I have to really get to know my students. The more we can work together, the more we will get done. I have to work to create situations where we can successfully trust each other. Baby steps, baby steps, baby steps. It's always the little things that matter.
It's too early to see many changes, but I'm trying to lay the groundwork by doing the following:
We are making a birthday calendar and talking about birthdays. We celebrate birthdays together.
We are talking about pets. Pets are a powerful magnet for interest and caring about pets a socially aceptable way to show emotion and affection.
I'm using the school's character ed "points" to recognize kids who are patient and supportive as well as cooperative….in addition to those who are showing improvement. My opinion doesn't matter enough to them yet to accept genuine compliments as rewards of any kind. They need a concrete reward. (Not my thing if you know me, but it is a school-wide program with noble goals so I can live with it!! 😉 )
We have about 10 classroom jobs…and those are helping us to feel more like a team. Little by little by little by little by little.
We've been able to be a little silly. Five-a-day in Spanish, Sr. Wooly, one silly story. Those too will add up.
In time…it's only Tuesday.
with love,
Laurie
by lclarcq on December 1st, 2016
filed under Archived Posts 2016, Classroom Management, Creating Stories, Encouragment, Engagement, Relationships, Starting The Year, TPRS techniques
If you are just starting out with TPRS, and you feel as if you are not doing enough with your students fast enough….take heart….you have an enormous advantage!!!
WE HAVE TO START SLOWLY. I put TPRS+slow into Google just for fun and discovered HUNDREDS of pieces that address how important it is to start off slowly with students who are new to language and/or new to being in a TPRS classroom.
I am choosing only one skill/concept as a goal for my students per week. The only goal I am really focusing on this week is Listening Well. I have to be honest….it's killing me to do it. I can think of DOZENS of things that I could add to class right now that would make it more interesting, but I know that if I want them to listen WELL, I'd better stick with that.
Now, I am sneaking in opportunities for next week's goal which is RESPOND WELL. We all know that no skill really works in isolation. But I don't expect to see any progress in anything other than the LISTENING WELL.
I'm trying to remember to:
Point out what it looks like. (See here for more info.)
Thank students when they do it. (individually or as a group)
Be patient when they get too excited about what we are doing to only listen.
Remind them that listening and talking should not be done simultaneously.
Wait, and wait, and wait, until they are listening.
Ask any student who responds to or asks a question to wait until their peers are quiet before they speak.
It is so hard to move in baby steps when there is so much ground to cover. But this kind of teaching is about the journey not the destination. I have to be where my students are, NOT try to get them to where I want to be. It's the only way we will ever be together.
I realized today that part of my 'inner stress" comes from thinking that I am not in control if I meet them where they are. My perspective was skewed. I cannot change where they are right this minute. I AM NOT SUPPOSED TO BE IN CONTROL OF THAT. I can only be in control of where I am and how I interact with them. If I chose to meet them where they are, we will be together and I can help them on the journey. If I stand at the finish line, impatiently waiting for them to show up, expecting them to arrive in a place they cannot get to on their own, I am choosing stress for all of us.
The dear and brilliant Brian Barabe told me once that TPRS is like yoga…and to use the mantra "You are where you are supposed to be." I need to remember that more often.
with love,
Laurie
by lclarcq on November 28th, 2016
filed under Classroom Management, Encouragment, Musings, Relationships, Starting The Year
Hello from California!! I managed to be retired for all of six weeks before I moved cross country and sign on for a new job. It wasn't an easy decision, but I think it was a good one!
For the past 30+ years I have worked in small districts in rural, upstate (seriously upstate) New York. For some of those years I taught grades K-8 but the majority of them were teaching high school students. My new job is teaching 6th-8th graders in a suburban, well-populated section of Northern California!
The students had another teacher for over 10 weeks and now we are all starting over.
I had met a few times with the sixth graders and today was our second real day together. They have been out of school for two weeks between Science Camp and Thanksgiving Vacation!!! So yes…we are really, really starting over.
The 8th graders and I got started the week before Thanksgiving. So today was day 6 for us.
I forgot how much there is to accomplish at the beginning…….
These students, all of them, are brand-new to me. Our very first accomplishment will be working together. Seriously. They are used to a different set up in class and mine requires a great deal of self-control…..or at least more than they have had to use. 🙂 I know they are capable. They know they are capable. Now…I have to get them to agree to do it.
The first day I worked with them (class sizes about 30), they were sitting with friends in groups of four. I tried to speak. I tried to get their attention. No one stopped talking. Not one student.
My pulse was racing, my face was flushed, my smile was frozen and my heart was pounding. I did not know the name of one single student. For the first time in nearly 30 years I also did not know their parents, their siblings, or even their other teachers.
I don't know how long I stood in front of the room before I tried again. It was probably seconds…it felt like hours. I was being completely ignored.
So I tried again. I used a 'signal' that their former teacher had used. A few students noticed and responded half-heartedly…then kept right on talking. This was not going the way I had hoped!!!
Try number three….in a slightly louder, more authoritative voice. This time more than half of the class looked at me, shifted in their seats and mumbled a response. AND….made eye contact.
This was the most crucial moment for me. It happened in all three classes. I had to maintain eye contact with the 15 or so students spread across the room. With a smile on my face, I held my ground….for maybe 15 seconds. A small girl near me whispered to me, "I think it's working!" I tried to just keep breathing!! One by one the rest of the group settled down and then turned around….finally realizing that something was happening. When everyone was quiet I smiled at stared at them while I (painfully!) counted to 5 in my head. Then I finally introduced myself. I think that was the most challenging 30 seconds of my teaching career.
I am dead serious.
I have no history at this school. No reputation precedes me. I felt completely naked and alone in front of those kids waiting for the silence, and for their attention. My head said…wait, wait, wait it out. My heart said…this isn't going to work…they are going to ignore you forever.
I'd like to say that after that one encounter in each class, that I was able to establish order in a heartbeat with a look. Or at least using our signal.
Um, no. The 8th graders and I have found a direction in the week we have had together…but daily reminders, and those 30 second wait times, while not nearly so heart-pounding, still happen once during every class. The 6th graders? Well….we didn't get much done today academically. There were maybe 10 "usable" minutes out of 35. i'm still learning names, getting them into a routine, helping them adjust to transitions and working to get them to function with a new seating system (where they all face forward and don't sit with their friends.)
BUT…in one class 5 of those 10 usable minutes were truly beautiful. Students were asked if their vacation was "excelente" or 'terrible" or somewhere in between. Only one girl said terrible. I asked her if the reason was a secret, she said no, she wanted to share. (Thankfully the class was quiet and listening….and this, of course, is why we needed it…) She shared in a whisper to me that her aunt had cancer. I told the class in Spanish. Then I asked, in Spanish, 'Who has a friend, or someone in their family, with cancer?" Over half of the class raised their hands. Even though these kids had only a few weeks of Spanish, I could say to her…The class is with you. They are your friends. You are not alone.
I could tell the class that in 2013 I had cancer. And we learned the word hope.
She needed that. So did I. So did I.
with love,
Laurie
by lclarcq on February 25th, 2016
filed under Archived Posts 2016, Encouragment, Musings
Many of you know that I teach in a small, rural district in upstate New York. A few weeks ago our department began to build a display entitled "Whitman Wanders The World"….and it has been such a joy to work on!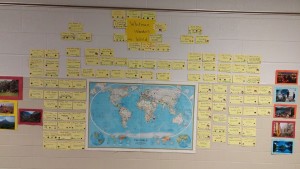 After posting the picture on Facebook and Twitter, I've had a few questions about how we put it together so….here goes:
1. We made a list of all of the students that we could remember who had studied abroad, volunteered for the Peace Corps, been stationed overseas, etc.
2. We put out a call on Facebook for former students to share where they had been.
3. After collecting all of the information that we could, we created a card for each graduate. On the card we wrote:
the graduate's name
year of graduation
areas visited
college(s) attended if applicable
military service if applicable
We labeled each card with a sticker that identified how the graduate had travelled: a flag for military service, a star for study abroad, a blue dot for working, a peace sign for Peace Corps, a red dot for Rotary etc.
4. We used a laminated world map and put a smiley face on each country/territory that a Whitman grad had set foot on.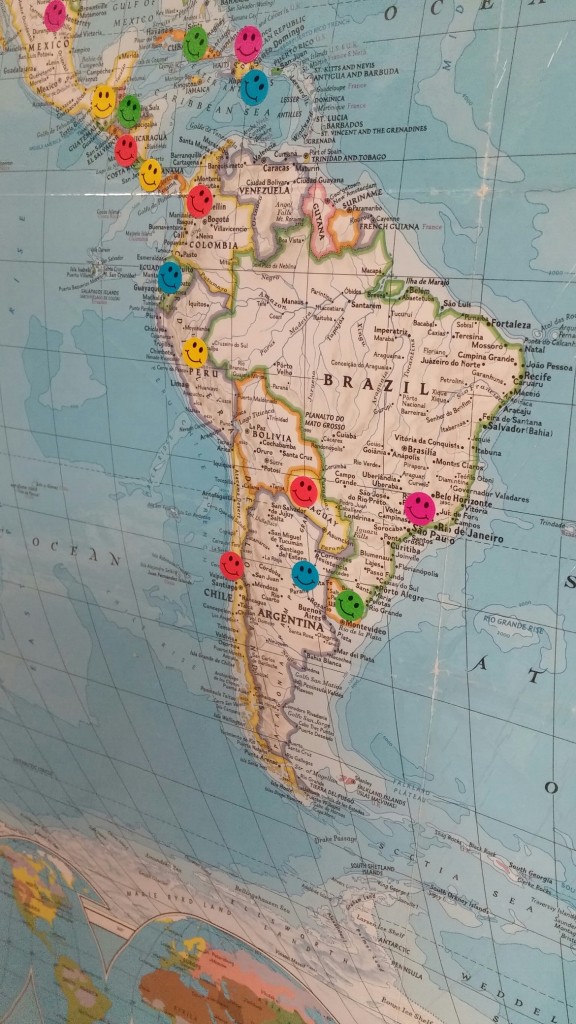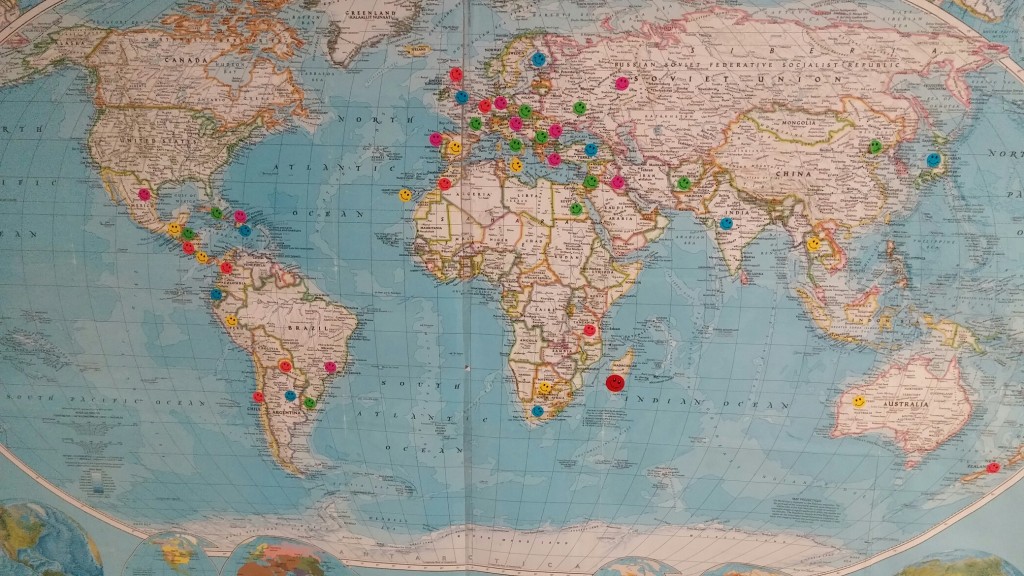 5. Then we simply arranged the cards around the map. It isn't high tech and it is all hand done…not a fancy project, but definitely a heart-felt one.
Since the pictures have been posted we have had folks send us even more information so now we have more cards to add!!
Our next step is to add blue cards for where staff have studied/ worked/ etc.
It has been so fun to watch the students' and staff's reactions to the board. Because so many people stay in the immediate area, and the folks who leave often stay gone, it is really eye-opening to see who has been where!!
I hope that helps any of you interested in this project for your school.
with love,
Laurie
by lclarcq on February 5th, 2015
filed under Archived Posts 2015, Encouragment, Engagement, Grading/Evaluation/Assessment, Musings, Pacing, Relationships
Midterms are over. But I worry that the mindset isn't.
Even those of us who don't enjoy assessment, tracking data and recording grades can get caught up in the tidal pull of measurement and the undertow of evaluation.
Well….that might be a little too metaphoric, but we ARE teachers. Since the age of 5 we've been playing with tests and trying to win. That is hard to let go of. Many of us were test champions and grade royalty.
(The following is my own opinion and might be considered heretic in this day and age)
I realize that we must assign grades and that students require passing grades in order to move to the next level. We have all worked hard to create systems that allow the progress our students make to be accurately reflected in the grades. Our jobs depend on it. But…in the great scope of life…
THE GRADES DO NOT MATTER. They are artificially "scores" that someone/something determined would measure value in schools. They are part of the system, BUT THEY DO NOT ACCURATELY REFLECT ANYTHING.
They certainly do not reflect value. No human being can be given a numerical value. It's ridiculous to even think of it (although sadly, it is commonly done throughout American culture, not just in schools.)
Every moment that we see our students in terms of a number, we have lost an opportunity to see them as people.
The system, and most of the people in it, will try to change your mind about that. They will also try to convince you that YOUR value will also be determined by numbers: your students' numbers. They will tell you that not only are students are numbers, but that we should compare students using these values. Actually, they would like us to line them up according to these numbers. They want us to believe that the students should all on the same place on a line of measurement at the same time. Finally, they tell us that the students should be moving along that measuring line at the same pace. On a day to day basis.
They are also trying to convince us that it is our job to make that happen. If we don't, we are failures. (Yes, they use THAT word….a word we have secretly been afraid of since we entered a school at age 5)
My dear friends, that is a crock of horsepucky. All of it. Including the idea that we are special because we "earned" good grades when we were students. Grades do not make anyone special.
EVERYONE IS SPECIAL.
Its really difficult to see that. Our job doesn't always let us remember that, even though that is an elemental part of our profession.
Please remember it.
Everyone is special and everyone is unique.
Our students are not supposed to be alike. They all enter our classes at different ages. They enter with different backgrounds and experiences. They did not learn to walk, learn to talk, learn to read their first language, learn to ride a bike, learn anything at the same rate. Why? Because while we may all be wired in the same way, we are all unique and incredibly miraculous human beings.
Have you ever seen a group of one year olds together? They are all at very different places in height, weight, ability to walk/talk etc. If they are paying attention, if they are in the classroom approximately the same number of days, they are all getting the same amount and quality of input. AND THEY WILL STILL NOT BE IN THE SAME PLACE.
Some students show growth in slow, steady increments. Others will grow in "hops", showing improvement every two to three months….but very little in between. Others are icebergs. Everything grows beneath the surface and we see nothing…then all of a sudden BOOM! After six to eight months (or more) of nothing….amazing things are happening.
No one is really "ahead" or "behind", despite what society might want us to believe. If the student is there, and involved, if we are providing a rich environment and comprehensible instruction, then the student is where the student is supposed to be. Period. They will move when they are ready, at the pace that is best for them. We can pay attention, and we can respond, but there is truly little we can do to change that.
And it is no reflection on us.
Hard as that is to remember.
We need to enjoy each student where he or she is….or we will lose sight of the beauty of the human brain, the human mind and the human spirit. How each and every human is unique and heart-stoppingly beautiful.
Nothing else really matters.
with love,
Laurie
by lclarcq on January 27th, 2015
filed under Archived Posts 2015, Encouragment, Musings, Not So Good Days
I really hate January. Between post-vacation blues, a germ-filled building, exhausted colleauges, flu-stricken students, midterms, data analysis, reports, grading, meetings and attempting to "gear up" for a new semester, I get really worn down. When I'm worn down, everything gets blown out of proportion and I take things way too personally.
I'm the queen of taking things personally, having spent most of that past five decades elevating it to an art. :o) I have had to work very hard to listen to the voice in my head that says..'Oh that's a good idea." and not the one that says, "well duh!! You know that. You should do that. Why didn't you think of that? Kids would pay attention if you did things like that. Thirty years in the profession and you still don't have it right. "
I've taken large numbers of suggestions as face-slapping criticism and used to cry on a regular basis after post-observation conferences with my principal. It's taken a long time, and a lot of practice, to just listen to people without a strong, emotional self-flagellation reflex kicking in.
The folks in this profession are very passionate people. That inner energy sometimes leads us to extremes….whether it's extreme dedication, extreme worry, extreme committment or extreme self-evaluation.
When I'm swinging towards the extremes, I have to remind myself of the following:
"If you are doing the best you can today, and hoping to always do better when you can…..
You are truly doing enough."
Regardless of what your administrator, colleagues, students, their parents, and that nagging little ugly voice in your head are saying to you.
"You are truly doing enough."
(and yes…I'm saying this to myself as much as I am saying it to anyone reading this….)
Don't let yourself hear anything different.
with love,
Laurie
All content of this website © Hearts For Teaching 2009-present and/or original authors. Unauthorized use or distribution of materials without express and written consent of the owners/authors is strictly prohibited. Examples and links may be used as long as clear and direct reference to the site and original authors is clearly established
by lclarcq on January 21st, 2015
filed under Archived Posts 2015, Encouragment, Engagement, Musings, Relationships, TPRS techniques
This post started as part of a response to my friend Skip….and then it grew from there. Thanks Skip for asking me the questions that make me think.
I never wanted to be a Spanish teacher. I wanted to teach kindergarten…or third grade. I wanted to sing songs, read stories, and introduce my students to history and heroes. Actually that is what I do, I am just lucky enough to do it via Spanish. But that is not what most of my colleagues were doing when I started thirty-plus years ago. I truly admired and respected those teachers, I just couldn't be one of them. Maybe it was because I didn't start out as a Spanish major (although I ended up with a Spanish and an Education degree), or maybe it was because I wasn't very confident about my language abilities at the time….but my goals as a language teacher were a bit different.
Truthfully, I never thought that I would be able to convince teenagers to commit to memory the hundreds of rules and thousands of words necessary to master the language. I loved it, but I never thought all of my students would. And I wanted ALL of my students to love Spanish class the way 5 year olds love kindergarten (okay…think 30 year prior to Common Core!)
Thirty years ago (and more), we used to consider it our job to teach the understanding and appreciation of the beauty of the language…its history, structure, details. And we did that. Sadly, few students were able to draw on any of this knowledge after a few months….much less a few years.
We then made it our goal to teach the students the vocabulary, verb forms and highly irregular patterns so that they could also communicate with others. We created texts and materials that we thought would help our students to be able to put all of the pieces of the language in order to function while traveling, doing business etc.. But we still taught as if mastering the al to help students to communicate. It was a great deal of work, and yes.. fun, to create activities that allowed students to pretend that they could communicate in a real-life situation.
Sadly, once again, students failed to retain the language for any length of time.
It was the first reason I was so impressed with the results of TPRS and teaching with Comprehensible Input. The language stuck. For a long, long time. I was pretty excited about that!
Then along came technology.
I think that our job as language teachers has seriously shifted. And I am afraid we may not even know it.
Any knowledge about the language that students need can be found easily on the Internet. All of it. Communication can occur with a cell phone and an app. And almost instantly. And with about the same accuracy that our students used to have….probably more.
I had a great reason to switch from learning to acquisition in my classroom. But if my students can just use a machine to communicate…..why would it even matter if they acquire a language?
What IS our job now? Why would students need to be able to communicate…device-free…in a world quickly becoming overrun with devices? Why do they need us? Can't they get all of the language they need via technology?
I think we need to be asking ourselves, and our profession, that question. What are we doing that students cannot now do for themselves…..without us?
For me (and you've heard me say this I think), I want my students to acquire Spanish in order to explore the hearts, minds and souls of people who speak Spanish. I want them to acquire Spanish so that they can think more deeply, express feelings to others, ask questions about the universe and SHARE that journey with people of other cultures…..and they can do that so much better in more than one language. AND WITH A PERSON…not a machine.
I believe that our job is less about teaching the language and more about using the language to teach the skill of making personal, social, historical, artistic and even political connections.
I believe that our job is about establishing relationships, nourishing relationships, growing as a result of relationships …..Relationships that are a)built via communicating so that we are understood in another language and b)built because we understand others in their language .
It's about understanding….and being understood as a human being. It's a job that no machine can do.
They need us for that.
with love,
Laurie
All content of this website © Hearts For Teaching 2009-present and/or original authors. Unauthorized use or distribution of materials without express and written consent of the owners/authors is strictly prohibited. Examples and links may be used as long as clear and direct reference to the site and original authors is clearly established.
by lclarcq on January 17th, 2015
filed under Archived Posts 2015, Encouragment, Relationships, Uncategorized
It isn't easy to be kind at the high school. It isn't at all cool. (and it doesn't matter how old you are….) Nice people are perceived as stupid, or weak. These are things to be avoided at all costs.
At the high school, the operative word is tough. Tough is smart, tough is strong. These are things to be achieved and admired for.
Tough appears to be the overall winner. Tough attitudes, tough faces. Tough courses, tough tests. Tough teams, tough practices. Tough kids, tough teachers. No question,tough prevails.
Why even try?
Because Tough APPEARS to be the overall winner. Tough attitudes, tough faces. Tough courses, tough tests. Tough teams, tough practices. Tough kids, tough teachers. No question,tough prevails….on the surface. But underneath, BECAUSE tough prevails, kindess really matters. It's desperately needed as a matter of fact.
You wouldn't know that by teen behavior, but it is.
If you've ever parented a toddler, it is a little easier to understand. From the age of one to four years old, childen live in these adorable little teflon-coated cocoons. Nearly everything we say bounces right off of them. We don't expect REALLY expect toddlers to say please and thank you. We don't expect toddlers to be patient. We don't expect toddlers to be responsible. Yet…we spend several years "pleasing and thank-youing" to them anyway. Even though…..we will see them throw tantrums, refuse to share, make faces, pick at their food, throw things and a number of other challenging behaviors. It is as if they do not hear a word we say. FOR SEVERAL YEARS! But we keep on trying anyway. That is what parents do. When children emerge from their "toddler-armor", they have actually absorbed many of the behaviors we have been raining down on them since before potty-training.
I've often felt that toddlers and teens have a lot in common. Obsession with potty talk and bodily functions for one. Then there are the passionately emotional/stubbornly indifferent twin sides to their personalities. Both groups have moments when they are completely committed to doing things independently, even when it is impossible or riduculous to do so. AND this selective hearing issue occurs in teens just as virulently as it does in toddlers.
Then…at some point, a young adult emerges from this tought cocoon and it turns out that,yes indeed, they really had been listening all those years.
It is a rare, rare adolescent that is thankful for the kind people in his/her life. Some adolescents are too busy being focused on their struggles and miseries to be appreciative. Others don't have the social skills to say thank you. Many would be just too embarrassed to try. But they do notice. And they remember.
True, it makes being kind a very thankless job (pun clearly intended!) So, if as human beings, we are being kind so that others will appreciate us, we may be disappointed. But, if we are kind because kindness speaks to how we want to affect the world, rather than how much we would like to be appreciated, being kind isn't all that difficult to achieve.
Being kind opens the door for choices. It says, I can make decisions, I can be in control of my responses. It shows my students that…and it shows me that. On the days that I am worn out, feeling low, frustrated and grumpy, the choice to be kind is reassuring to me.
Being kind opens the door for additional kindness. It clears a space for the positive. It makes more good things possible. We all could use a little more of that.
Being kind feels better, physically and emotionally. Life is too short, illness too prevalent and pain too powerful to not open up a door that makes us feel healthy and strong.
Being kind communicates hope. Where there is hope, there can be change. When there can be change great things happen. I vote for hope.
It's true that things at the high school level can get a bit more serious. If we are going to get serious, why not get serious about something as far-reaching, and life-saving, as kindness?
with love,
Laurie
All content of this website © Hearts For Teaching 2009-present and/or original authors. Unauthorized use or distribution of materials without express and written consent of the owners/authors is strictly prohibited. Examples and links may be used as long as clear and direct reference to the site and original authors is clearly established
by lclarcq on January 12th, 2015
filed under Archived Posts 2015, Encouragment, Not So Good Days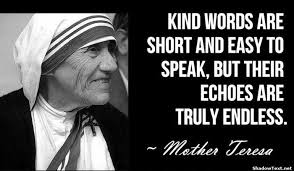 I don't know about you, but I need A LOT of reminders. I use Post-It notes, Evernote, the calendar on my phone, the calendar w/my inbox at school and yes, I still sometimes write on my hand.
Today, create a reminder that what you are doing today matters. Write a note to yourself. Email it or text it or write it down and put it in your pocket. Tape it on your computer monitor, draw it on your white board or write it on your hand. Every time you see it, it will be a reminder that YOU MATTER. Everything that you do really does make a difference….even if it doesn't seem like it at the time.
Don't wait for someone else to get around to telling you that you have touched lives, warmed hearts and changed the world. Someone else might just be too busy staying afloat today.
Gently, but firmly, remind yourself. Put it in writing. Put it where you will come in contact with it all day long. If you are not sure how to word it…try one of these:
You matter.
You said just the right thing to someone today.
Your smile touches hearts.
You are someone's rock.
You are loved.
You are important.
Today you had the answer to someone's important question.
Thank you for being you.
You are the answer to someone's prayer.
You have done the right thing.
You make a difference.
Yes, you have done enough today.
Sorry if it seems silly, but if YOU cannot believe that you matter, no one else will be able to convince you of it.
It is often so easy for us to say these things to others, but so hard to say them to ourselves. Even if you don't believe what you are writing, pick something that you would like to hear, that you would like someone to say to you. Say it to yourself. Put it in writing and let it be a part of your day today. Just for 24 hours. It can't hurt.
with love,
and looking around for my Post-It notes,
Laurie
All content of this website © Hearts For Teaching 2009-present and/or original authors. Unauthorized use or distribution of materials without express and written consent of the owners/authors is strictly prohibited. Examples and links may be used as long as clear and direct reference to the site and original authors is clearly established