by lclarcq on March 10th, 2017
filed under Archived Posts 2017, Classroom Management, Musings, Not So Good Days
It's a tough week here. It is the end of the trimester and sadly, even middle school students feel the stress. We are also two weeks into an eight-week stretch without a break. With 10 more students per class than I'm accustomed to, I've also learned that I'm absorbing more stress from them as well. Sometimes I feel as if I am in the room in the center of a house fire when the room is full. And it is about to ex/implode at any moment.
That's not what kids deserve. And frankly, I've feel like I'm not what the kids deserve this week either. But I'm what they have. So I've been looking for a way to stay calm.
I have tried to see myself as a tennis racket this week. Weird I know, but bear with me.
The tennis racket doesn't get to sit still during a practice or a game. Even when the other player is dealing with the ball….the racket is poised and just slightly in motion…ready to return the play.
I realized that I did not have to be the entire racket…and that I could chose, at any, or every moment, which part of the racket I could be.
Professionally, and personally, I often have to be the strings. I have to catch the boll. I have to return the ball so that the players can hit it back to me.
But this week…..I'm trying to be the spaces between the strings. The spaces don't have to do anything. They just have to be there. They let everything go by. They let the racket move and the strings do the work when necessary.
So when the tension heated up and the 'little things" felt like they would explode into big things I kept saying to myself…"I'm the space. I'm the space. I'm the space." (If you couldn't tell, I am a big fan of mantras!!)
It helped me so much. There is a time to be the strings….but it was a good week to be the space. I hope it helped the kids as much as it helped me.
with love,
Laurie
by lclarcq on February 17th, 2017
filed under Archived Posts 2017, Encouragment, Good Days, Output, Writing i
I never thought I would hear that about WRITING from my 6th graders!!! For the last 10 minutes of each class (yes..on a FRIDAY even!) I had each student start writing a story…their first story of their own. It was very structured and I was worried they might balk at it….but they were so happy doing it!!
First we reviewed parts of a story (characters, setting, conflict, resolution…there are more but that is all we can handle right now!) in English ( 2 minutes tops)
Then we brainstormed, out loud, in Spanish, what we could say about Brandon Brown as the lead character in the book we are reading. I did not write anything on the board. I told them that they then had five minutes to write between 3 and 5 sentences about a character of their own making. It could be a person or an animal or an object THAT THEY KNEW HOW TO SAY IN SPANISH.
By keeping the time short, and the amount of information limited, I had just enough to time to get around the room once and help anyone who was stuck. I then went to the board, wrote the phrases and said, "This is the language I am seeing you use: (I did this in Spanish but not everyone reading this speaks Spanish so…) There is____ His/her name is______ S/he lives in_______ S/he is_________ S/he has___________ S/he likes _____________ If you would like to add any more information about the character I will give you one more minute."
This was the time when I introduced, and didn't give in on, using only language that we have used in class. I felt that I had to start that way immediately, in order to establish that as a skill and build on it.
Step 2: I wrote the phrases One day, One night, One afternoon on the board and asked students to help me think of others we knew how to say (One morning, One week, One month, One year) Then I added On Monday (brainstormed other days), and In January (brainstormed other months).
I gave them 2 minutes to pick a time/date when the story was taking place. They could use one phrase (One day) or a combination (One day in June) and write that on their papers.
Step 3: I wrote the phrase _________is in/at school. Then they brainstormed other places they could say (only two or three!) I gave them permission to also use proper names of cities, countries, stores, etc. And one minute to write where the character is at the start of the story.
Step 4: Turn to a partner and read what you have so far out loud. Check to see what s/he understands. (THEY LOVED THIS PART!)
Step 5: Write the sentence: ________________ has a problem. In every class, students asked if they could also write. He has a big problem. or It is an important problem. etc.. Permission granted!! Why? We know how to say it!
Step 6: I write _____ wants something. and ________ needs something. I ask them to pick one and write the sentence. Then they write the sentence and fill replace the word "something" with what the character wants….and of course, it has to be something they know how to say in Spanish. _____ wants________ and ________ needs____________. (I love that RIGHT AWAY they are learning to use the word "something""
And that is pretty much as far as we got. It took less than 10 minutes, even with classes of 30 +. Because they were ready. Because we had waited. Because now they had language they could use.
All three classes groaned when it was time to go because they hadn't been able to finish!
I am so looking forward to next week! (I don't remember saying that very often in February!)
with love,
Laurie
by lclarcq on February 15th, 2017
filed under Archived Posts 2017, Classroom Management, Not So Good Days
and I don't seem to be able to predict them in advance.
That morning went well. It was a block day and the second block went well too. I'm not even sure that it was going so badly when I lost it. It seemed like it at the time, but looking back, it is hard to tell.
One minute I was tolerating the minor chaos of 30 students working in 10 groups of 3. Some groups were still working and some were done. Some students were passing back papers for me. I figured those still working needed about 5 more minutes and I could round everyone up and we could end the class on a focused note. And then…it all crossed over the edge. I had mis-timed things and the ones that were done were DONE and then I was DONE and well…that was that.
It was lights out, heads down on the desk and total silence. I was able to take deep breaths (although it was a little tough not to flash back to 5th grade when my teacher did the same thing to us…..and I got yelled at because I couldn't stop giggling)
They apologized. Some quite sincerely and one who felt righteously wronged because although she admitted that she hadn't been doing what she was supposed to the rest of the period, at the moment I got angry she was doing what she was supposed to and how dare I ask her to put her head down and be quiet? :o) The next day I apologized. (I needed a little time…) And life went on.
I wasn't the world's worst teacher. They weren't the world's worst students. And the next day went very well. Up and down. As long as we keep coming back and starting over, it's all good.
with love,
Laurie
by lclarcq on February 15th, 2017
filed under Archived Posts 2016, Games, Good Days
Valentine's Day is….well…highly stressful. For middle schoolers (who see every holiday as a good reason to eat all candy in a 5 mile radius) it can be hundreds of ups and downs in one day. There are a ton of wonderful love songs out there (even some G-rated ones I can use at the MS level) and cute videos and sweet stories…and well…you get the idea.
Today I wasn't brave enough to do any of those things. At least not with my 6th graders. So I went back to basics, back to simple, back to fun.
A little rhyme:
Choco Choco La La
Choco Choco Te Te
Choco La
Choco Te
Cho co la te!
We practiced the rhyme…we practiced the motions. We slapped the rhythm on the desks, we played in pairs like they did when they were younger (and they are still so young!) and we played in a giant circle.
So much fun to watch!! The 8th graders loved it too…although we also did Jesse and Joy's song Chocolate at that level!!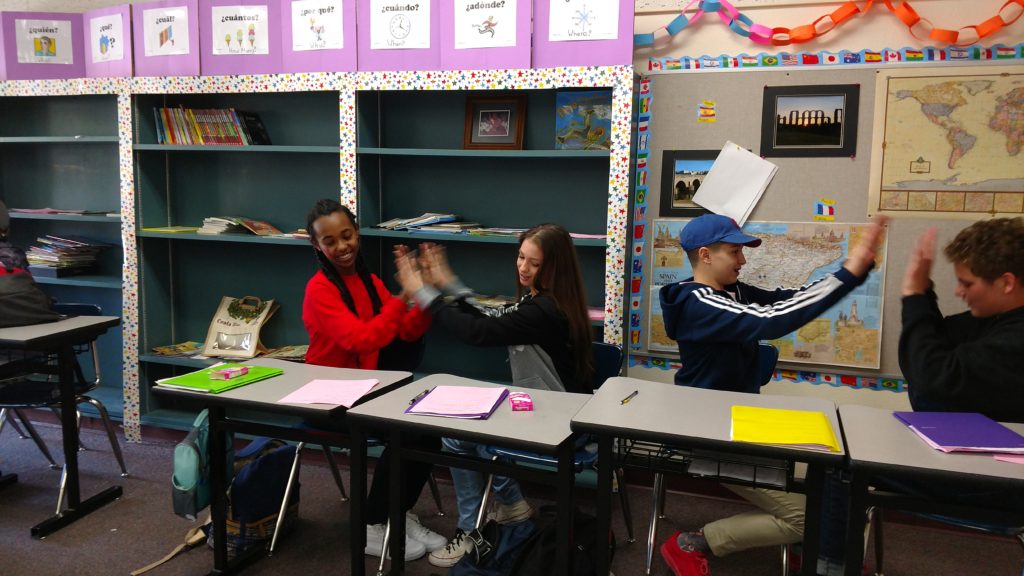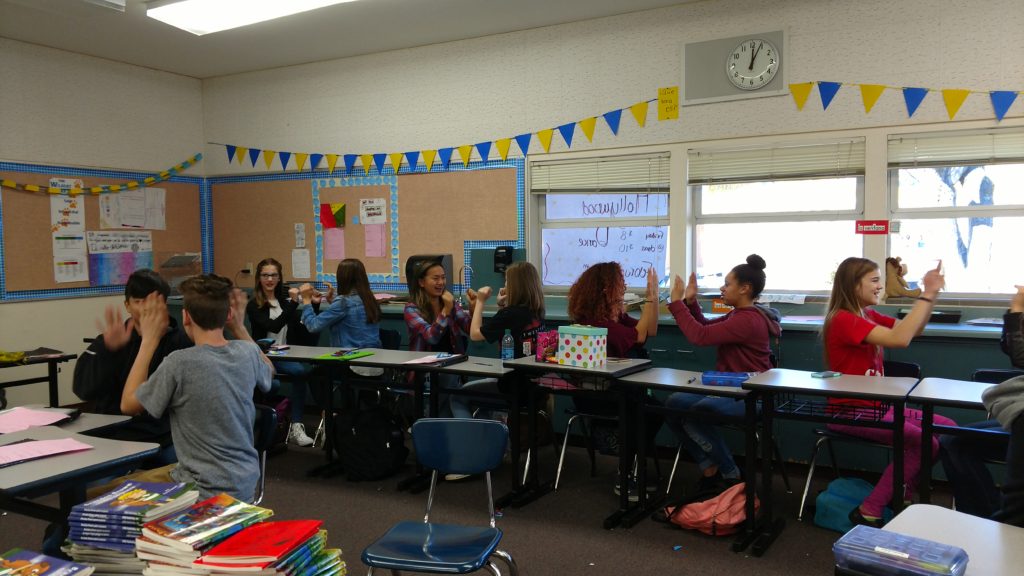 Learning what my middle schoolers can handle, or want to handle, on any given day..
with love,
Laurie
PS I still haven't heard from the folks who give permission to share the two videos I also used today for a few minutes each…but if you go to www.youtube.com and search for Chocolate by Jesse y Joy and Cho co la te Juego de Manos you will find what we watched!!
by lclarcq on February 14th, 2017
filed under Archived Posts 2017, Musings, Technology
I admit that I can be a bit old-fashioned. And for middle-schoolers, that just means old. 🙂
I'm also the age of their grandparents (or older!!!) which doesn't help either.
So, selfishly, I wanted them to play Kahoot. I wanted them to know that I wasn't THAT old. That I knew how to use some of the fun stuff. 🙂
But I am also selfish with our time!! I really did not want to lose time because it might seem "fun". But there was no way to know without trying….so….here is how it went:
Holy Moly they did have fun. About 90% of them. More about that in another post.
We played for several days in a row….which I didn't want to do at all. But…my kids seem to need a few times to get used to things and so that was good.
Choosing team names quickly became more fun than anything else. By Day 2 I only accepted Team 1, Team 2 etc. I wrote the name on a Post-it and gave it to the player with the phone. Anything else became a way to make the class laugh and get away with finding a name that the teacher didn't know the meaning of/reference to. That WAS a waste of time. So, as much as I could see how fun it was 🙂 , that was out.
I'm glad that I waited until we had really set a tone for the class. Not everyone had a phone, and sharing is not what middle schoolers are best at. So it really did take a few days for them to work how who would play with who and do it nicely. It worked out wonderfully in the end.
They felt super successful answering the questions. Really successful. It was the instant feedback, video-visual high that they have grown up with and it fed that need.
We did several types of questions. The "jumble" which puts things in order was not a hit with this group. Multiple choice was. The vocabulary ones made them feel smart. The reading ones got them reading even if they got the questions wrong. :o)
The best games were the ones I had time to make because I know my kids. But it was nice to not have to make everything.
This is not something they are ready to do only in the target language. So much energy and excitement that it all came flying out in English. We will be working on that. :o)
I do not plan on playing often. Never do too much of a good thing. :o)
If you haven't tried it…think about it. Not everyone needs a phone/device but the more the better unless you are good at setting up teams. Also…if you are relying on the school's internet, that can be a challenge.
I felt that I had to warn parents about the possible use of data!! The kids of course, did not.
Next time, I'm having kids help me plan questions to type of for the game!
You can find Kahoot at https://getkahoot.com
with love,
Laurie
by lclarcq on February 13th, 2017
filed under Archived Posts 2017, Classroom Management, Encouragment, Engagement, Personalizing Instruction
It's been three months. Days that sometimes seemed very long but months that have been very short. I'm not sure when it happened exactly, but recently there has been a change in my room. It feels like we are no longer strangers. This is so much better. I really was worried it wouldn't happen.
I know, maybe everyone doesn't really work this way, but I like knowing who the kids are in my room. I know their names. I know when one has new shoes. I'm learning who is always hungry and who never has anything to write with. I know whose family can afford a trip to Cozumel this spring and who wants to hang out after school and not go home. I know who will paint their face, wear feathers and paint their nails for Rally Day. I know who stays home on Rally Day because the energy level all day before the rally is too much to handle. I know who thinks they are old enough to be in high school and who still keeps a stuffed animal in their backpack every day. I know some things I am grateful to know, and other things that punch me in the gut when I think about them.
I don't know something about everyone. But we have gotten to know each other. It's a wonderful thing. I really didn't enjoy working with strangers.
Middle schoolers are both a tough and a fragile bunch. Their tears are very real and they are often started by something that is only a big deal from the perspective of a middle schooler. One thing I have remembered is that middle school isn't always fun to remember. But, the best way to connect with my middle schoolers has been to reconnect with my middle school self.
So, she and I are no longer strangers either.
She sometimes rode her bike to school…and sometimes took the bus.
On the days she rode her bike, her hair was even more of a complete disaster than usual.
On the days she took the bus, the high school boys pinched her on the butt and snapped her bra and she was mortified….but never told anyone.
She wanted very badly to be a cheerleader but just couldn't jump. And her glasses fell off.
She thought she was smarter than the teachers some days and smarter than the other kids most days. And so she was a smart mouth sometimes. And then she cried because it felt mean.
She doesn't have 7th grade pictures because her family of 7 were all living in a one-bedroom apartment transition housing and there probably wasn't enough money……even if her mom did say that it was because the pictures were too ugly. That was less scary for her mom to say, but not less hard for her daughter to hear.
She fell desperately in love for minutes at a time with boys she absolutely did not know at all and totally ignored the ones she did. Or teased them unmercifully.
She daydreamed in class EVERY SINGLE DAY, often all period long.
She felt like she had to save the world and yet had absolutely no power at all.
Every, single, thing…..was changing.
Every, single, thing…..made no sense anymore.
Every, single, thing…..was desperately frightening.
On the inside.
On the outside she was a greasy-haired, four-eyed, smart-mouthed, desperately shy, passionate, closet-romance-reading, cry-at-the-drop-of-a-hat, got-detention-for-laughing-in-class child having to deal with womanly issues and a great big world. And most of the time she didn't do it very well. I guess that was the point. :o)
I was everything and nothing that I wanted to be. Getting to know her again has really helped me to get to know them. Loving her, for the first time, has helped me to love them too.
with love,
Laurie
by lclarcq on February 5th, 2017
filed under Uncategorized
I'm a little slow, as usual, but I have updated the Training page here on Hearts for Teaching. I try to keep it as complete and current as I can, but please be forgiving. If you know of anything that should be on there….send me an email at lclarcq@yahoo.com
with love,
Laurie
by lclarcq on December 19th, 2016
filed under Uncategorized
Yes…I'm talking to myself again. The last two weeks weren't easy. I'm still stopping, and waiting, for some groups. Ok….all of the 6th grade classes.
The 8th graders have gotten on board….there is a warmth to the room when we are together that is palpable. They smile. They share. They even try to show off their Spanish. Not everyone, but enough that it feels like we are in this together. It helps so much that a) I've had a week longer with them and b) they have had Spanish classes prior to this year and our work is connecting to those memories and class expectations.
The 6th graders are new to a language class. This has been their first and only experience. They had 12 weeks of one set of rules/expectations and mine are clearly different. I am asking for their attention, for their comprehension AND their positive, respectful, creative responses.
They are not used to that. They are not confident that they can deliver what I am asking for. And, let's face it, it's easier to chat with friends and not be prepared than to do what I am asking them to do.
They ARE making progress in the language. They really are. But they still have trouble staying focused, and not talking with each other, for more than 3 minutes at a time. And this, of course, drives me crazy!!!!!!!!!!!!
By the time Friday was over I was really frustrated. It had been a crazy week…like the week before vacation…two concerts, numbers of kids absent, a crazy schedule…ugly sweater day etc. Only it wasn't the week before vacation…we still have school this week. I was having so much trouble seeing that this group of kids would begin to get it together and work with me instead of against me. It really seemed like more work than I had energy for.
But then, today was Monday. It wasn't perfect, but it was better. I think 65% of the students were with me instead of against me. When you start out with only 10% on your side, that is progress.
And you know what? It is the week before vacation and much to my surprise, they brought presents. Presents! Wow. I haven't taught middle schoolers in a while and their genuine desire to say Merry Christmas…or at least their willingness to deliver their parents' greetings… really touched me. Relationships are being created. Trust is being built. It is just taking a while…as long as I don't give up.
with love,
Laurie
by lclarcq on December 7th, 2016
filed under Archived Posts 2016, Classroom Management, Engagement, Musings, Not So Good Days, Personalizing Instruction
I have three 6th grade/Level 1 classes and like most teachers, I'd like to think that I can have one basic plan for that level. I know better, but I don't really KNOW better!! I'm trying to get to know not only individual students better, but also the makeup of each class better. It would really help me with my planning. :o)
All three classes need a lot of work with the basics. The first class was able to arrange itself in a circle without too much fuss and I led a series of questions/directed a conversation around several of the students.
There is a boy in the class. His name is ________. He is very, very famous in Spanish class. He has a lot of friends. One of them is also in Spanish class. His name is ___________. He is very, very intelligent. ___________is another student in class. He is very athletic. He likes football. Many students in the class like football. ____________ has a football jersey. Her favorite team is __________.
and then one of the kids ran to his backpack, pulled out a Seattle Seahawks jersey and put it on!! Great class. We are still pausing (often) so they can settle down, focus, stop talking, etc….but it was progress.
We transitioned into a conversation (with pictures) about Prince Royce. They understood, they were interested, and although we are still working on behaving like a class….I was pretty happy. We watched a 3 minute video about Prince Royce in English. (https://www.youtube.com/watch?v=MBHdga54kik) I could follow with a number of questions in Spanish using the "Super Seven" verbs. (Google Dr.Terry Waltz and Super 7…tons of great stuff!). They had some questions in English about Prince Royce that were interesting to hear. Questions about what he was wearing and how he wore his hair. I was able to use their emerging Spanish to talk about Prince Royce the person and Prince Royce the singer. (and to remind myself how important it is to FIT IN in middle school!)
Then we watched a clip from La Voz Kids where Prince Royce is a judge and a young man sings one of Prince Royce's songs and talked about that using the same basic questions. (https://www.youtube.com/watch?v=buIs7yqT5jE)
I felt pretty good about how that went!
The next class? Ummm. Different story. They could not handle a change in the seating arrangement. When I tried to start the conversation about the class, we could barely get started. The social make up of this group is a study in middle school insecurity. Everyone is trying to be cool and the socially acceptable way to be cool is to make sure that everyone in the class knows that you are cooler than they are. Cliques, sarcasm, eye-rolling, snorts…you get the idea. Lovely individuals on their own. Toxic when together.
So…..back to the drawing board. In the middle of class. Ok…twenty minutes into a 90 minute block. Desks in rows. Take out a sheet of paper. I write a sentence about Prince Royce (on the computer, projected onto the screen). The students write the sentence in Spanish. I ask individual students comprehension questions. No one else is allowed to speak. On the outside I am neutral, calm, maybe even cold. On the inside I am frustrated and fired up!!!! This is BORING. SUPER, SUPER BORING.
But….the class itself was under control. The individuals in the class could each employ self-control. The language was comprehensible.
When we transitioned to the interview they couldn't contain their reactions. After calming the storm of remarks, followed by the smiling stare of death for 45 seconds, I had to state in English that
a) Prince Royce is an actual human being and I wouldn't let them mock him, or anyone else, in my presence.
b) Prince Royce is a professional. He has a job. He might be told what to wear and how to cut his hair, etc. etc. It is not our job to do either of those things.
And then we went back to the video. What color is his shirt? What color are his shoes? Do the shoes cost a lot of money? Do his fans like his shoes? Using the same, one student at a time, no one else is answering, and we write the answer on the screen and they write it in their notebooks scenario.
The same material. Completely different lessons.
The hard part? Not putting my own personal label on either one. I was totally miserable during the second lesson….but truthfully…it was probably the right lesson for that group. If I had tried to keep pushing 5th period's lesson on 7th period, it would have gotten very, very ugly.
Tomorrow I meet with the third 6th grade class. It's the most challenging one!!!! I'll keep you posted. Right now I know the material, but I haven't yet nailed down the lesson plan….
with love,
Laurie
by lclarcq on December 6th, 2016
filed under Archived Posts 2016, Classroom Management, Encouragment, Engagement
On Monday I can actually get pretty fired up. I haven't seen my students for a few days and I'm excited to get going with some new things for the week.
But Tuesdays….ah…that is an entirely different day. It's the day to dig in and make some progress. Friday seems a mile away. The kids are starting to feel pressure from other teachers and other classes. We are all a little grumpy.
Today was an eye-opener. I gave a quiz to the Level 1 students and got a very clear look at what they can, and cannot do. Let's just say we have our work cut out for us. It feels like a a lot of pressure….and I'm an adult with a lot of experience behind me.
No one left feeling upbeat. We refocused, got serious, cleared the decks, dug in and started over. It doesn't feel good to start over 17 weeks in.
This is where I have to really get to know my students. The more we can work together, the more we will get done. I have to work to create situations where we can successfully trust each other. Baby steps, baby steps, baby steps. It's always the little things that matter.
It's too early to see many changes, but I'm trying to lay the groundwork by doing the following:
We are making a birthday calendar and talking about birthdays. We celebrate birthdays together.
We are talking about pets. Pets are a powerful magnet for interest and caring about pets a socially aceptable way to show emotion and affection.
I'm using the school's character ed "points" to recognize kids who are patient and supportive as well as cooperative….in addition to those who are showing improvement. My opinion doesn't matter enough to them yet to accept genuine compliments as rewards of any kind. They need a concrete reward. (Not my thing if you know me, but it is a school-wide program with noble goals so I can live with it!! 😉 )
We have about 10 classroom jobs…and those are helping us to feel more like a team. Little by little by little by little by little.
We've been able to be a little silly. Five-a-day in Spanish, Sr. Wooly, one silly story. Those too will add up.
In time…it's only Tuesday.
with love,
Laurie