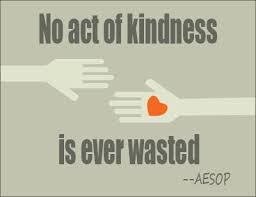 This is a wonderful time of year to be kind. The December holidays are over. The Valentine's Day commercials have already begun (and not everyone is excited about that.) In some parts of the country (mine), it is cold (highs of 10-20 degrees last week) and dreary and even when the sun is out, it has set long before dinnertime. It is also a very popular time for giving exams. Gee….does it get any better than that?
The first person to be kind to is….yourself.
I know, I know…who does that?
I confess, I'm horrible at it. (But remember, I often write these posts for myself!) But I do know that it is wise. I have found out that it is necessary. If you don't, nature will do it for you.
Look around you. The flu is everywhere. So are colds, infections, bronchitis, pneumonia and a number of other infectious little goodies.
This week will probably have its share of germy opportunities and stressful situations. More than its share probably!!
Try to do one kind thing for yourself every day. Just one. Any of these would do:
Go to bed early one night.
Drink a soothing hot drink that you love.
Or a cold one. ;o)
Use hand lotion.
Use Chapstick.
Drink a large glass of water.
Eat a piece of dark chocolate.
Bite into a beautiful piece of fruit.
Look at a favorite work of art for a few minutes.
Bring a favorite photo into work.
Take a deep, deep breath.
Cuddle under a blanket.
Leave the paperwork at school. Just once. It's ok. I promise.
Smile at yourself EVERY TIME you see yourself in the mirror/window.
Hug someone who will hug you back.
Light a candle. (and don't forget to put it out)
Bring a stuffed animal, or a real one, to bed with you.
Take a 5 minute walk. Anywhere.
Stretch.
Sing really loud to the radio/Cd/whatever.
Hold a hairbrush and use it as a microphone.
Watch a ridiculously stupid-funny video.
Call a friend.
Google "really awful puns"
Wear something you really, really, really love.
Not so hard, right?
I"ll do it if you will. :o)
with love,
Laurie